Man who sold firearms to Las Vegas gunman Stephen Paddock says there were 'no red flags'
'I sell tools, 99 per cent of the time, they are used lawfully. I can't fix the rest, unfortunately'
Rachel Roberts
Thursday 05 October 2017 21:18 Comments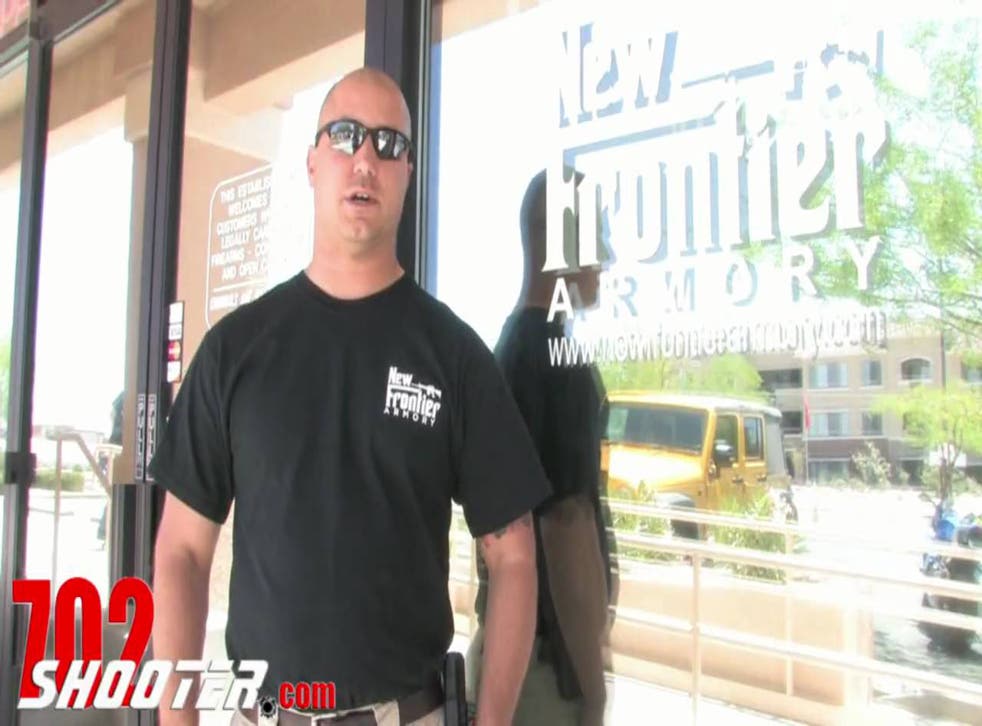 A firearms dealer who sold "several' guns to Las Vegas mass murderer Stephen Paddock has defended his shop and claimed there were "no red flags" that might have prevented the sale.
David Famiglietti said the sales were conducted "lawfully" at his New Frontier Armory (sic).
The Vice President of the Nevada Firearms coalition, the state affiliate of the National Rifle Association, added that his staff have received threats and abuse since it emerged the shop sold weapons to the 64-year-old who slaughtered 58 people and injured 489 more.
Paddock then turned one of the guns on himself.
Mr Famiglietti admitted his staff sold "a few guns this year" to Paddock, who opened fire on crowds at a country music festival from the 32nd floor of Las Vegas' Mandalay Bay Hotel.
Some of his weapons had been modified with bump stock devices to make them perform like automatic weapons which are banned in the US.
Mr Famigletti told the New Yorker he had sold Paddock a shotgun with an "effective range" of 30 yards and "a rifle that did not leave my store as a machine gun, nor did it leave my store modified (legally or illegally) in any way to shoot more than one round per pull of the trigger".
The gun dealer told NBC News that Paddock visited his store in the spring, and in a separate interview told the BBC the weapons the killer bought from his shop were not "capable of what we've seen and heard in the video without modification".
"Since the release of the news that we were one of several stores that Paddock had purchased firearms from in the area, myself and my employees have been receiving hate mail and threats, threatening phone calls and messages, and people leaving fake reviews of our company on various platforms," Mr Famiglietti wrote in a release posted to the company's Facebook page.
"Even though to us this is not important at the moment, we ask that people funnel their anger where it belongs instead of threatening and hurting others."
Las Vegas shooting – in pictures

Show all 15
He added: "It's no different from blaming Mandalay Bay for booking the hotel room, the State of Nevada DPS or the FBI for giving us the authority to transfer the weapon – it obviously wasn't done with malicious intent."
He said the shop was co-operating fully with all law enforcement agencies in the investigation into Paddock.
"Stephen Paddock did purchase several firearms through our retail store in North Las Vegas earlier this year. All state and federal requirements were met including a background check by the Nevada Department of Public Safety, as well as a full FBI NICS background check before he was able to take possession of the firearms he had purchased.
"My entire staff takes their job very seriously and if there were any 'red flags' during this transaction, like any other, it would have been halted immediately."
Unlike semi-automatic guns, fully automatic weapons, or machine guns, are tightly regulated by the US federal government. But owning one is not illegal, provided it was made before 1986 and properly registered.
It has been reported that Paddock had two "bump stocks" among his arsenal – perfectly legal devices that make it possible to shoot a semiautomatic weapon at a machine-gun-like rate.
Mr Famiglietti, a staunch supporter of the constitutional right to bear arms, said it was frustrating that people insisted on blaming "tools" instead of the person pulling the trigger.
"I sell tools, 99 per cent of the time, they are used lawfully. I can't fix the rest, unfortunately, just like the CEO of Ford or Chevy can't stop people from killing people with their cars."
He added that it was tiresome having to constantly "dispel myths" about the nature of guns and gun ownership in the US in order to combat what he called the "false info out there".
"I urge people that want to be 'against' something with such passion to take the time to educate themselves first."
Partner of Las Vegas gunman releases statement describing him as "kind, caring, quiet man"
He acknowledged that the state of Nevada is "very gun friendly" with a tradition of hunting and sports shooting.
But he said that with more people from California and other states which favour tighter gun control moving there, the Las Vegas metropolitan area is "becoming more and more anti-gun every year."
He said he felt anger towards politicians and campaigners who called for tighter gun laws in the immediate aftermath of the massacre.
He pointed to tweets from Hillary Clinton, one of which said: "The crowd fled at the sound of gunshots. Imagine the deaths if the shooter had a silence which the NRA wants to make easier to get."
Describing Paddock as a "nut job", Mr Famiglietti said: "Las Vegas, especially the Strip, is a very target-rich environment for a mass murder. I've always said, in the back of my mind, that I was surprised something like this hasn't happened sooner."
Mr Famiglietti insisted that "well aimed shots" fired one at a time from a legal weapon could have done "just as much" harm as the deadly hailstorm unleashed by Paddock, whose motives remain a mystery.
An analysis of video of the shooting suggests that in a ten-second burst, Paddock fired roughly ninety times into the crowd of people enjoying a country music festival – which could not possibly have been done with a non-automatic weapon.
Californian Democratic Senator Dianne Feinstein – who said her daughter almost went to the music festival turned massacre – this week proposed legislation that would ban bump stocks.
But many Republicans have remained silent on the issue of gun control and the influence of the powerful and enormously wealthy NRA, with President Donald Trump insisting it is not the right time to discuss changes to the law.
Register for free to continue reading
Registration is a free and easy way to support our truly independent journalism
By registering, you will also enjoy limited access to Premium articles, exclusive newsletters, commenting, and virtual events with our leading journalists
Already have an account? sign in
Join our new commenting forum
Join thought-provoking conversations, follow other Independent readers and see their replies