Stephen Paddock planned to escape after Las Vegas shooting, officials say
His motive is still unclear, and officials are considering whether he had help from anyone
Clark Mindock
New York
Thursday 05 October 2017 15:31 Comments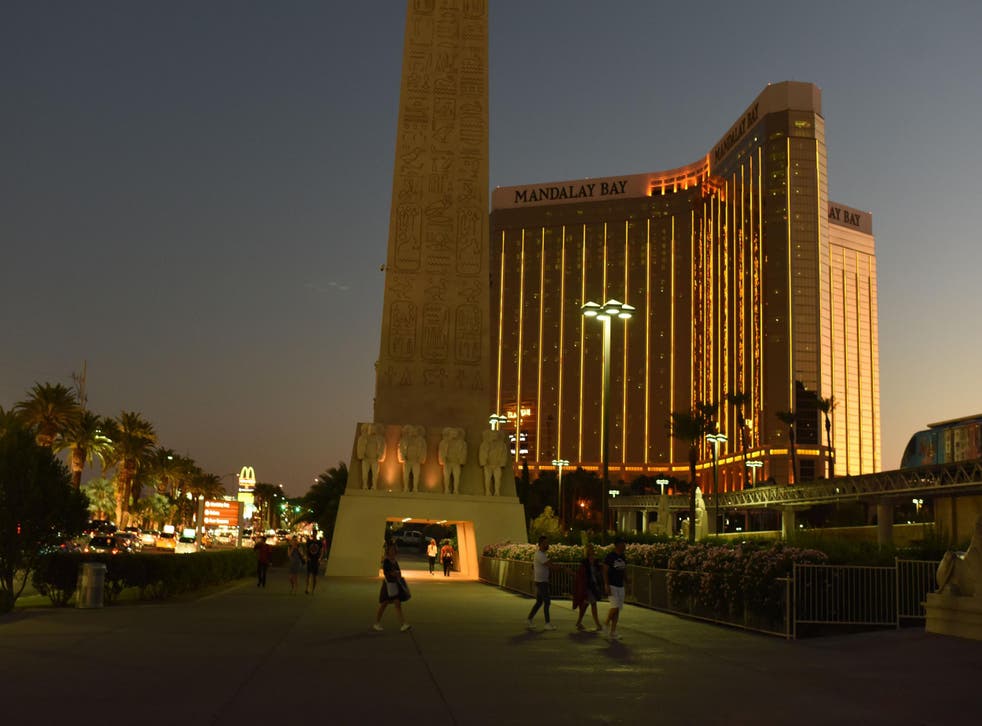 The gunman in the most deadly mass shooting in modern American history had plans to escape after the carnage.
In the days following the attack, officials have combed through the crime scene and Stephen Paddock's affairs, trying to determine if anybody else may have been involved, and what may have motivated him to shoot down on concert-goers from the 32nd floor of the Mandalay Bay Hotel and Casino. Many of those answers still remain a mystery.
"Yes," Clark County Sheriff Joe Lombardo said Wednesday when asked if the shooter had planned to escape after the killing. He did not elaborate how: "I can't tell you."
Mr Lombardo was later asked if the shooter had help.
"You've got to make the assumption he had to have some help at some point," he responded. "Maybe he's a super guy, maybe he was working out all this on his own, but it would be hard for me to believe that."
Paddock killed himself after the deadly shooting — 59 people were killed and 489 were injured — as police circled in on his hotel suite. As police began to investigate, the reason for the attack was not immediately certain. Officials initially referred to him as a "lone wolf" who was "solely responsible for this heinous act". The news that he may have had help adds a new twist in this already confusing tale.
Las Vegas shooting – in pictures

Show all 15
The shooter's girlfriend, Marilou Danley, returned from a trip to the Philippines Wednesday, and denied any knowledge of the attack.
Ms Danley, who officials have called a "person of interest", said that Paddock had surprised her with a plane ticket to see her family just over two weeks ago. While there, he wired her $100,000 and told her to buy a home for her and her family. She said in a statement released by her lawyer that she feared that might be his way of breaking up with her, but nothing more.
She returned to the US voluntarily, and was not arrested by the FBI upon arrival.
The statement, like comments from Paddock's brother the day after the shooting, expressed shock.
"I knew Stephen as a kind, caring, quiet man," her statement read. "I loved him and hoped for a quiet future together. He never said anything to me, or took any action that I was aware of that I understood in any way to be a warning that something horrible like this was going to happen."
The claim by Ms Danley that she was unaware is likely to come as a blow to the investigation, but investigators are still likely to try to extract as much information as possible from her about her interactions with Paddock, who has been described by neighbours as a man who kept mostly to himself.
Mr Lombardo called Paddock "disturbed and dangerous" during a Wednesday night press briefing, and said that he had fired continuously for 10 minutes Sunday night. He had gathered 47 guns sine 1982, and had purchased 33 of them, mostly rifles, in the last year alone. Some of those purchases were made just three days before the attack, according to an agent with the Federal Bureau of Alcohol, Tobacco, Firearms, and Explosives.
Paddock had rented another room in downtown Las Vegas around the time that the alternative music festival Life is Beautiful was being held, sometime between September 22 and 24.It wasn't clear why he had done so, or if he had initially planned on attacking that festival instead of the Route 91 country music festival. Police recovered items and video from that hotel as well.
Casino regulators are taking a close look at the shooter's gambling habits — he is known to have had a taste for high-stakes video poker — and are reviewing dozens of financial reports filed recently when he bought more than $10,000 in casino chips. Investigators are also reviewing records to determine if he had disputes with fellow casino patrons, or the casinos themselves.
Register for free to continue reading
Registration is a free and easy way to support our truly independent journalism
By registering, you will also enjoy limited access to Premium articles, exclusive newsletters, commenting, and virtual events with our leading journalists
Already have an account? sign in
Join our new commenting forum
Join thought-provoking conversations, follow other Independent readers and see their replies