Stephen Paddock used 'weapon of mass destruction' to carry out Las Vegas massacre, says district attorney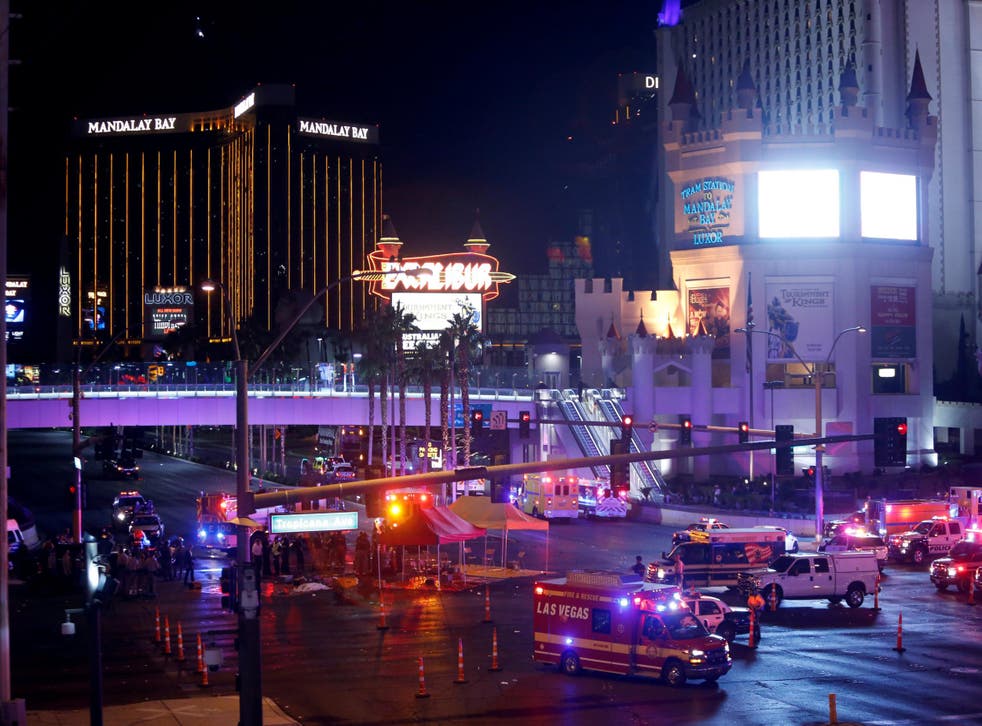 Clark County District Attorney Steve Wolfson says that the shooter in the deadly massacre in Las Vegas used a "weapon of mass destruction".
"This is a weapon, and a man, of mass destruction," Mr Wolfson said during a press briefing.
"This was a classic WMD. This was a weapon and a man of mass destruction," he said. "This doesn't involve politics. All of us are Nevadans. We're working to get through this."
At least 58 people were killed and 515 more injured after a gunman shot an automatic rifle at concert-goers Sunday night, according to Las Vegas police. Las Vegas Sheriff Joe Lombardo said that police believe the suspected gunman had used a "device similar to a hammer" to break the windows in the 32nd floor hotel room from which the shooter targeted victims below.
Police have identified 64-year-old Stephen Paddock as the gunman, and have said that he took his own life before police were able to apprehend him. Paddock lived northeast of the city in Mesquite, where he owned a home in a retirement community. It wasn't immediately clear what may have motivated Paddock to open fire on the concert-goers.
"This is a crazed lunatic full of hate. We don't know much about his background," Las Vegas Mayor Carolyn Goodman said. "But it's certainly not an extension about what we believe in."
Las Vegas shooting – in pictures

Show all 15
Las Vegas police dispatch first began receiving emergency calls reporting gunfire at the hotel just after 10 pm local time. Paddock was able to shoot at his victims down below at a country music concert for several minutes, according ot reports. He had at least eight guns in his hotel room.
Nevada has some of the loosest gun laws in the United States, and has no limitation on the number of guns that can be purchased at one time. It is legal to own, purchase, or sell machine guns there if the weapon was manufactured before 1986. The state has no law regulating large-capacity ammunition magazines, according to the Law Centre to Prevent Gun Violence.
Join our new commenting forum
Join thought-provoking conversations, follow other Independent readers and see their replies