Stephen Paddock: Leaked photos show Las Vegas shooter's corpse and possible note in gun-filled hotel room
Some of the images are very graphic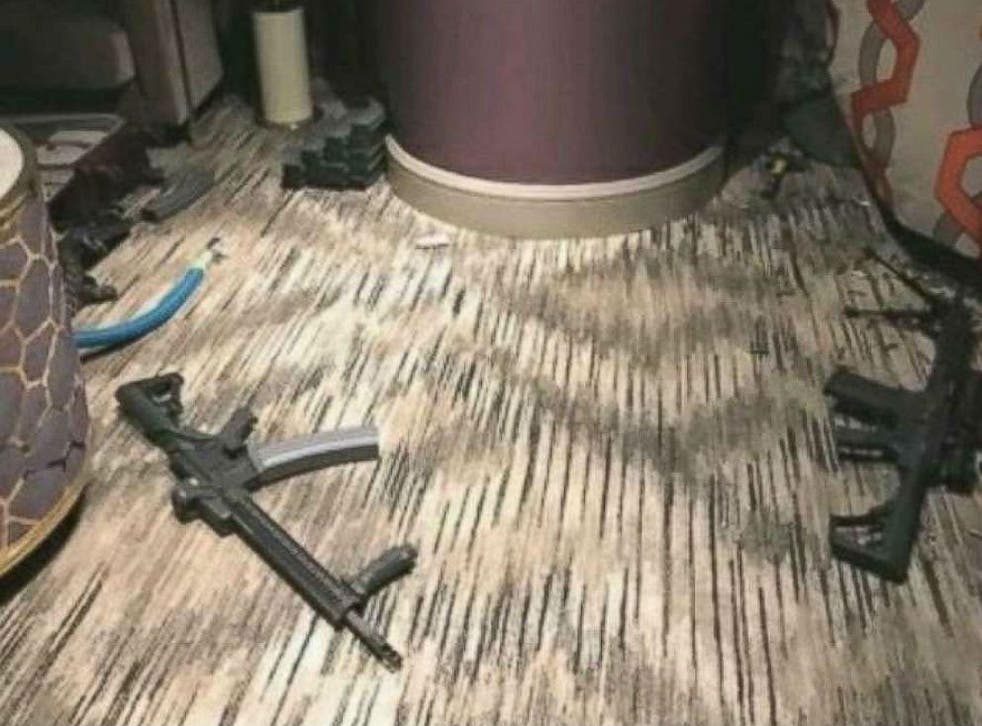 Images from inside Stephen Paddock's Las Vegas hotel room reveal a jumble of high-powered weapons, dozens of scattered shell casings, a possible note, along with his corpse.
The leaked photographs, some of them too graphic to publish, suggest Paddock killed himself with a shot to the head shortly before a police SWAT team stormed his room. Some believe the images may contain a possible note or letter,
The leaked images, which were first published by MailOnline, provide a striking insight into the sheer number of weapons the 64-year-old had amassed in the days before he opened fire.
Police have said they recovered 23 guns from inside the hotel and believe Paddock used 10 suitcases to take them up to his room.
They were taken inside room 32135 at the Mandalay Bay Hotel located on the Las Vegas Strip and leaked to the media. In addition to a number of high-powered weapons, they show shell casings and guns mounted on tripods.
The images also show Paddock's body, his legs dressed in dark trousers and slip-on shoes.
Las Vegas sheriff says Paddock may have been 'radicalised'
On a table close to his feet, there appears to be a roll of electrical tape, along with what may be a sheet of paper and a pen.
At this stage, police have not mentioned recovering any sort of note. Indeed, they have admitted they are scrambling to identify a motive for his decision to open fire on a country music concert, attended by 22,000 people.
They have said they hope that his girlfriend, Marilou Danley, who returned to the US on Wednesday from a visit to Asia, may be able to provide some insights.
Officials met her when she arrived as Los Angles and whisked her out of a side door in a wheelchair. Images show her wearing a baseball cap.
On Tuesday, Las Vegas Sheriff Joe Lombardo told reporters he hoped and expected she would provide information about Paddock that would be of of help to them.
Las Vegas shooting – in pictures

Show all 15
"We anticipate some information from her shortly," he said.
Other photographs that were leaked to the media show Paddock's 32nd floor room room from the outside, with its door broken and covered with police tape.
In one of those external shots, that look into the room, a rifle can be seen on the floor of the hotel suite, with a crime scene tag next to it.
The image also show that Paddock had mounted a camera inside the room, perhaps to film his actions or monitor police located at the venue.
There was another camera in the the peep hole of the hotel door. "I anticipate he was looking for anyone coming to arrest him," said Mr Lombardo.
Join our new commenting forum
Join thought-provoking conversations, follow other Independent readers and see their replies