Steve Bannon thinks an apocalyptic third world war is coming, claims historian
Donald Trump's chief strategist has repeatedly spoken of the belief global society goes to war every 80 to 100 years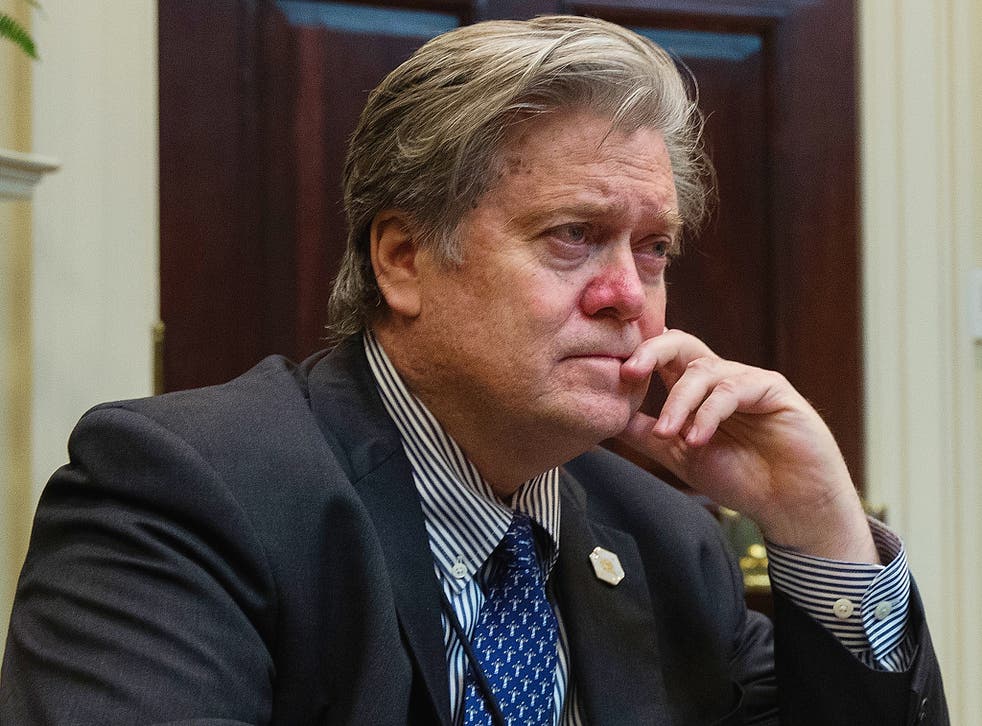 A historian claims Steve Bannon repeatedly tried to prompt him into saying that the US was on the brink of a third world war.
David Kaiser said Donald Trump's now chief White House strategist "really made an effort" in a 2009 interview to persuade him the "fourth turning" would be at least as big as the Second World War.
Mr Bannon's belief that global society repeats itself and runs in cycles, divided up by a war every 80 or 100 years, has been well documented in recent weeks.
"He was talking about the wars of the fourth turnings," said Mr Kaiser, speaking to the Huffington Post.
"You have the American Revolution, you have the Civil War, you have the Second World War; they're getting bigger and bigger.
"Clearly, he was anticipating that in this 'fourth turning' there would be one at least as big. And he really made an effort, I remember, to get me to say that on the air."
Mr Bannon was interviewing the then Rhode Island Naval War College professor for a 2010 documentary, by Conservative think tank Citizens United, called Generation Zero.
It looked at the generational theory by William Strauss and Neil Howe, but this line of questioning with Mr Kaiser, did not make the final cut.
Mr Bannon reportedly told Mr Kaiser America had slipped into the fourth turning when Hank Paulson and Ben Bernanke asked for a banking bailout in September 2008.
The former chairman of 'alt-right' news website Breitbart appears to believe we are in the midst of an existential war, predominantly with Islam and China.
World news in pictures

Show all 50
He told The Washington Post last month "we are witnessing the birth of a new political order".
In 2011 he told Political Vindication Radio "we're in a 100-year war against radical Islam" and in 2014 told a Vatican conference: "We are in an outright war against Jihadist Islamic fascism."
Mr Bannon reportedly once wrote a rap musical about gangster soldiers and said only people who own property should be allowed to vote.
Historian and New America Foundation co-founder Michael Lind also told the Huffington Post this Strauss and Howe theory was "fiction" and as vague as "fortune cookies".
Register for free to continue reading
Registration is a free and easy way to support our truly independent journalism
By registering, you will also enjoy limited access to Premium articles, exclusive newsletters, commenting, and virtual events with our leading journalists
Already have an account? sign in
Register for free to continue reading
Registration is a free and easy way to support our truly independent journalism
By registering, you will also enjoy limited access to Premium articles, exclusive newsletters, commenting, and virtual events with our leading journalists
Already have an account? sign in
Join our new commenting forum
Join thought-provoking conversations, follow other Independent readers and see their replies