Bookshop owner calls police after customer calls Steve Bannon 'a piece of trash'
'I said, 'I'm going to call the police if you don't,' and I went to call the police and she left,' says store owner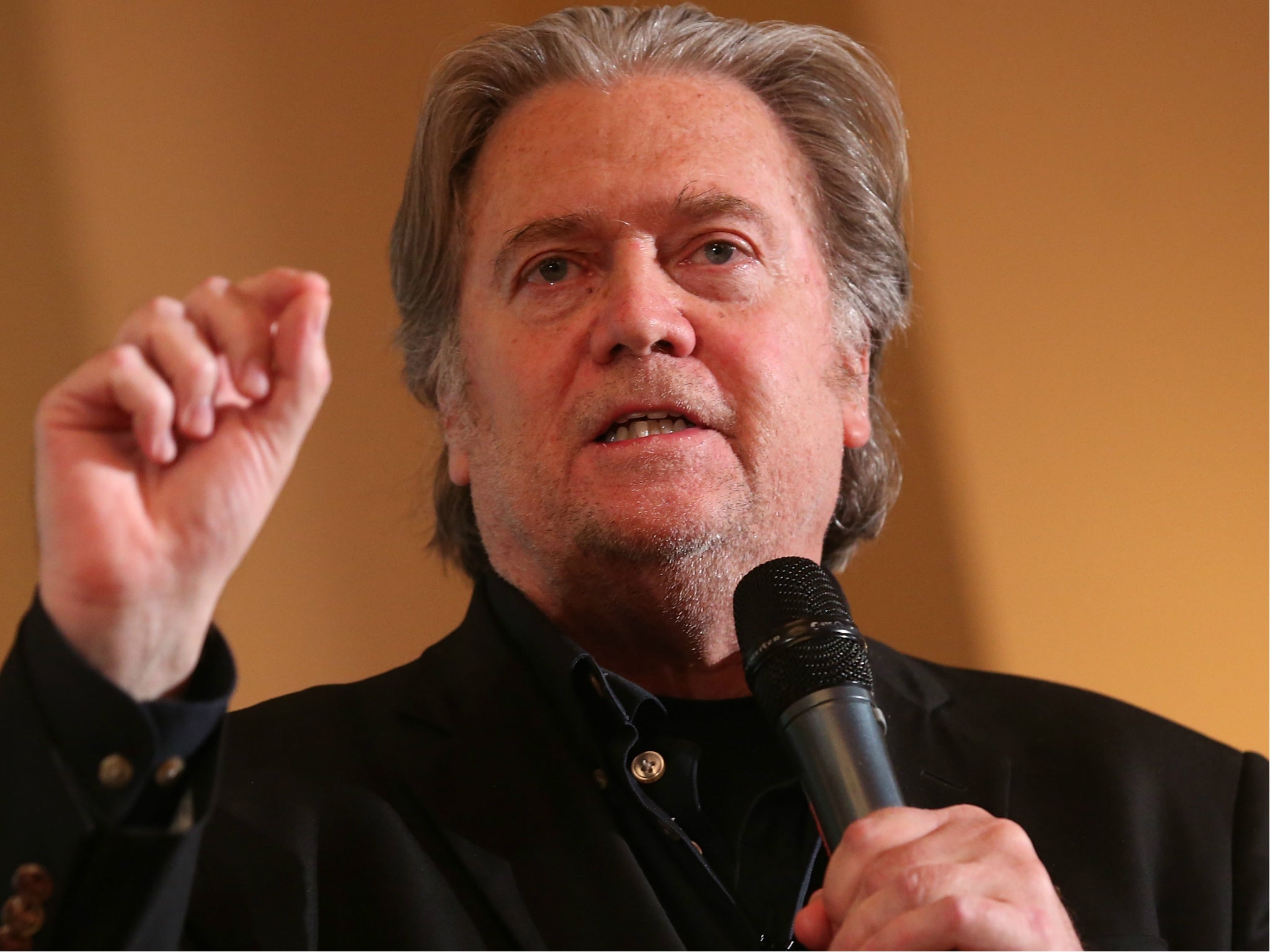 A bookshop owner said he called the police after a woman called Steve Bannon a "piece of trash" in his store.
Nick Cooke, owner of Black Swan Books in Richmond in Virginia, said the controversial former White House chief strategist was browsing books "minding his own business" when the woman confronted him.
"Steve Bannon was simply standing, looking at books, minding his own business. I asked her to leave, and she wouldn't," Mr Cooke told The Richmond Times-Dispatch.
"And I said, 'I'm going to call the police if you don't,' and I went to call the police and she left. And that's the end of the story."
Mr Cooke argued bookshops were centred around embracing varying ideological perspectives and promoting ideas of tolerance.
"We are a bookshop. Bookshops are all about ideas and tolerating different opinions and not about verbally assaulting somebody, which is what was happening," he said.
Mr Bannon, the former executive chairman of far-right website Breitbart News, grew up in Richmond, attending a private Catholic military secondary school there.
Mr Bannon is just one of a number of political figures associated with Donald Trump who has been confronted by members of the public in recent weeks.
Protesters confronted Senate Majority Leader Mitch McConnell while he was leaving a restaurant in Kentucky on Saturday. They chanted "Abolish ICE" and "No Justice, no peace".
It comes after Mr McConnell's wife stepped in to defend him last month after he was confronted by protesters over the Trump administration's family separation policy at the Mexican border.
World news in pictures
Show all 50
Elaine Chao, who serves as transportation secretary, demanded demonstrators leave her husband alone as she pointed at the group.
Other similar instances of heightened tension include protesters heckling Homeland Security Secretary Kirstjen Nielsen while she was eating at a Mexican restaurant and White House press secretary Sarah Huckabee Sanders being asked to leave a restaurant in Virginia in a separate incident.
Mr Bannon - who was abandoned by his wealthy backers Robert and Rebekah Mercer in January - left his White House post last August after rumours of in-fighting in the West Wing over the summer.
He returned to be head of Breitbart, with the publication proclaiming the return of their "populist hero" on its homepage hours after his departure became public.
But in January it emerged Mr Bannon was stepping down from his role as executive chairman, which he held before joining Mr Trump's team.
Headlines published on Breitbart under his watch over the years include "Does feminism make women ugly?" and "Birth control makes women unattractive and crazy".
Mr Bannon described Breitbart as a "the platform for the alt-right" - a political movement which has been accused of racism, antisemitism and misogyny - in 2016.
Join our commenting forum
Join thought-provoking conversations, follow other Independent readers and see their replies