US peanut company boss Stewart Parnell jailed for 28 years over salmonella outbreak blamed for killing nine people
More than 700 people fell ill as a result of the outbreak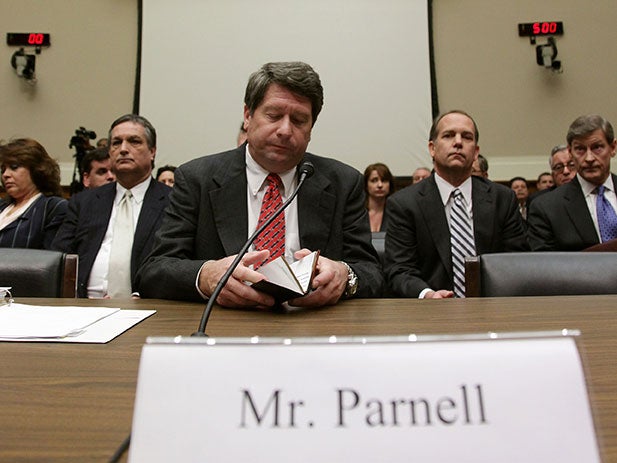 The former CEO of a peanut company in Georgia has been sentenced to 28 years for his part in a salmonella outbreak that has been blamed for killing nine people across the country.
More than 700 people fell ill across 46 states after eating tainted peanut butter. Of them, 166 were hospitalised according to the Centers for Disease Control and Prevention.
The contamination at the Peanut Corporation of America plant in Blakely resulted in one of the largest food recalls in US history.
Stewart Parnell, 61, who owned the company, was convicted on federal conspiracy charges in September 2014 for knowingly shipping the contaminated products to customers.
His brother, food broker Michael Parnell, 56, was convicted of the same charges and received a 20-year prison sentence.
The managers were accused of creating fake food certificates which stated the products were safe, according to the BBC.
Judge Louis Sands said: "These acts were driven simply by the desire to profit. This is commonly and accurately referred to as greed."
The ingredients that make national dishes national dishes
Show all 26
According to the Centers for Disease Control and Prevention, the victims of the outbreak had eaten contaminated peanut butter but could not confirm they had died as a result of salmonella.
The judge also handed down a five-year sentence to the company's former quality control manager, Mary Wilkerson, after she was found guilty of obstruction.
Ahead of sentencing, Stewart Parnell said he was "truly sorry" for what had happened.
Speaking to the court, Jeff Almer, from Minnesota, said his mother died after eating contaminated peanut butter in 2009.
According to Reuters, Mr Almer said: "My mother died a painful death from salmonella, and the look of horror on her face as she died shall always haunt me. I just hope they ship you all to jail."
Parnell's attorney, Tom Bondurant Jr., said he would appeal the judge's decision.
Additional reporting by Reuters
Join our commenting forum
Join thought-provoking conversations, follow other Independent readers and see their replies