Store owner who says Confederate flag doesn't represent racism, revealed to have family ties to KKK
'It has nothing to do with me, the store or this issue at hand'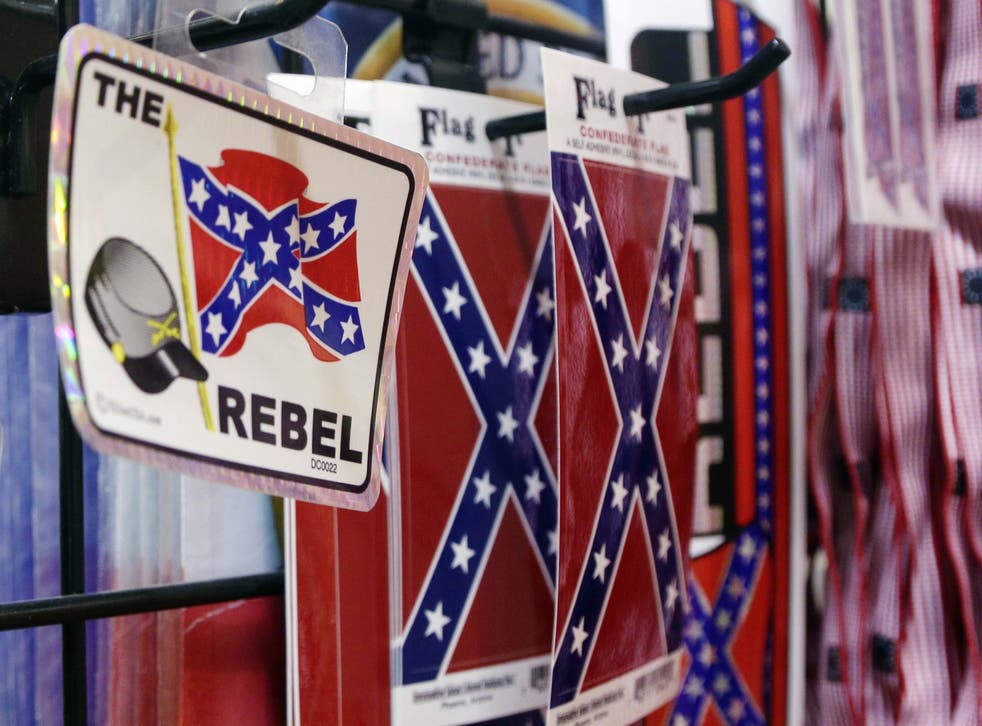 The Missouri franchise owner of Dixie Outfitters, a store specialising in "Southern Heritage" clothing, was revealed to have family ties to the Ku Klux Klan.
"It has nothing to do with slavery, which the media always want to bring in," Anna Robb said, defending the sales of Confederate flags during an interview with the Springfield Missouri News-Leader.
Just days following the News-Leader's initial interview with Ms Robb, readers alerted the news outlet and it was discovered that her husband Nathan, co-owner of Dixie Outfitters, was the "den-commander" of the KKK's Arkansas chapter.
Mr Robb once sought to participate in the state's Adopt-a-Highway litter control program on behalf of the Klan, the Associated Press reported in 1992. His father Thomas Robb also happens to be the national director of the KKK.
However, Ms Robb said she has not spoken to her father-in-law in years and denied that she and her husband were ever members of the Klan. She did, however, admit to attending KKK events in the past.
"I have years ago. That was years ago, and that is not even something that comes up anymore. It has nothing to do with me, the store or this issue at hand," she said, defending herself to the paper.
Outcry against the controversial battle flag with ties to southern racism and slavery have been led by southern chapters of the the National Association for the Advancement of Colored People and most recently South Carolina Governor Nikki Haley.
Ms Haley's views changed — along with many American politicians, businesses and civilians nationwide — after nine black churchgoers were fatally shot at a historically black Charleston church.
The stores owner told News-Leader that business was "absolutely up" after confessed shooter Dylann Roof murdered nine blacks at during a bible at the Emanuel African Methodist Episcopal Church in Charleston.
"We are working around the clock. People from across the country are excited about our store. They are flooding our website. I had to bring in extra staff just to fill orders," she said.
Register for free to continue reading
Registration is a free and easy way to support our truly independent journalism
By registering, you will also enjoy limited access to Premium articles, exclusive newsletters, commenting, and virtual events with our leading journalists
Already have an account? sign in
Register for free to continue reading
Registration is a free and easy way to support our truly independent journalism
By registering, you will also enjoy limited access to Premium articles, exclusive newsletters, commenting, and virtual events with our leading journalists
Already have an account? sign in
Join our new commenting forum
Join thought-provoking conversations, follow other Independent readers and see their replies