Charges against Stormy Daniels dropped after Ohio strip club arrest
Columbus police chief says department will investigate motives behind Stormy Daniels arrest internally
Kimberley Richards
New York
Thursday 12 July 2018 23:35 Comments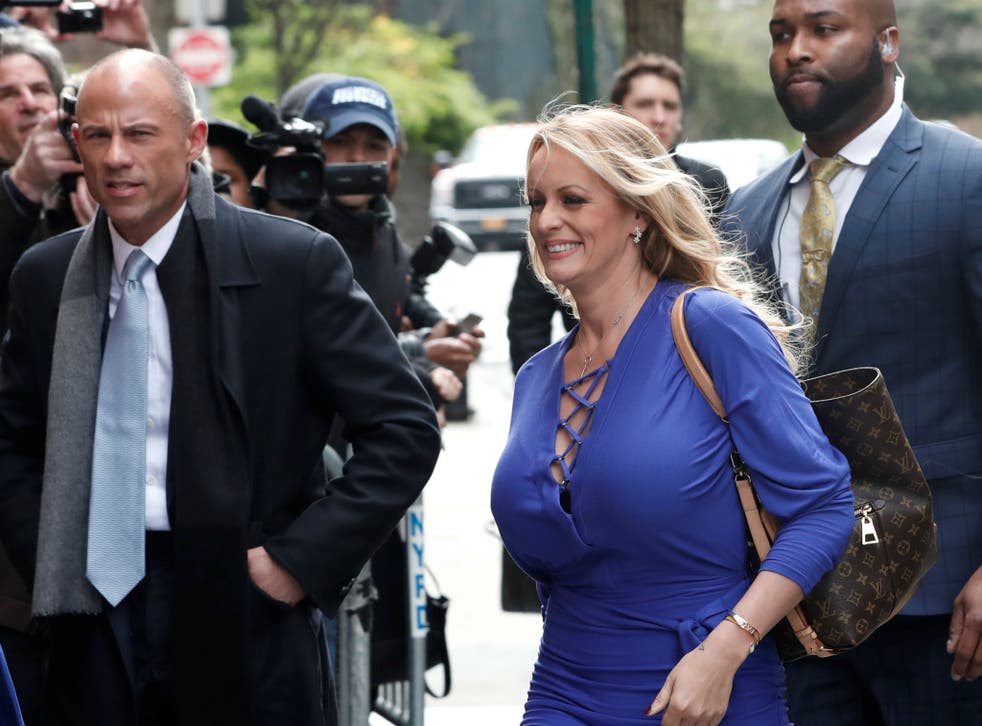 Charges against adult film actress Stormy Daniels have been dropped less than 24 hours after she was arrested in a strip club in Columbus, Ohio.
Ms Daniels, whose real name is Stephanie Clifford, was arrested for allegedly touching patrons at an adult club called Sirens in, a police affidavit filed in court said. Ohio law provides that no person who "regularly appears nude or seminude" on the premises of a sexually oriented business can knowingly "touch a patron".
Michael Avenatti, Ms Daniels' attorney, had earlier called the arrest "a setup" and "politically motivated".
Kim Jacobs, Columbus, Ohio police chief, has said the motivation behind Ms Daniels' arrest will be reviewed.
Ms Daniels has claimed she had a sexual affair with Donald Trump in 2006 before he became president and months after he married First Lady Melania Trump. The US president has denied those claims.
The actress has also said she was paid $130,000 (£98,000) by Mr Trump's lawyer, Michael Cohen, for her silence on the alleged affair prior to the 2016 presidential election. Mr Trump has said he had no knowledge of Mr Cohen's payment to Ms Daniels – though he later tweeted that he reimbursed Mr Cohen as part of a monthly retainer, which is separate from his campaign funds. He said these things are "very common among celebrities and people of wealth."
Donald Trump's first year: in pictures

Show all 29
Ms Daniels has previously filed defamation lawsuits against Mr Trump and Mr Cohen.
Mr Avenatti regularly provided updates on Twitter concerning Ms Daniels since news of her arrest. She was released on $6,000 bail early on Thursday morning.
According to court documents shared on Twitter, prosecutors found Ms Daniels was not in violation of Ohio law since she was not a regular at the Ohio club.
"In this case, there has been no evidence provided to the State that Defendant appears or has appeared at Sirens regularly," the memorandum read in part.
Ms Jacobs has said that although officers were "well within their area of responsibility" to make arrests, the department plans to review their motivations internally, the AP reports.
Ms Jacobs also noted that a mistake was made with Ms Daniels' arrest since the so-called "Community Defense Act" – prohibiting regular adult dancers from touching patrons and vice versa – couldn't be enforced since Ms Daniels is not a regular dancer at that club.
Two other dancers were also arrested that night, according to arrest documents. The actress wrote on Twitter that she plans to return to Sirens on Thursday night.
"I'll be going onstage tonight at Sirens in Columbus to perform for my fans and register voters as planned," Ms Daniels wrote. Can't stop the storm."
Register for free to continue reading
Registration is a free and easy way to support our truly independent journalism
By registering, you will also enjoy limited access to Premium articles, exclusive newsletters, commenting, and virtual events with our leading journalists
Already have an account? sign in
Register for free to continue reading
Registration is a free and easy way to support our truly independent journalism
By registering, you will also enjoy limited access to Premium articles, exclusive newsletters, commenting, and virtual events with our leading journalists
Already have an account? sign in
Join our new commenting forum
Join thought-provoking conversations, follow other Independent readers and see their replies