Stormy Daniels: Adult actor claims lawyer Michael Avenatti sued Trump without her permission
The porn film actress said "it's time to set the record straight"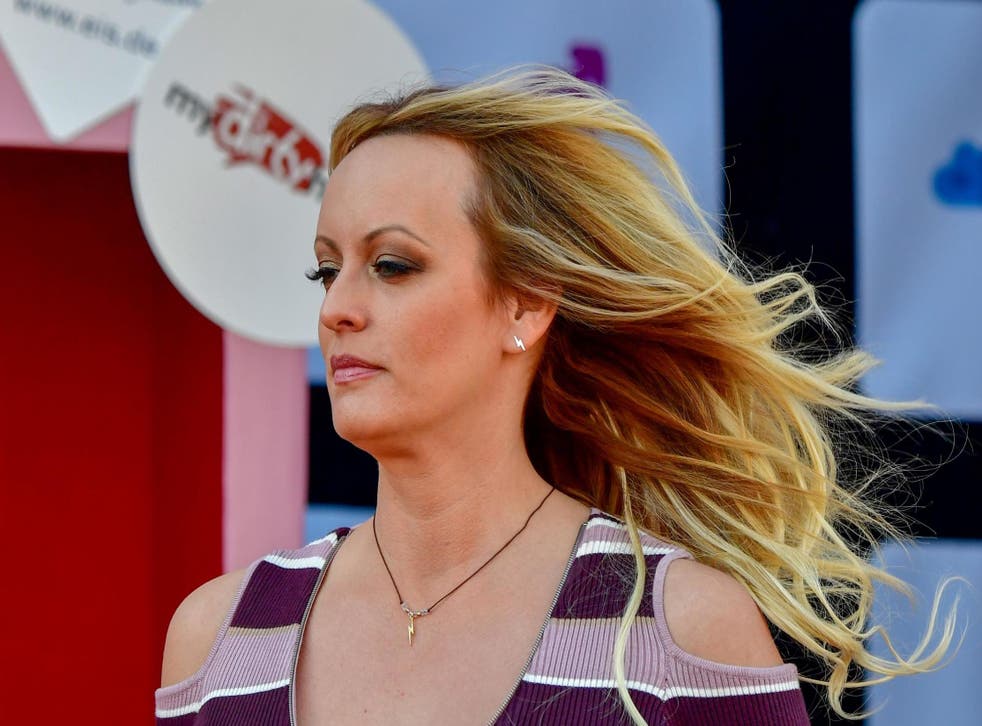 Pornographic film actress Stephanie Clifford moved Wednesday to distance herself from lawyer Michael Avenatti, saying he had filed a defamation suit against President Donald Trump against her wishes and sometimes spoke on her behalf without her consent.
In a statement provided to The Daily Beast, Ms Clifford, who is known professionally as Stormy Daniels, alleged Mr Avenatti had also repeatedly ignored her requests for accounting information about a legal defence and safety fund that has drawn support from donors; in the meantime, she said, Mr Avenatti launched another crowdfunding campaign without her knowledge, attributing words to her that she never wrote or said.
"I haven't decided yet what to do about legal representation moving forward," Ms Clifford said in her statement to The Daily Beast. "Michael has been a great advocate in many ways. I'm tremendously grateful to him for aggressively representing me in my fight to regain my voice. But in other ways Michael has not treated me with the respect and deference an attorney should show to a client."
"I don't want to hurt Michael, but it's time to set the record straight," her statement continued. "The truth has always been my greatest ally."
In his own statement responding to Ms Clifford's new allegations, Mr Avenatti said Wednesday: "I am and have always been Stormy's biggest champion."
"I have personally sacrificed an enormous amount of money, time and energy towards assisting her because I believe in her," the statement said. "I have always been an open book with Stormy as to all aspects of her cases and she knows that. You need only look back at her numerous prior interviews where she states we talk and communicate multiple times every day about her cases."
"The retention agreement Stormy signed back in February provided that she would pay me $100 and that any and all other monies raised via a legal fund would go towards my legal fees and costs," the statement continued. "Instead, the vast majority of the money raised has gone towards her security expenses and similar other expenses. The most recent campaign was simply a refresh of the prior campaign, designed to help defray some of Stormy's expenses."
UK news in pictures

Show all 50
In a tweet Tuesday morning, Mr Avenatti linked to a crowdfunding site, while noting that "a key hearing" in one of Ms Clifford's cases against Trump was coming up. The campaign appeared to have been taken down Wednesday night, however.
Ms Clifford's criticism came during a turbulent time for Mr Avenatti, who was arrested in Los Angeles this month on suspicion of domestic violence. In a statement provided to New York magazine and others in the hours after the arrest, Ms Clifford asked people to "reserve judgment" but made clear she would find another lawyer if the allegations proved to be true.
Then, in court documents filed days later, more details about the alleged episode became public. As part of a request for a temporary restraining order against Mr Avenatti, which a Los Angeles Superior Court judge granted, the 24-year-old woman who filed the domestic violence complaint that led to Mr Avenatti's arrest alleged that he had cursed at her and dragged her out of bed and across the floor after a dispute about money.
World news in pictures

Show all 50
Mr Avenatti has strongly denied the allegations. Last week, the Los Angeles County District Attorney's Office announced that the matter, which was initially being investigated as an alleged felony, had been referred to the city attorney's office for "misdemeanour filing consideration." A spokesman for the city attorney's office said Wednesday that the case "is currently under review."
Mr Avenatti has positioned himself as a crusading critic of Trump and a fierce advocate of women's rights. He has also toyed with a run for president, using Twitter to broadcast his voice and challenge politicians and news personalities to debates.
He has filed three suits against the president and his former personal lawyer, Michael Cohen, this year, including the one that Ms Clifford said Wednesday had been filed against her wishes. That defamation lawsuit was dismissed last month by a federal judge who ordered Ms Clifford to pay Trump's legal fees. Mr Avenatti has since filed an appeal.
A second lawsuit seeks to void a 2016 nondisclosure agreement that prevented Ms Clifford from discussing what she said was an affair she had with Mr Trump in 2006. The third suit — which Mr Avenatti appeared to reference in his crowdfunding tweet Tuesday — claims that Ms Clifford's previous lawyer, Keith Davidson, conspired with Mr Cohen and Mr Trump to keep Ms Clifford quiet.
The New York Times
Register for free to continue reading
Registration is a free and easy way to support our truly independent journalism
By registering, you will also enjoy limited access to Premium articles, exclusive newsletters, commenting, and virtual events with our leading journalists
Already have an account? sign in
Register for free to continue reading
Registration is a free and easy way to support our truly independent journalism
By registering, you will also enjoy limited access to Premium articles, exclusive newsletters, commenting, and virtual events with our leading journalists
Already have an account? sign in
Join our new commenting forum
Join thought-provoking conversations, follow other Independent readers and see their replies