Straight Outta Compton: How NWA's new biopic reveals simmering tensions
The notorious LA district may be less fraught than it was in the 1980s, but the new film shows how old feuds die hard among Compton's rappers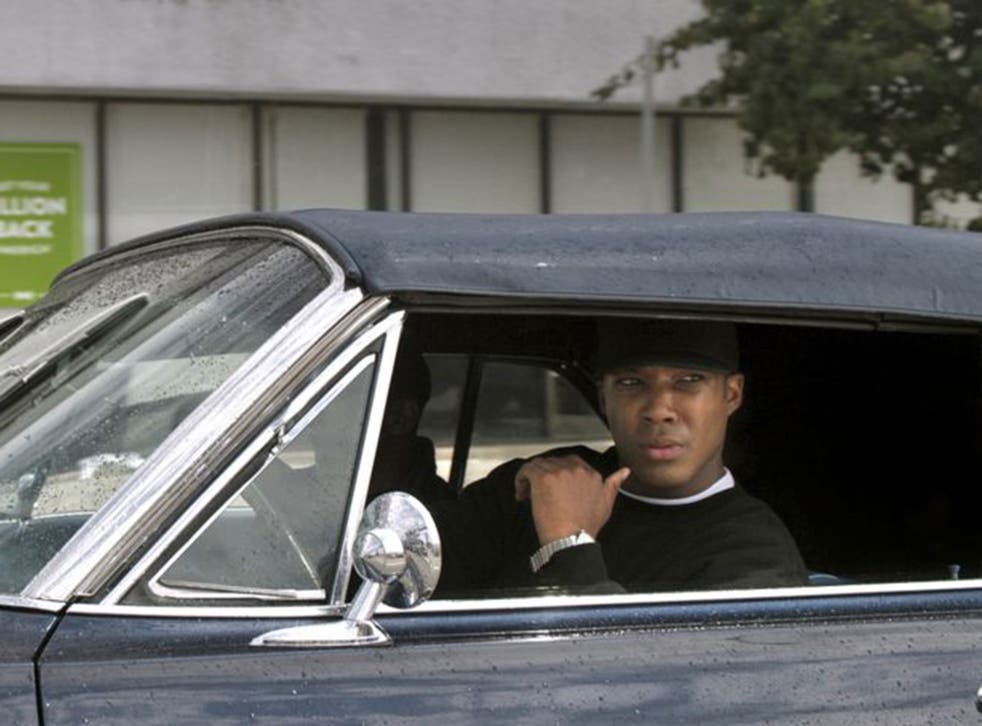 On a Thursday in January, two of South Los Angeles's favourite sons returned to the streets of Compton, where they grew up, to film a promotional clip for a film about their rise to fame. Dr Dre and Ice Cube, original members of the gangsta rap group NWA ("Niggaz wit Attitudes"), are also co-producers of Straight Outta Compton, the biopic named after their groundbreaking 1988 debut.
Much has changed in the quarter-century since that album's release. Today Ice Cube (real name O'Shea Jackson) is a movie star. Dre (real name Andre Young) is a billionaire thanks to his Beats headphones brand, which was purchased by Apple last year for $3bn (£2bn), and the streets of Compton are far less fraught with drugs and violence than in the group's heyday.
Yet much has stayed the same. NWA and its hip-hop affiliates provided the soundtrack to the 1992 Los Angeles riots, which followed the police beating of unarmed black motorist Rodney King and the subsequent acquittal of the LAPD officers involved. Today, relations between US police forces and the black communities they ought to serve are as strained as ever.
"The same thing that we were going through in the 1980s with the police people are going through right now," Ice Cube said in the clip that was filmed that day. "Our music was like our weapon... what a lot of people don't realise about NWA is that it was non-violent protest."


Now as then, however, violence is not always far away. On that same January afternoon, Marion "Suge" Knight, a sometime associate of Dre's, became embroiled in an argument at a nearby restaurant, Tam's Burgers. As he exited the car park in his Ford F-150 truck, Knight struck both his friend, record label owner Terry Carter, and Cle "Bone" Sloan, a fellow Compton native who worked on the film. Carter was killed, Sloan seriously injured.
Knight co-founded the label Death Row Records with Dre in 1991, shortly after NWA's acrimonious split. The label went on to represent several other major hip-hop stars including Snoop Doggy Dogg, Tupac Shakur and MC Hammer, as well as producing Dre's seminal 1992 solo album The Chronic. The pair's paths diverged in 1996, when Dre departed Death Row, supposedly having tired of Knight's gang associations. In the same year, Knight was sent to prison for five years for a brutal assault on a rival of Shakur's in Las Vegas, hours before Shakur himself was shot dead.
Highest earning hip-hop artists

Show all 10
Knight, who is depicted in Straight Outta Compton, was reportedly upset not to be paid for the use of his likeness. In a trailer for the film, a character resembling Knight is seen beating another man in a recording studio. Another scene was filmed in which Knight speeds out of a car park in his Jeep, though it is unclear whether that sequence will leave the cutting room. He is thought to have driven to the set to discuss his on-screen portrayal with Dre, whose security team turned him away.
Sloan, an adviser on the film who had feuded with Knight, reportedly pursued him to a meeting at Tam's Burgers. Carter, a friend of both Knight and Dre, was apparently trying to engineer a reconciliation between the two former partners. Knight's lawyers claim he was attacked by Sloan and three other men, and that he struck Sloan and Carter accidentally as he tried to flee. He was later arrested for murder and attempted murder.
In May, Knight fired his original lawyer and replaced him with Thomas Mesereau, who is known for having successfully defended Michael Jackson against charges of child molestation in 2005. A trial had been scheduled to begin in July, but has now been postponed, perhaps until after the film opens in US cinemas on 14 August.


Last week, Carter's widow filed a wrongful death lawsuit, which named Universal Pictures, Ice Cube and Dre as defendants, alleging that they allowed production of Straight Outta Compton to proceed despite Knight's discontent about the way he was to be portrayed, and that they hired Sloan to work on the film despite his personal beef with Knight – an explosive combination of circumstances that she claims led to her husband's death.
Knight is not the only figure unhappy with the film's version of events. Though Ice Cube, Dre and the late rapper Eazy-E are often considered the core members of NWA, the group's line-up also included DJ Yella – real name Antoine Carraby – and MC Ren, aka Lorenzo Patterson. Patterson complained on Twitter this week about his peripheral role in the film, writing: "Man fuck these bitches at universal pictures leaving me out the movie trailers tryin to rewrite history... The work I put into them records. It's disrespectful to me, my family and most of all my FANS."
The film, directed by F Gary Gray, is due for release in the UK on 28 August, and chronicles how Dre, Ice Cube and NWA rose to fame, acclaim and notoriety with classic tracks such as "Fuck tha Police" and "Gangsta Gangsta". The cast includes Paul Giamatti as the group's manager Jerry Heller, and Ice Cube's son, O'Shea Jackson Jnr, as his father.
For years, Compton officials tried to separate the city's reputation from that of NWA and the gangsta rap genre they spawned, concerned that the city would be seen only in the light of its violent crime problem. Today, however, Dre, Ice Cube and their colleagues are seen as the artists who put Compton on the map. The city's optimistic young mayor Aja Brown has even suggested Compton might one day become a "new Brooklyn" in LA.
Thus, the filming of the Straight Outta Compton promo marked a triumphant return to home turf for Dre and Ice Cube. On the Wednesday evening, hours before Carter's death, filming moved to Tam's Burgers, where the two elder statesmen spoke in the car park to a contemporary Compton hip-hop star, Kendrick Lamar. In the finished trailer, Lamar told them: "NWA, it wasn't really music to me. It was more like a lifestyle: brothers from my neighbourhood that made it out."
As Knight would demonstrate the following day, making it out can be easier said than done.
Register for free to continue reading
Registration is a free and easy way to support our truly independent journalism
By registering, you will also enjoy limited access to Premium articles, exclusive newsletters, commenting, and virtual events with our leading journalists
Already have an account? sign in
Register for free to continue reading
Registration is a free and easy way to support our truly independent journalism
By registering, you will also enjoy limited access to Premium articles, exclusive newsletters, commenting, and virtual events with our leading journalists
Already have an account? sign in
Join our new commenting forum
Join thought-provoking conversations, follow other Independent readers and see their replies