US students form protective wall around praying Muslim classmates
Action comes after woman is threatened with being set on fire for wearing a hijab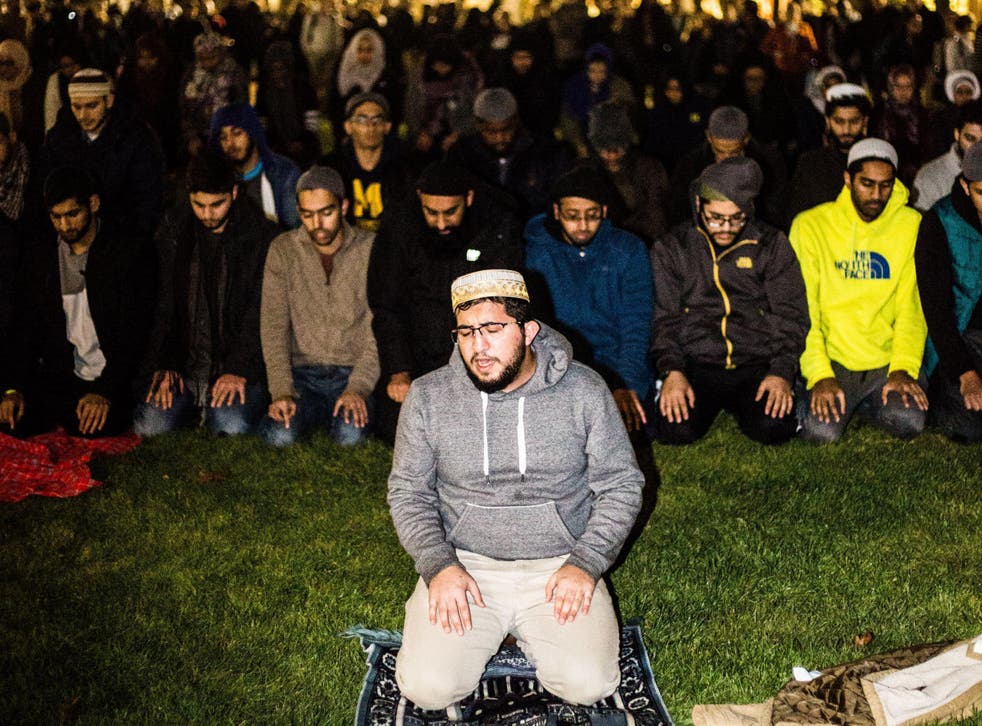 Hundreds of students at Michigan University formed a circle around their Muslim classmates so they could pray safely after a woman wearing a headscarf was threatened.
The action was verbally assaulted by a man for wearing the hijab. According to Ann Arbor police, he ordered the woman to remove her headscarf and said he would set her on fire with a lighter if she refused.
The college's Muslim Students' Association (MSA) organised the public prayer session following the incident and invited non-Muslim allies to attend in solidarity.
Farhan Ali, president of the MSA, said he was "overwhelmed" when hundreds of people arrived to stand guard as they performed a group Ishaa prayer, the final of five daily prayers, in the University's main square.
"Some individuals were afraid that we might be vulnerable during our prayer, so we had the idea of calling allies to support us and create a circle around us while we prayed and they ensured our safety," Mr Ali told the Huffington Post.
"Hundreds and hundreds of people came out for both prayer and showing their support," Mr Ali wrote in an email.
"The amount of support was overwhelming and absolutely wonderful, and it brought some ease to the Muslim students [and] showed that we have other individuals who are willing to stand with us."
Mohammed Ishtiaq, the university's Muslim chaplain, told the Huffington Post that both the Jewish and Christian communities on campus came out to show their support. He said some members of the crowd held signs that read: "You Belong Here."
"Although it was a cold night, the amount of support we got was really heart warming," Mr Ishtiaq said in an email. "Events of solidarity like this give us hope."
Since Donald Trump was elected the next US president on 8 November, reports of hate crime against Muslims and other minorities have spiked across the country.
During his campaign, Mr Trump sparked controversy by proposing a ban on all Muslims entering the country and suggesting that Muslim in the US should be required to register on a database.
President Trump protests

Show all 20
Mr Ali said there was some "sadness, fear, and uneasiness" in the Muslim community at the university immediately after the election. The group is now trying to mobilise and organise in positive ways.
"We must roll up our sleeves and get to work because the fight does not end with the election results," Mr Ali told the Huffington Post.
"We have allies who are with us and we have a community that is resilient and will not succumb to fear in light of these attacks."
The Facebook event for the group prayer said: "We will have our voices heard and let it be known that Muslim Students on campus will not be ashamed of their identities, and what better display of our presence than through our worship and seeking refuge in God, the most merciful and the most gracious.
"We will also be having non-Muslim allies attending this event in order to circle and show support for Muslim students, and show that bigotry and hatred on this campus will not be accepted or tolerated by both Muslims and their non-Muslim allies."
Register for free to continue reading
Registration is a free and easy way to support our truly independent journalism
By registering, you will also enjoy limited access to Premium articles, exclusive newsletters, commenting, and virtual events with our leading journalists
Already have an account? sign in
Register for free to continue reading
Registration is a free and easy way to support our truly independent journalism
By registering, you will also enjoy limited access to Premium articles, exclusive newsletters, commenting, and virtual events with our leading journalists
Already have an account? sign in
Join our new commenting forum
Join thought-provoking conversations, follow other Independent readers and see their replies