Stunt pilot Charles Schwenker and wing-walker Jane Wicker die after plane crashes and bursts into flames at Ohio air show
The woman and her pilot have been named as Jane Wicker and Charles Schwenker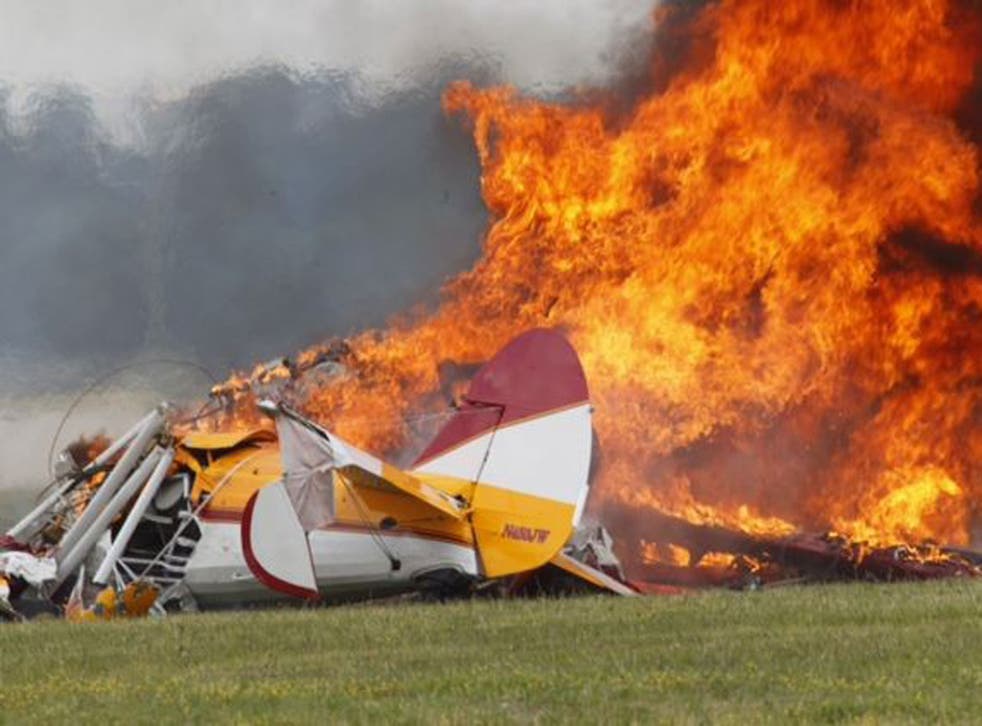 A female wing-walker and her stunt pilot have been killed during an Ohio air show, after the plane they were performing on crashed and burst into flames, authorities have confirmed.
The bi-plane crashed in front of an audience observing from the landing strip during a stunt at the Vectren Air Show on Saturday.
The woman, who traversed the length of the plane whilst it was in the air as part of her performance, has been named as Jane Wicker. The pilot was named as Charles Schwenker.
Footage of the incident was posted on WHIO-TV and the announcer can be heard narrating as the plane glides through the sky and rolls over while the stunt woman perches on a wing. Video footage shows the bi-plane turn upside down whilst Wicker is on the wing.
The announcer can then be heard saying to the crowd "Keep an eye on Jane. Keep an eye on Charlie. Watch this! Jane Wicker, sitting on top of the world."
The plane suddenly tilts and crashes to the ground, exploding into flames as spectators scream.
Airport spokeswoman Linda Hughes and Ohio State Highway Patrol Lt. Anne Ralston confirmed that a pilot and stunt walker had died but declined to give their names. The air show also said it wouldn't immediately release their identities.
The show was cancelled for the rest of the day, but organisers said events would resume Sunday and follow the previous schedule and normal operations. The National Transportation Safety Board said it is investigating the crash.
Federal records show that the biplane was registered to Wicker, who lived in Loudon, Virginia. No members of the audience were injured in the crash.
Join our new commenting forum
Join thought-provoking conversations, follow other Independent readers and see their replies