Supreme Court nominees: Everything you need to know about Trump's top three SCOTUS candidates
President is reportedly choosing between three conservative candidates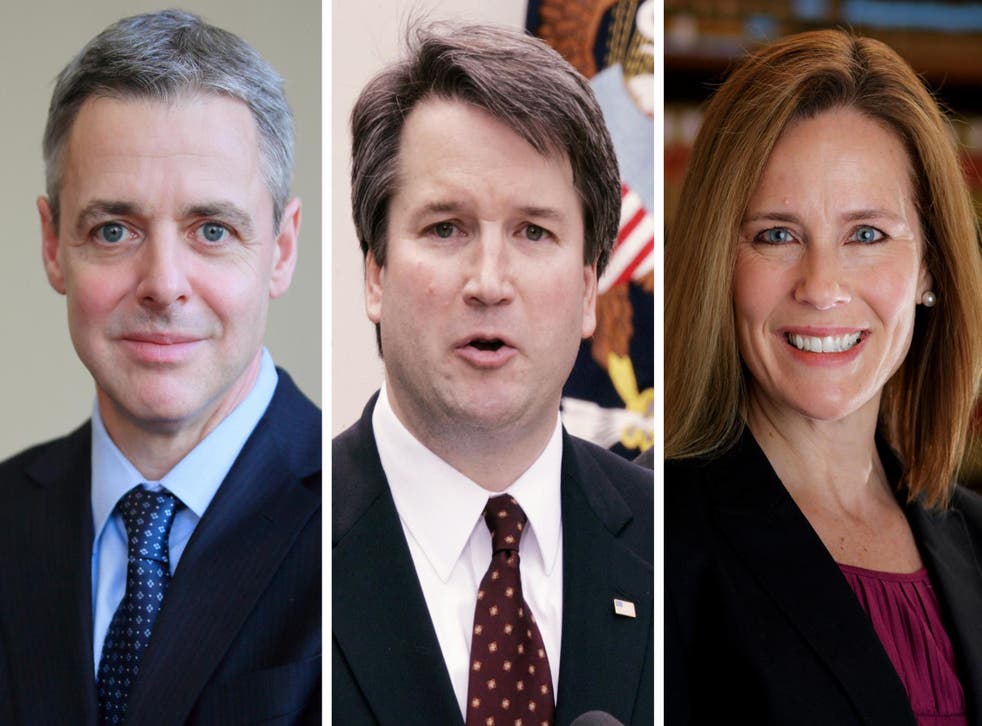 President Donald Trump has reportedly narrowed down his options for the vacant US Supreme Court seat to three top contenders, who could become the deciding vote on everything from abortion rights to same-sex marriage.
The president is sizing up candidates for the second Supreme Court nomination of his presidency, hoping to fill the seat left open by Justice Anthony Kennedy's retirement. He plans to announce his choice on Monday night.
"I have it down to four people, and I think of the four people, I have it down to three or two," he told reporters en route to a rally on Thursday night. "I think they're all outstanding."
Mr Trump has spent the last week meeting with candidates, deliberating with White House staff, and talking with outside advisers. According to the Associated Press, he has met with a total of seven contenders.
A number of candidates are still in the running, from federal judge Thomas Hardiman to Senator Mike Lee. But sources close to the president told multiple outlets he is currently focusing on just three: federal judges Brett Kavanaugh, Raymond Kethledge, and Amy Coney Barrett.
Below is everything you need to know about each top contender.
Brett Kavanaugh
Mr Kavanaugh, 53, is a Yale Law School graduate who previously served as a law clerk to Mr Kennedy. He currently serves on the US Court of Appeals for the District of Columbia, where he has authored more than 280 opinions – most of which have a distinctly conservative bent.
Last year, Mr Kavanugh ruled to prevent a teenager in immigrant detention from getting an abortion. When the ruling was later overturned by the full court, he claimed the decision would give immigrant minors to a right to "immediate abortion on demand". The judge has also frequently ruled against Obama-era environmental regulations, and said he would like to strike down Washington DC's ban on certain semi-automatic long guns.
Despite his record of conservative opinions, some at the White House are wary of Mr Kavanaugh's ties to former President George W Bush, with whom Mr Trump maintains a contentious relationship. Mr Kavanagh was involved in the Florida vote recount that won Mr Bush the 2000 election, and later served as his counsel and staff secretary.
Donald Trump on Justice Kennedy: 'He will be missed, but he will be retiring'
Mr Kavanaugh also has a history with another past US president: Bill Clinton. In 1998, the future judge co-wrote an impeachment report on Mr Clinton with special counsel Kenneth Starr. In the report, he argues for a broad definition of obstruction of justice – a crime for which special counsel Robert Mueller is reportedly investigating Mr Trump.
But Mr Kavanaugh appears to have changed his views recently, writing in 2009 that moving to indict a sitting president would "ill serve the public interest, especially in times of financial or national-security crisis".
He added: "If the president does something dastardly, the impeachment process is available."
Raymond Kethledge
Mr Kethledge, 51, also has ties to former President George W Bush: The president nominated him to his current role on the 6th Circuit Court of Appeals in 2006.
From there, Mr Kethledge handed down a series of decisions that earned him the ire of many pro-choice and social justice groups. In 2014, the University of Michigan Law School law school graduate argued that employers should be allowed to run credit card checks on job applicants – something the Equal Employment Opportunity Commission argued was racial discrimination.
In a 2017 discrimination case against the US Border Patrol, Mr Kethledge accepted agents' claims that they used slurs like "wets" and "tonks" to refer specifically to undocumented immigrants, not to Hispanics in general. In a 2011 rape case, he argued that the victim's sexual history with the defendant should have been allowed in court.
World news in pictures

Show all 50
Democratic Senate Minority Leader Chuck Schumer lashed out against the candidate this week via Twitter, claiming he had a "history of opposing women's reproductive freedom" and has "repeatedly sided against workers in cases dealing with the right to organise, fair wages, age discrimination, and sexual harassment".
Supporters, however, argue Mr Kethledge is the easiest route to confirmation, free of Mr Kavanaugh's complicated DC ties but with more experience than the other top contender, Amy Barrett. He also shares many of the same values of Justice Neil Gorsuch, whom Mr Trump appointed to fill the late Justice Antonin Scalia's seat last year.
As prominent conservative publication The Federalist put it in a recent editorial: "With Kethledge, the president has the chance to nominate Gorsuch's ideological twin, his intellectual peer, his real-life fishing buddy, and his close personal friend. In short, President Trump has the chance to nominate 'Gorsuch 2.0'."
Amy Coney Barrett
Ms Barrett, 46, is the only woman among Mr Trump's top picks, and the only contender not to have clerked for Mr Kennedy. Instead, the Notre Dame law school graduate clerked for the late Justice Antonin Scalia before serving as an associate at an international law firm.
Ms Barrett has spent most of her career as a law professor at Notre Dame, where she worked for 15 years before Mr Trump appointed her to the 7th Circuit Court of Appeals in 2017. Detractors are reportedly concerned about Ms Barrett's lack of experience on the bench, but conservative supporters are backing her as the only truly conservative pick.
Ms Barrett, a devout Catholic, has previously expressed her personal belief that life begins at conception, and was a member of pro-life groups while teaching at Notre Dame. She has also suggested that the Court should be more "flexible" in overturning past decisions – something opponents fear means she is open to overturning Roe v Wade, the Supreme Court decision that made abortion legal across the country.
Demonstrators crowd outside US Supreme court to protest travel ban
The judge's religious beliefs became a focal point of her Senate confirmation hearing last year, in which Democratic Senator Dianne Feinstein infamously declared: "The dogma lives loudly within you."
The American Principles Project, American Family Association, and other socially conservative groups signed onto to a letter supporting Ms Barrett last week, noting her "compelling personal story".
Ms Barrett has seven children, two of whom are adopted.
"Liberals had a miserable time using their tired playbook of attacks against Barrett's last confirmation because she has a compelling and compassionate life story," the organizations wrote. "...Attempts to label her an 'uncompassionate bigot' will fail."
Register for free to continue reading
Registration is a free and easy way to support our truly independent journalism
By registering, you will also enjoy limited access to Premium articles, exclusive newsletters, commenting, and virtual events with our leading journalists
Already have an account? sign in
Register for free to continue reading
Registration is a free and easy way to support our truly independent journalism
By registering, you will also enjoy limited access to Premium articles, exclusive newsletters, commenting, and virtual events with our leading journalists
Already have an account? sign in
Join our new commenting forum
Join thought-provoking conversations, follow other Independent readers and see their replies