Supreme Court: Republicans vow to block Obama's appointment
Justice Antonin Scalia died last week in Texas, creating a vacancy on the Supreme Court.
Jasmine Bager
New York
Tuesday 23 February 2016 23:47 Comments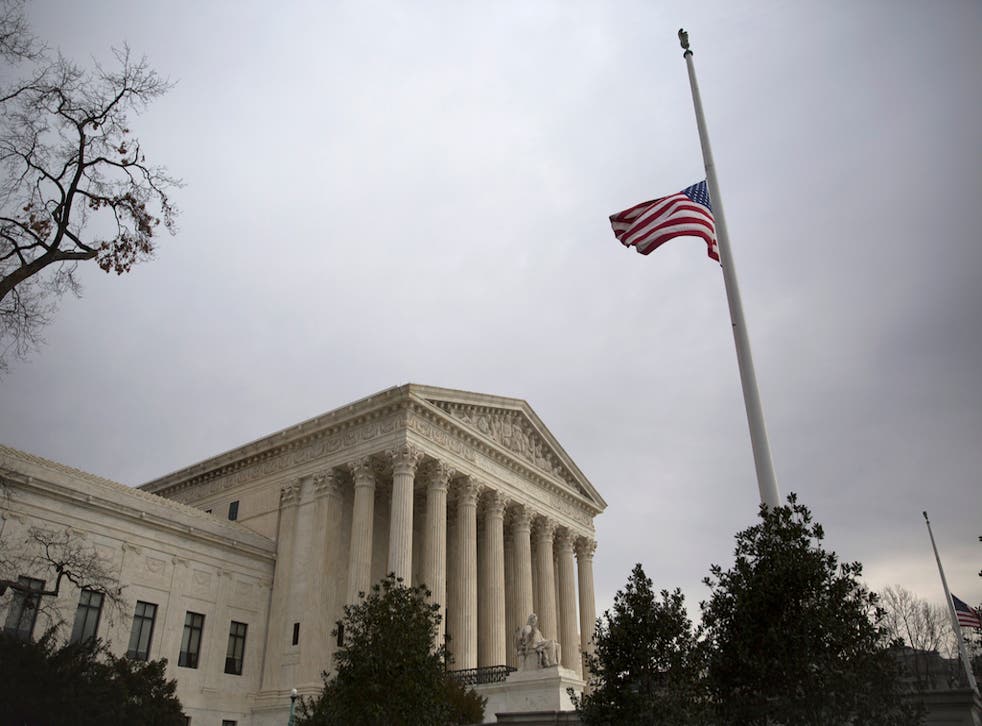 Republicans are vowing block the imminent attempt by President Barack Obama to select a replacement for the late Supreme Court Justice Antonin Scalia, who died last week.
The Republican leader in the Senate, Mitch McConnell, said on Tuesday that he had received a letter from members saying that nominations should wait for the new president in January 2017.
This echoes the sentiment from presidential candidate Sen. Marco Rubio from Florida — a lawyer — who claimed on NBC's Meet the Press that President Barack Obama should not be making a nomination and that the American people should wait until the new president makes the selection 10 months from now.
"There comes a point in the last year of the president, especially in their second term, where you stop nominating" both Supreme Court justices and Court of Appeals judges," Mr Rubio said.
Republicans have cited an informal rule they claim was put into place in the 1960s - the so-called Thurmond Rule which is named after former Senator Strom Thurmond, who opposed Johnson's Supreme Court nomination in 1968.
They claim the rule underscores an informal agreement that a president should not nominate a Supreme Court Justice in their final year, give the lasting and influence the position holds
Mr McConnell said members of the Judiciary Committee wrote that they wanted "to ensure the American people are not deprived of the opportunity to engage in a full and robust debate over the type of jurist they wish to decide some of the most critical issues of our time"
That did not sit well with the White House spokesperson Josh Earnest, who said that any decision not to hold a US Senate hearing on President Barack Obama's eventual Supreme Court nominee would be unprecedented.
"This would be a historic and unprecedented acceleration of politicizing a branch of government," Mr Earnest told reporters.
Nominations by exiting presidents has happened on only three occasions since 1900.
In the most recent case, in 1968, President Lyndon Johnson nominated two Justices, both of whom did not end up serving.
"Johnson nominated Associate Justice Abe Fortas as Chief Justice and Homer Thornberry to fill Fortas' vacancy. Fortas' nomination failed, Thornberry withdrew his nomination and Chief Justice Earl Warren remained on the bench, delaying his retirement," according to PolitiFact.
Contrary to what Mr Rubio claimed, Justice Stephen Breyer was nominated by Jimmy Carter to the Court of Appeals in November of 1980, after Ronald Reagan won the White House. George W Bush also forwarded nominees to the Court of Appeals in the September before he left office.
Register for free to continue reading
Registration is a free and easy way to support our truly independent journalism
By registering, you will also enjoy limited access to Premium articles, exclusive newsletters, commenting, and virtual events with our leading journalists
Already have an account? sign in
Join our new commenting forum
Join thought-provoking conversations, follow other Independent readers and see their replies