Same-sex marriage: US Supreme Court rules 5-4 in nationwide right to gay marriage
The decision means same-sex couples have the right to marry in all 50 states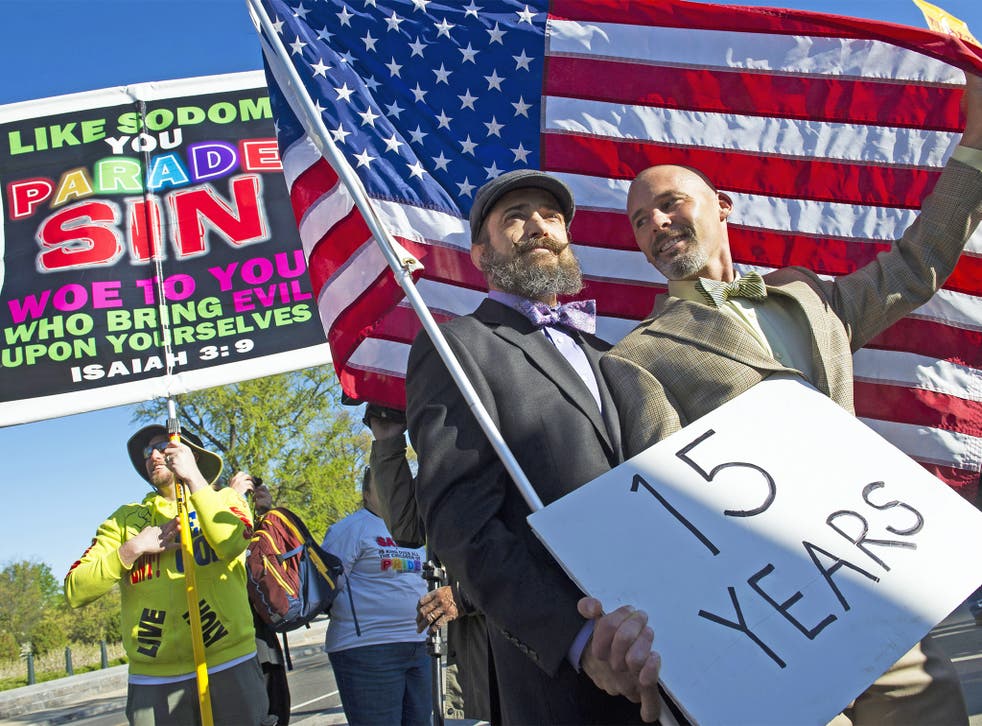 America's highest court has delivered a major decision - ruling by the narrowest of margins that the US Constitution provides same-sex couples with the right to marry.
In a 5-4 ruling that may be of the most important decisions in recent years and the most significant expansion of marriage in decades, the court's move effectively means that individual states cannot prevent people from getting married based on their gender.
The court said that the Constitution's guarantees of due process and equal protection under the law mean that states cannot ban same-sex marriages. With the ruling, gay marriage will become legal in all 50 states.
The Associated Press said that Justice Anthony Kennedy, writing on behalf of the court, said the hope of gay people intending to marry "is not to be condemned to live in loneliness, excluded from one of civilisation's oldest institutions. They ask for equal dignity in the eyes of the law. The Constitution grants them that right".
Mr Kennedy, a conservative who often casts the deciding vote in close cases, was joined in the majority by the court's four liberal justices.
In a dissenting opinion, conservative Justice Antonin Scalia said the court's decision shows it is a "threat to American democracy".
The ruling "says that my ruler and the ruler of 320 million Americans coast-to-coast, is a majority of the nine lawyers on the Supreme Court," Mr Scalia said.
"Today is a day that will long be remembered in our nation's history. Today, the United States Supreme Court established once and for all that LGBTQ Americans, like all other Americans, have the fundamental freedom to marry the person they love in every state of our union," said John Lewis of activist group Marriage Equality USA.
The court made its ruling in response to a case brought by Jim Obergefell and other plaintiffs involved in same-sex relationships. Mr Obergefell lost his husband, John Arthur, two year ago.
Because same-sex marriage was banned in Ohio, he had flown his then very ill partner in a medically-equipped plane to Maryland to marry.
On Friday, Mr Obergefell was present at the court to savour his bitter-sweet victory and to receive a call from President Obama to offer his congratulations
Speaking to CNN, Mr Obergefell said he was not able to go home and celebrate with the man he loved. "This is for you, John," he said.
Conservative Chief Justice John Roberts also read a summary of his dissenting opinion from the bench.
There are currently 13 state bans in place, while another state, Alabama, has contested a court ruling that lifted the ban there.
The ruling is the Supreme Court's most important expansion of marriage rights in the United States since its landmark 1967 ruling in the case Loving v. Virginia that struck down state laws barring interracial marriages.
Register for free to continue reading
Registration is a free and easy way to support our truly independent journalism
By registering, you will also enjoy limited access to Premium articles, exclusive newsletters, commenting, and virtual events with our leading journalists
Already have an account? sign in
Register for free to continue reading
Registration is a free and easy way to support our truly independent journalism
By registering, you will also enjoy limited access to Premium articles, exclusive newsletters, commenting, and virtual events with our leading journalists
Already have an account? sign in
Join our new commenting forum
Join thought-provoking conversations, follow other Independent readers and see their replies