Surgeons successfully separate 13-month-old twin boys conjoined at head
Forty medical experts worked for 16 hours to separate the boys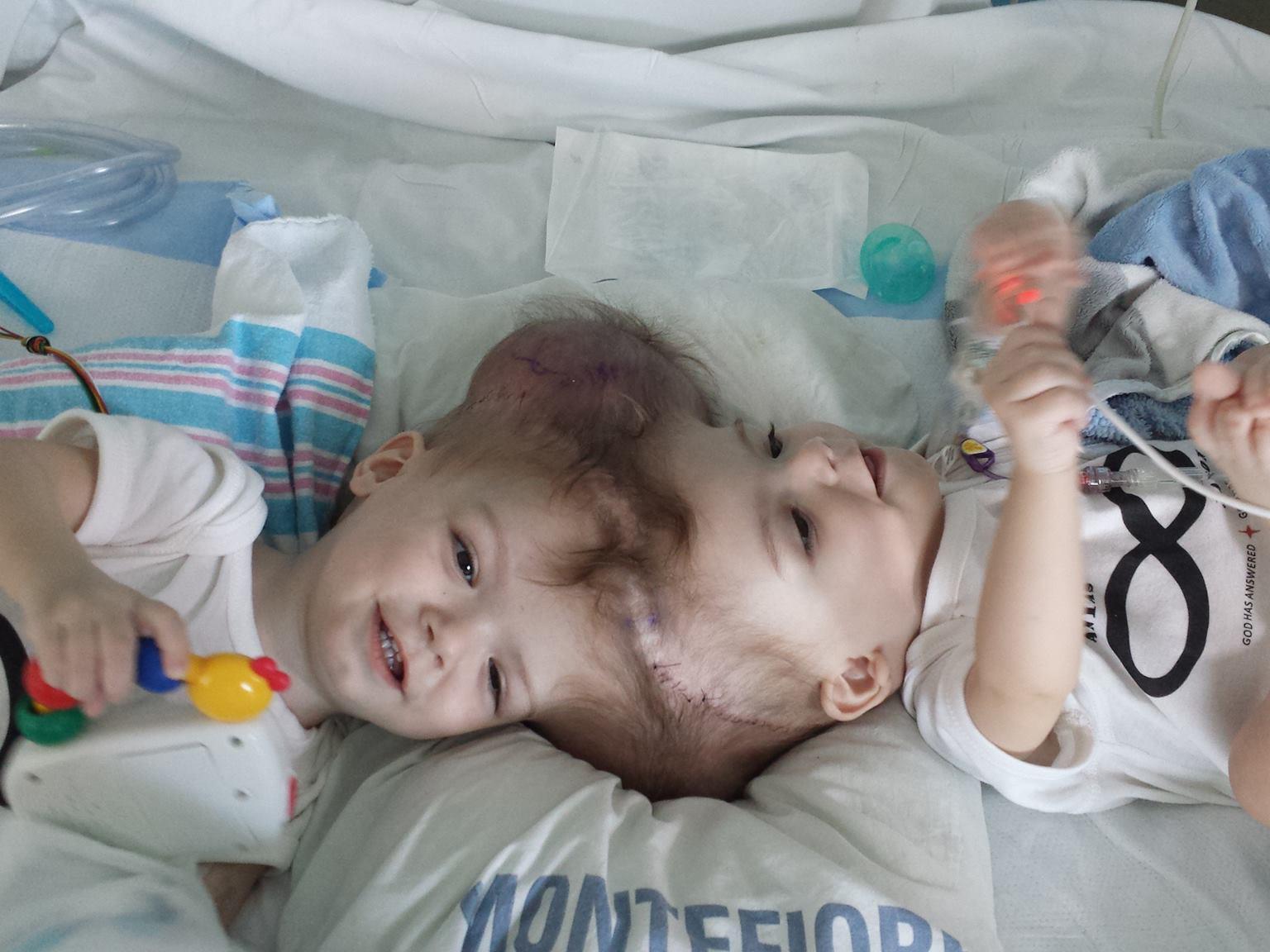 A pair of 13-month-old boys congenitally joined at the head have been successfully separated after a rare 16-hour-long operation.
Forty medical experts worked from Thursday morning to 2am on Friday to separate twins Jadon and Anias McDonald from Coal City, Illinois.
The medical team at New York City's Montefiore Medical Centre, led by pediatric neurosurgeon Dr James Goodrich, used high-tech imaging systems to help fully detach the boys' skull and brain tissue.
During the procedure, surgeons found a five-by-seven centimetre area of brain tissue with no clear line of distinction.
"Dr Goodrich had to make the call and the final cut based on his instinct," the boys' mother Nicole McDonald wrote on Facebook.
The brothers underwent a string of medical tests before the surgery and a GoFundMe page was set up to raise money for the treatment.
Writing on the page, Ms McDonald said: "Craniopagus twins occur in one in every ten million live births. There are four million births in the US every year. So far in all of my research I have yet to find a set of twins like mine born in the United States in the last 20 years."
Ms McDonald posted a picture of Jadon on Facebook while Anias was still undergoing surgery. She said the atmosphere in the hospital was "one of celebration mixed with uncertainty".
She said Jadon did much better than Anias during the procedure, whose heart rate and blood pressure dropped as surgeons cut the dura – the covering of his brain. He is expected to suffer some form of paralysis during his recovery.
World news in pictures
Show all 50
The twins also underwent skull reconstruction on Friday and will be incubated for around a week while being monitored.
"We are standing on the brink of a vast unknown," Ms McDonald wrote. "The next few months will be critical in terms of recovery and we will not know for sure how Anias and Jadon are recovering for many weeks."
"We just took a huge leap of faith. I'm still frozen in space and time [...] I'll be hanging out there until I see those smiles again."
Additional reporting by agencies
Join our commenting forum
Join thought-provoking conversations, follow other Independent readers and see their replies