Taliban leader suspected in Malala Yousafzai's shooting has history of conflict with military
Dana Priest
,
The Washington Post
Thursday 18 October 2012 09:45 Comments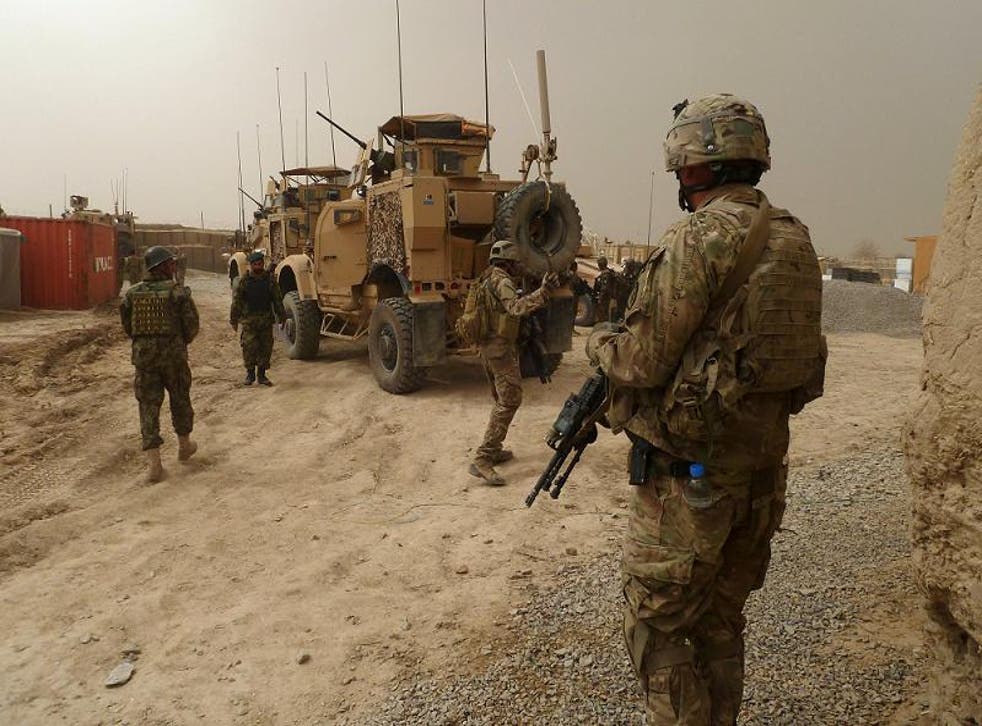 The Taliban leader who apparently ordered the assassination of a Pakistani schoolgirl last week may not be well-known outside the remote, picturesque Swat Valley. But there he is infamous for his long campaign against female education.
Mullah Fazlullah, the 30-something leader of a local Taliban branch, is also well-known to a very different set of people: U.S. troops who have been gunning for him since he fled into neighboring Konar province in Afghanistan three years ago.
Because of his long record of violence and civilian executions, he is considered a priority target for NATO forces, according to analysts.
"He's on everyone's target list," said Jeff Dressler, senior research analyst at the Institute for the Study of War, who has assisted the U.S. military in Afghanistan. Dressler's assessment was shared by U.S. officials, who spoke on the condition of anonymity.
Fazlullah is also known as "Mullah Radio" for his use of a roving transmitter to broadcast lyrical rants against the central government in Pakistan, music, education and the polio vaccine.
He married into militancy when he wed the daughter of the founder of the Swat-based branch of the Taliban, known as the Movement for the Enforcement of Islamic Sharia, or TNSM, its Urdu acronym. After the U.S. invasion of Afghanistan in 2001, he led his men there to fight American troops. But he rose to prominence only in the mid-2000s, through his broadcasts.
Fazlullah is considered a charismatic preacher, recruiting not only suicide bombers but also village women, who have donated their precious jewels and other valuables to his cause, experts say.
Fazlullah formed an alliance with other Taliban factions, and together they laid siege to the Swat Valley between 2007 and 2009. His fighters blew up hundreds of schools, beheaded villagers, flogged women, killed dozens of soldiers and policemen, forced the exodus of more than a million residents and advanced to within 60 miles of the capital, Islamabad.
His followers ultimately grew to 10,000 and used their strength to force the Pakistani government into three peace deals. Fazlullah and his men established training camps and allowed al-Qaida members to join them in battle.
"He could marshal thousands of troops," said Bill Roggio, editor of the Long War Journal, who has been following Fazlullah for years.
But by 2009, the Pakistani army had had enough and pushed the TNSM out of the valley.
Since then, the group's members have floated across the ill-defined border between Konar in Afghanistan and the Bajaur tribal area in Pakistan, according to counterterrorism experts.
Fazlullah is no longer able to conduct paramilitary operations and may not be in day-to-day command of much. He has tried to maintain his stature and public standing by attacking those most vulnerable and least likely to resist: schoolchildren and their parents, experts say.
Last month, in what analysts see as a bid to maintain his fading presence in the region, Fazlullah began planning the execution of 14-year-old Malala Yousafzai. She had once made the case for more security in girls' schools at a sit-down with US envoy Richard C. Holbrooke. Through a diary about life under the Taliban that was published by the BBC, she had become the face of Pakistani girls who yearned for an education in a country where many still lack access.
According to statements by Ehsanullah Ehsan, a spokesman for Fazlullah, the TNSM leader selected four assailants, who spent weeks gathering information about Malala's travels and planning the attack. The group also sent Malala and her father warnings to stop speaking out against TNSM and in favor of Westerners such as President Barack Obama.
She ignored them.
On Oct. 9, two gunmen stopped a rickety, open-backed truck carrying a dozen girls to school in Mingora, Swat's largest town. The gunmen asked for Malala by name, jumped into the back of the vehicle and shot her twice, point-blank.
"Let this be a lesson," Ehsan lectured the media afterward.
The attack on Malala is meant to draw attention to Fazlullah, said experts who have followed his career. "It is what they thrive on," said Shuja Nawaz, director of the South Asia Center at the Atlantic Council in Washington. "This gives them a new lease on life. It can revive his support system."
Until there is strong, community-based policing, Nawaz said, "these guys will continue to scare and intimidate people."
Malala's shooting has outraged Pakistanis, prompting demonstrations in support of girls' education. Pakistani officials have said that they have made several arrests in the case, but Fazlullah remains at large and may still be across the border, in Afghanistan.
Register for free to continue reading
Registration is a free and easy way to support our truly independent journalism
By registering, you will also enjoy limited access to Premium articles, exclusive newsletters, commenting, and virtual events with our leading journalists
Already have an account? sign in
Join our new commenting forum
Join thought-provoking conversations, follow other Independent readers and see their replies