Tallahassee yoga studio shooter shared misogynistic videos online and had a history of harassing women
Scott Beierle opposed interracial dating and used racist language when talking about black people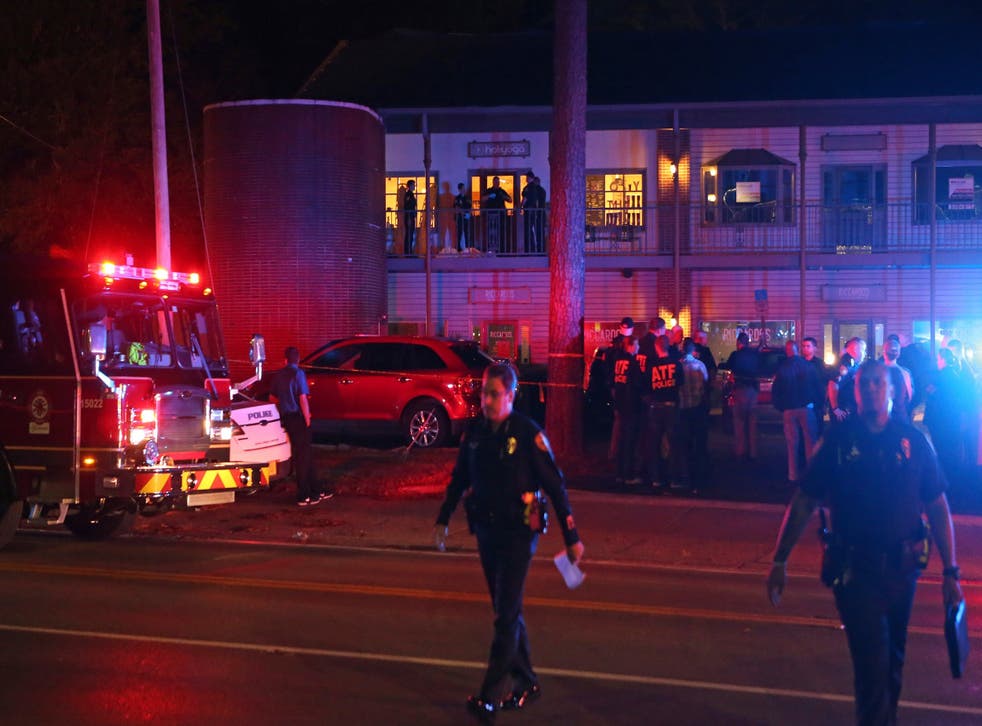 In online videos, he spewed misogynistic and racist vitriol – and railed against all the women who had turned him down.
In real life, records show, he had a history of harassing women and was accused of touching women's buttocks without their consent.
And on Friday, the authorities said, he shot two women to death and injured five other people at a Florida yoga studio before killing himself.
The gunman, Scott P Beierle, 40, posed as a customer at the studio in Tallahassee and then opened fire without warning, the police said. The authorities were investigating to determine Beierle's connection to the yoga studio and the victims.
Officials identified the victims who were killed as Dr Nancy Van Vessem, 61, a faculty member at Florida State University, and Maura Binkley, 21, a student at the school. Four women and one man suffered non-life-threatening injuries.
"There are no words to express the shock and grief we feel," John Thrasher, the president of Florida State University, said on Twitter on Saturday.
He added, "To lose one of our students and one of our faculty members in this tragic and violent way is just devastating to the FSU family."
Beierle, who the authorities said had prior military service, lived in Deltona, Florida, and had been staying at a hotel while visiting Tallahassee, the police said. He was a graduate of Florida State, where he had been arrested at least twice, once on charges of battery against women, according to records and the police.
World news in pictures

Show all 50
He also had a history of expressing misogynistic and racist views. In a series of videos posted over a three-day period in August 2014, he ranted against women and minorities, the police and the army – anyone and everyone who he believed had wronged him.
BuzzFeed News first reported on the videos.
In the videos, Beierle pontificated from a dimly lit bedroom, with an unmade bed and a pile of cardboard boxes in the background. He lamented his inability to connect with other people – from army comrades who he said would not travel with him while stationed in Europe to women who refused to go out with him.
He identified with "involuntary celibates" and told personal stories of rejection, naming multiple girls who he said had wronged him.
"Made one date, didn't show up," he said of one woman. "Made another date, didn't show up. Kept making excuses. Ah, I could've ripped her head off."
He expressed sympathy with Elliot O Rodger, who killed six people in Isla Vista, California, three months before Beierle recorded the videos. Rodger had expressed his disgust at women online and urged "incels" — shorthand for involuntary celibates — to fight back.
In the videos, Beierle also railed against interracial dating and used racist and disparaging language when talking about black people.
He also referred to trouble with the army after an incident in Amsterdam in which he said four women complained about his behaviour. "I got too rowdy for their sensibilities," he said.
Records show that Beierle moved from Vestal, New York, near Binghamton, to Tallahassee in 2011.
In December 2012, Beierle was charged with battery after a woman accused him of grabbing her buttocks at a dining hall on Florida State's campus in Tallahassee. The charges were dismissed in May 2013, court records show.
In 2014, Beierle was charged with trespassing at a dining hall on campus and was given pretrial intervention, although it was unclear exactly what that entailed or how the case was resolved.
Beierle was again charged with battery in June 2016, but the charge was dismissed in 2017, records show.
In that case, Tallahassee police records show, Beierle was arrested after he approached a woman sunbathing at a pool and complimented her on her figure. He offered to put sunscreen on her buttocks, but she told him no and he groped her without her permission, according to the police report.
On Friday, Beierle entered Hot Yoga Tallahassee with a handgun, the police said. When he began shooting, some people inside fought back, preventing a greater tragedy, Michael DeLeo, the chief of the Tallahassee Police Department, said in a statement Saturday.
Ms Binkley, a senior at Florida State, was set to graduate in May, said Azalee Vereen, her aunt. Ms Binkley was majoring in journalism and German, and was preparing for life after college by applying for programmes like Fulbright and Teach for America.
Support free-thinking journalism and attend Independent events
Ms Binkley, who grew up in a northern suburb of Atlanta, was "very smart, very beautiful and just very giving," Ms Vereen said.
Van Vessem was responsible for coordinating the third and fourth-year clerkship rotations in internal medicine at the Tallahassee campus of Florida State, according to a profile on the university's website.
"She was an outstanding physician with a passion for access to health care," said Pam Irwin, the executive director of Capital Medical Society, a Tallahassee-based professional organisation for physicians, of which Dr Vessem was a member. "Without being aware, she was a mentor. She represented how to serve others with wisdom, ethics, compassion and collaboration."
Myra Hurt, a medical professor and senior associate dean at Florida State, called Dr Vessem "a formidable woman."
"I knew going into a meeting with her that I had to be ready," she said. "Even if we didn't agree on something, you knew she was operating from a position of protecting her patients. She was a woman of substance. She was the real thing."
The New York Times
Register for free to continue reading
Registration is a free and easy way to support our truly independent journalism
By registering, you will also enjoy limited access to Premium articles, exclusive newsletters, commenting, and virtual events with our leading journalists
Already have an account? sign in
Register for free to continue reading
Registration is a free and easy way to support our truly independent journalism
By registering, you will also enjoy limited access to Premium articles, exclusive newsletters, commenting, and virtual events with our leading journalists
Already have an account? sign in
Join our new commenting forum
Join thought-provoking conversations, follow other Independent readers and see their replies