Teacher bans students from classroom after they arrive wearing Donald Trump t-shirts
Teacher voices her personal opinions about the campaign slogan during the lesson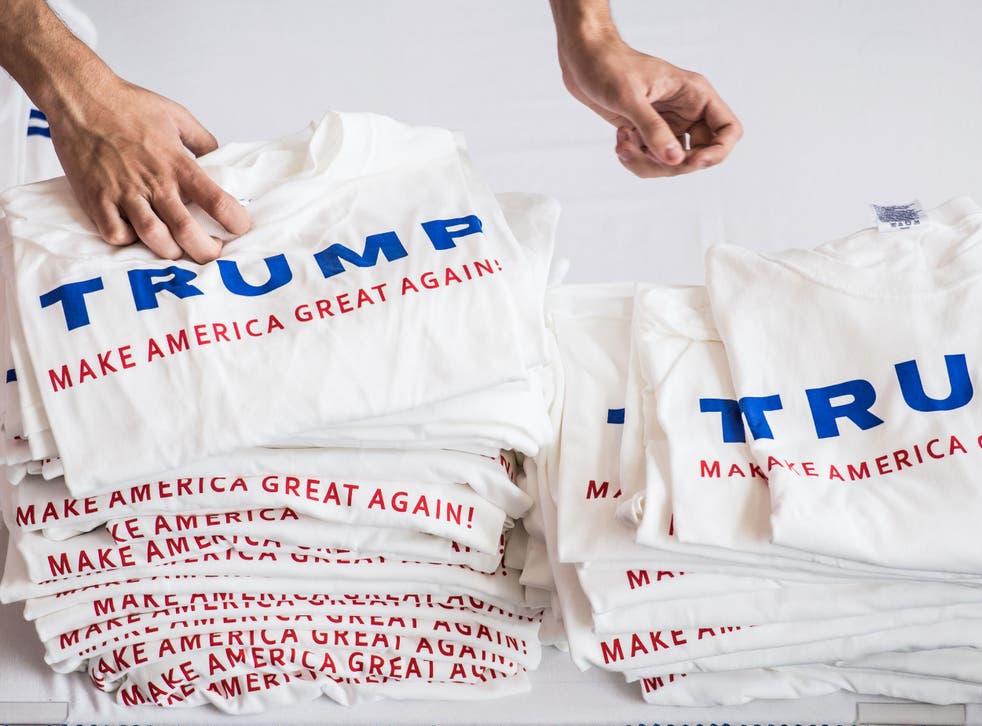 An American teacher has prohibited students from wearing t-shirts bearing President Donald Trump's signature campaign slogan "Make America Great Again".
A Maths teacher at River Ridge High School near Atlanta asked two secondary school students wearing the shirts to leave her classroom and then used the lesson to voice her personal opinions about the slogan.
The school district has now been forced to apologise for the incident which took place on 31 August and made it known the principal immediately apologised to both the students and their families.
"Her actions were wrong, as the 'Make America Great Again' shirts worn by the students are not a violation of our School District dress code," Barbara Jacoby, a spokeswoman for Cherokee County School District, said in a statement.
"The teacher additionally - and inappropriately - shared her personal opinion about the campaign slogan during class," it continued. "Superintendent of Schools Dr Brian V Hightower is deeply sorry that this incident happened in one of our schools; it does not reflect his expectation that all students be treated equally and respectfully by our employees."
Ms Jacoby said she could not say whether the teacher would be facing any disciplinary action but remained insistent the students would not be subject to such action. The school district said they were ordering all principals to meet with their teachers and staff to remind them their political views should not be shared with pupils.
Donald Trump's international Presidential trips

Show all 22
Just after the furore took place, a Change.org petition sprung up calling for the teacher to stand down.
This is not the first time President Trump has found himself at the centre of controversy inside the classroom. In June, a New Jersey student called Grant Bernardo wore a "Trump Make America Great Again" t-shirt on school picture day. However, when his yearbook arrived he found the lettering on his shirt had been digitally removed and he had been left simply wearing a plain black top.
"He was disappointed. This was the first election he has been interested in," his father, Joseph Berardo, told CNN at the time.
He added: "I want the yearbooks to be reissued and I want a letter from the administration explaining why they are reissuing the yearbook".
A similarly controversial incident took place at picture day for Mariah Havard, a tenth-grade student at Buckeye Union High school in Arizona, last August. She was asked to remove her Black Lives Matter t-shirt by the school's vice principal because she was told it created "a disruption in the learning of education".
Describing the incident in a widely shared Facebook post, she said she was asked to change into a plain white t-shirt because of a previous row she had with "a young caucasian boy who said 'black lives don't matter' and 'that shirt is meaningless'."
"She then walks out of the office and hands me a white shirt that's meaningless and nonpolitical and has nothing to do for what I'm standing for," the student said in the post.
Just a week later, another pupil at the school was asked to remove a "Black Lives Matter shirt" and a small group of students staged a walkout over the incidents.
Join our new commenting forum
Join thought-provoking conversations, follow other Independent readers and see their replies