Teenager 'murdered girlfriend's parents after they raised fears he was a neo-Nazi'
Authorities say Buckley Kuhn-Fricker, 43, and husband Scott, 48, were shot in their home in Virginia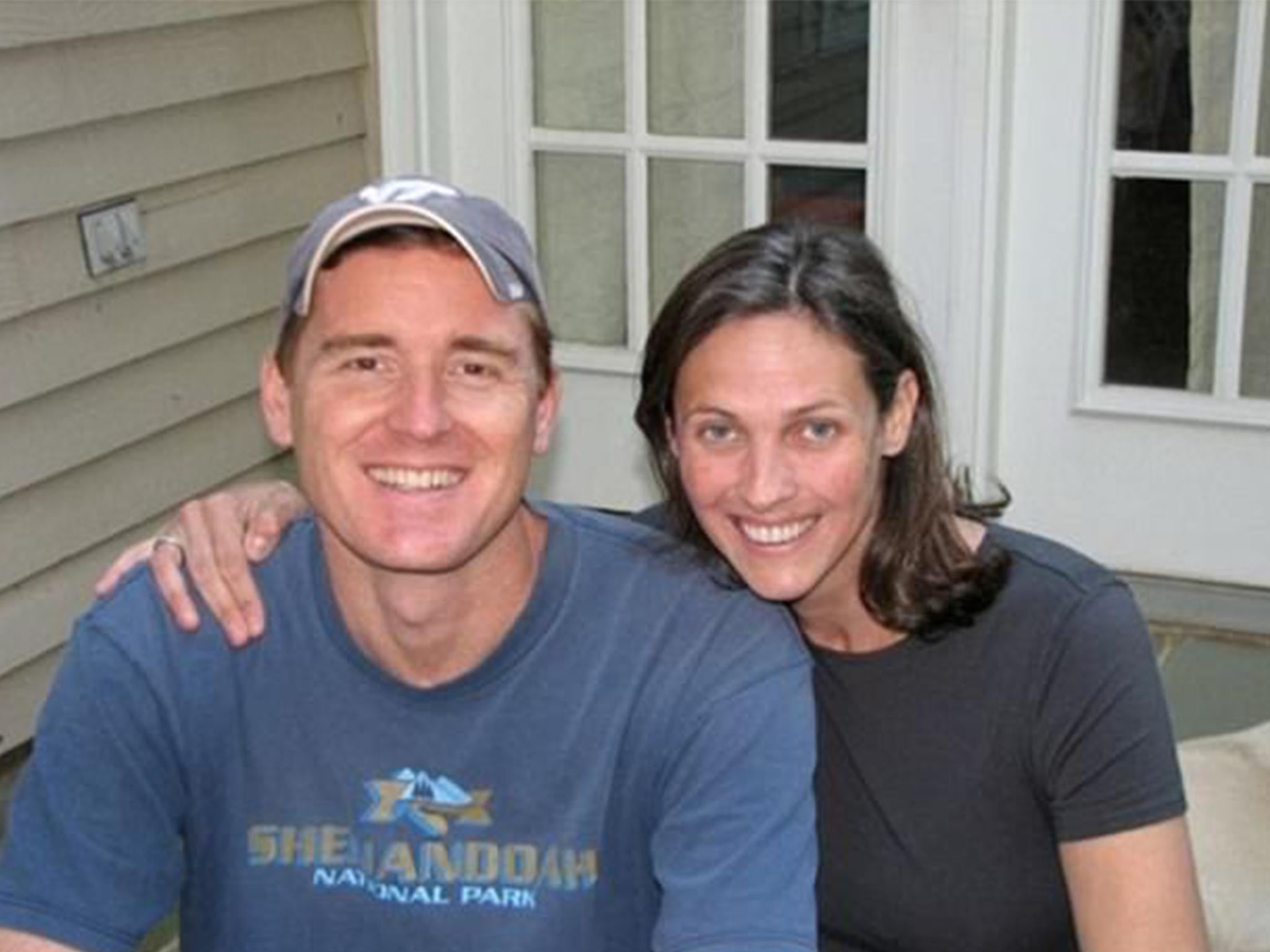 Buckley Kuhn-Fricker was so disturbed by what she discovered about her teenage daughter's boyfriend that she spent a tumultuous week pushing for a breakup. By Thursday, she texted a friend saying the "outspoken Neo Nazi" was out of their lives.
But just hours later, the family said that the 17-year-old boyfriend had shot and killed Kuhn-Fricker, 43, and her husband, Scott, 48 in their Reston, Virginia, home. It happened around 5am on Friday, while the couple's children and relatives were inside. They had gathered to celebrate the Christmas holiday.
The teen, who shot himself and is in critical condition at a hospital, was charged with two counts of murder on Saturday after police spent Friday investigating at the large, green, single-family home decorated with Christmas wreaths and snowflakes. The Washington Post generally does not name juveniles charged with crimes unless they are charged as adults. The family of the teen, who is from Lorton, declined to comment.
Fairfax County police would not offer a motive for the double slaying, but family members and friends tied it directly to the couple's struggle to keep hate out of their home, as one friend put it. They agreed to talk about the efforts because they said it was important to expose what happened.
Friends and family said Kuhn-Fricker, who owned an elder-care business, was tolerant and passionate about civil rights and social justice, so she put her foot down after discovering alarming tweets and Twitter messages she believed were connected to her 16-year-old daughter's boyfriend after looking at the girl's phone. She believed the messages were posted under an assumed name.
On Sunday night, Kuhn-Fricker alerted the principal of the Fairfax County private school that her daughter and the boyfriend attend, attaching numerous images of the account that had retweeted missives praising Hitler, supporting Nazi book burnings, calling for "white revolution," making derogatory comments about Jews and featuring an illustration of a man hanging from a noose beneath a slur for gay people.
In a series of private Twitter messages, the account Kuhn-Fricker attributed to the boyfriend responded to a photo of a candy shop that featured a display of a dreidel by writing, "ima run in there with my swastika armband right now."
"I would feel a little bad reporting him if his online access was to basically be a normal teen, but he is a monster, and I have no pity for people like that," Kuhn-Fricker wrote in the email. "He made these choices. He is spreading hate."
The Post could not independently confirm that the accounts were tied to the boyfriend. A friend with whom Kuhn-Fricker shared the email provided it to The Post.
Kuhn-Fricker wrote that her daughter told her over the summer that the boyfriend was very good at history and that her daughter asked, "Did you know that Jews are partly to blame for WWII?"
Janet Kuhn, Kuhn-Fricker's mother, said that her daughter told her she believed the boyfriend was trying to indoctrinate the girl with white-supremacist ideas. Kuhn and friends said the girl spent hours on the phone with the boyfriend, often just listening to him talk.
The pair began dating in June.
Friends described it as a passionate relationship that quickly deepened. In the email to the principal, Kuhn-Fricker said her daughter grew so upset in recent weeks when she told her to stop seeing the boyfriend the teenager refused to eat.
"We can't allow her to see someone associated with Nazis," a friend who spoke on the condition of anonymity recalled Kuhn-Fricker saying. "We don't associate with hate groups in our house."
Janet Kuhn said the family staged an intervention with her granddaughter on Wednesday, taking her to the District of Columbia to a friend's house to try to convince her to stay away from the boyfriend. There was anger, crying and a long discussion about the Nazis, she said, but the teenager eventually agreed it was in her best interests to end the relationship.
After the girl broke it off, Kuhn-Fricker texted a friend on Thursday night, saying she had sent the following message to the boyfriend's mother: "[The boyfriend] was sneaking into our house at night . . . and is an outspoken Neo Nazi. These things render any legal redemption void."
Repeated efforts to obtain comments from the boyfriend's family were unsuccessful. A woman who answered the phone at one number associated with the teen's family hung up when called by a reporter. A woman who answered another number linked to the family declined to comment. A man who later answered the same number hung up when reached by The Post.
Janet Kuhn said her daughter's last Facebook post came late on Thursday night. Her daughter put up a famous quote from the Irish philosopher and statesman Edmund Burke.
"The only thing necessary for the triumph of evil is for good men to do nothing," it read.
Janet Kuhn thinks it was a reference to the situation with her granddaughter. Her daughter had also asked for recommendations of documentaries about World War II that the family could watch together.
Janet Kuhn said that a detective revealed that her daughter and son-in-law went to check on her granddaughter in the early hours of Friday morning, after possibly hearing a sound. The parents discovered the boyfriend in their daughter's bedroom, according to the detective's account.
Scott Fricker yelled at the boyfriend to get out of the house and to never return, Janet Kuhn said the detective told her. At that point, the boyfriend pulled out a gun and shot both parents, the detective told Janet Kuhn.
The boyfriend then shot himself in the head, Janet Kuhn said.
Janet Kuhn said her daughter grew up in McLean, Virginia. She attended the University of Colorado at Boulder, before getting a law degree from the University of Denver. Kuhn-Fricker became interested in elder issues because her mother was an elder-law attorney.
World news in pictures
Show all 50
She started Buckley's, her elder-care company, in 2005 and wrote a book about the topic. Friends said she could have charged more for her services, but genuinely wanted to help the elderly.
She was interested in politics and had served as a precinct captain for former President Barack Obama's campaign, a friend said.
Scott Fricker had a doctorate and worked at the US Bureau of Labor Statistics, Janet Kuhn said. Janet Kuhn described him as a "wonderful, loving and engaged father."
The pair were married in 2005.
Kuhn said that her daughter had an adult son, who lives on his own. The teenage daughter and a 10-year-old son live in the Reston home. The two older children are from her daughter's first marriage, Kuhn said.
Friends and family wondered if the resurgence of hate groups in the country, represented by events like the deadly protest in Charlottesville over the summer, have emboldened those with racially divisive ideas.
"I'm in shock," Janet Kuhn said. "I haven't been able to cry yet."
The Washington Post