Three Milwaukee prison staff charged after mentally ill inmate dies of 'profound dehydration'
Death of Terrill Thomas, 38, under investigation at jail run until recently by controversial Donald Trump ally County Sheriff David Clarke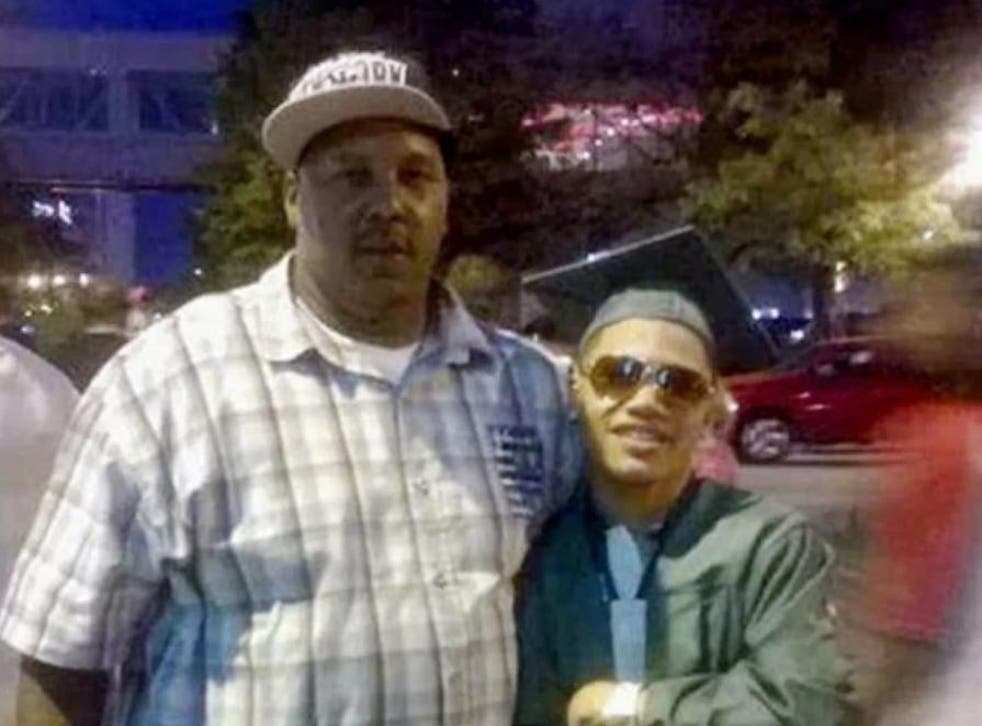 Three staffers from the jail run by conservative firebrand David Clarke, the former Milwaukee County sheriff, were charged on Monday with felonies stemming from the dehydration death of a mentally ill inmate who was denied water for a week as punishment for bad behaviour.
The charges came less than a year after an inquest jury heard evidence from prosecutors that it was common for employees of the Milwaukee County Jail to cut off water to unruly prisoners in violation of the jail's written regulations, The Milwaukee Journal Sentinel reported.
Lieutenant Kashka Meadors and correctional officer James Ramsey-Guy are each charged with neglecting an inmate, a felony. Sheriff's Major Nancy Evans is charged with felony misconduct in office and misdemeanour obstruction. Clarke, who oversaw the jail until his retirement last August, was not charged in the matter because he was not directly involved.
Prosecutors allege Meadors gave the order to shut off water in 38-year-old Terrill Thomas's solitary confinement cell in April 2016 and that Ramsey-Guy was the jail staffer who physically closed the pipes, according to The Journal Sentinel.
The move was intended to discipline Thomas, who had used his bedding to clog a toilet and flood his jail cell in the special needs unit, where he was initially kept for his bipolar disorder, according to prosecutors. An investigation later showed that he went seven days without any liquid, lost 35 pounds and called out for water before staffers found him dead in his cell. The medical examiner ruled he died from "profound dehydration" and classified it a homicide.
Evans, the jail's former commander, is accused of lying to investigators during an inquest into Thomas' death last year. Prosecutors say she misled them on questions about how long Thomas' water was withheld and failed to preserve critical surveillance video that showed the water being cut off and never restored again, according to the Associated Press.
"Our expectation when Mr. Thomas was brought into custody was that he would be kept safe," District Attorney John Chisholm told local media. "The allegations set forth in the criminal complaint document that that did not happen."
The inquest jury that weighed evidence in the case last year had recommended prosecuting four other jail staffers, but Chisolm said he did not expect them to be charged. "We're focusing on the individuals that we think are most responsible," he told The Journal-Sentinel.
Attorney information for the three defendants was not immediately available and it was not clear whether they had entered pleas. All three are currently free on signature bonds following court appearances on Monday.
Scandal has plagued the Milwaukee County Jail for years, and inmates and their families have long decried what they call mistreatment by jail staff. The tough-talking Clarke retired in August to join a political action committee supporting President Donald Trump. He was known for waking up inmates with bullhorns, eliminating prisoner programmes and dishing out harsh punishments to wayward prisoners.
A Journal Sentinel investigation from 2014 found that 10 people had died in Clarke's jail between 2008 and the end of 2013, several of them from health problems that went unattended while they were incarcerated. Some were in jail for minor offences like traffic violations.
Seven inmates have died in the jail since Thomas' April 2016 death, according to The Journal Sentinel. When three Wisconsin lawmakers called for Clarke to resign over deaths in his jail, he dismissed their criticisms, saying, "Oh stop it with the fake news," according to Fox6.
Thomas was arrested after he allegedly fired a gun at a group of men standing outside, leaving one with a nonfatal injury that required surgery. He was aiming at a man he believed had stolen his Mercedes-Benz the day before, as The Washington Post has reported.
He later went to the Potawatomi Hotel and Casino in Milwaukee, where he fired the gun into the air, ordered patrons to get on the ground and claimed there were snakes all around them. Then he swept some poker chips into his pockets. Family members said he was experiencing a mental breakdown.
Thomas faced five charges when he was booked in the Milwaukee County Jail. After his water was cut off, inmates told investigators they could hear him crying out for something to drink, as The Post has reported. Inmates in solitary confinement were only served drinks with their meals on Sundays. The other six days of the week they had to get water from the faucet in their cells.
The jail's written regulations prohibit cutting off inmates' water supplies, but Ramsey-Guy told investigators it happened regularly, The Journal Sentinel reported. In the month following Thomas's death, the jail disciplined two other inmates by denying them water for a period of time, according to Monday's criminal complaint against Ramsey-Guy and the other jail staffers.
"The incidents demonstrate an institutional practice of punitively shutting off water to unruly inmates," it read, according to The Journal-Sentinel. The newspaper had previously identified a 2011 case in which an inmate died of "complications of psychotic disorder" after staffers turned off the water in his cell.
Interim Sheriff Richard Schmidt, who was not in charge when Thomas died, declined to comment on whether that is still, or ever was, the practice.
"My heart bleeds for these people," Schmidt told the Associated Press. "I'm a human being, I have family members. If this turns out to be exactly the way they've been written, it's horrific."
World news in pictures

Show all 50
A civil rights lawsuit filed by Thomas's family is underway in federal court alleging Thomas was "was subjected to a form of torture." Shortly after the lawsuit was filed, Clarke, still sheriff at the time, declined to respond directly to the claims in an interview with the Associated Press. He lamented that the media did not spend more time discussing Thomas's alleged crimes.
Representatives for the family welcomed Monday's charges.
"We're here because those people killed that man," Daniel Storm, a spokesperson for the family, told Fox6. "I think this is Mr Chisholm saying 'you're going to be responsible for something like this, especially turning a man's water off.'"
The Washington Post
Register for free to continue reading
Registration is a free and easy way to support our truly independent journalism
By registering, you will also enjoy limited access to Premium articles, exclusive newsletters, commenting, and virtual events with our leading journalists
Already have an account? sign in
Register for free to continue reading
Registration is a free and easy way to support our truly independent journalism
By registering, you will also enjoy limited access to Premium articles, exclusive newsletters, commenting, and virtual events with our leading journalists
Already have an account? sign in
Join our new commenting forum
Join thought-provoking conversations, follow other Independent readers and see their replies