Texas carries out rare execution of female prisoner Suzanne Basso who was convicted of torturing and killing mentally impaired man
Suzanne Basso, 59, killed Louis 'Buddy' Musso in 1998 as part of a plan to collect his insurance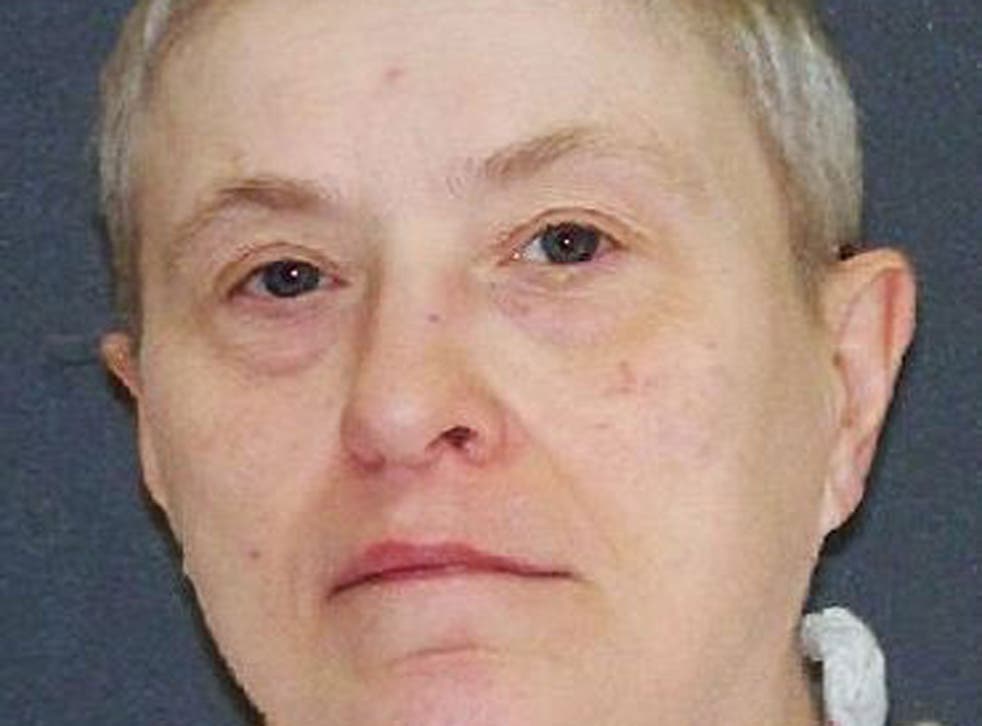 A woman convicted of torturing and killing a mentally impaired man she had promised to marry has become only the 14th woman to be executed in the US in nearly four decades.
Almost 1,400 men have been put to death during that time.
Suzanne Basso, 59, was pronounced dead from lethal injection at 18:26 local time on Wednesday.
She was sentenced to death for the 1998 murder of 59-year-old Louis "Buddy" Musso, whose battered and lacerated body, washed with bleach and scoured with a wire brush, was found in a ditch outside Houston.
He had also been viciously beaten by Basso and five accomplices and burnt with cigarettes. Ms Basso had carried out the killing as part of a plan to collect his insurance and benefits.
According to AP, Basso told a warden, "No sir," when asked to make a final statement.
She appeared to be holding back tears, then smiled at two friends watching through a nearby window. She mouthed a brief word to them and nodded.
As the drug took effect, she began to snore.
She died 11 minutes later from the lethal dose of pentobarbital.
Prosecutors said that Basso had made herself the beneficiary of Mr Musso's insurance policies and took over his social security benefits after luring him from New Jersey.
The execution, the second this year in Texas, came about an hour after the Supreme Court rejected a last-day appeal from Basso's lawyer, who argued she was not mentally competent.
Lower federal courts and state courts also refused to halt the punishment, upholding the findings of a state judge last month that Basso had a history of fabricating stories about herself, seeking attention and manipulating psychological tests.
Basso's lawyer, Winston Cochran, argued she suffered from delusions and that the state law governing competency was unconstitutionally flawed.
About 60 women are on death row in the US, making up about 2 per cent of the 3,100 condemned inmates.
Texas, the nation's busiest death-penalty state, has now executed five women and 505 men.
Additional reporting by the Associated Press
Register for free to continue reading
Registration is a free and easy way to support our truly independent journalism
By registering, you will also enjoy limited access to Premium articles, exclusive newsletters, commenting, and virtual events with our leading journalists
Already have an account? sign in
Register for free to continue reading
Registration is a free and easy way to support our truly independent journalism
By registering, you will also enjoy limited access to Premium articles, exclusive newsletters, commenting, and virtual events with our leading journalists
Already have an account? sign in
Join our new commenting forum
Join thought-provoking conversations, follow other Independent readers and see their replies