Texas police officer placed on leave after video shows him throwing 14-year-old African American girl to the ground
The incident happened on Friday night and the mobile phone video footage was uploaded onto YouTube Saturay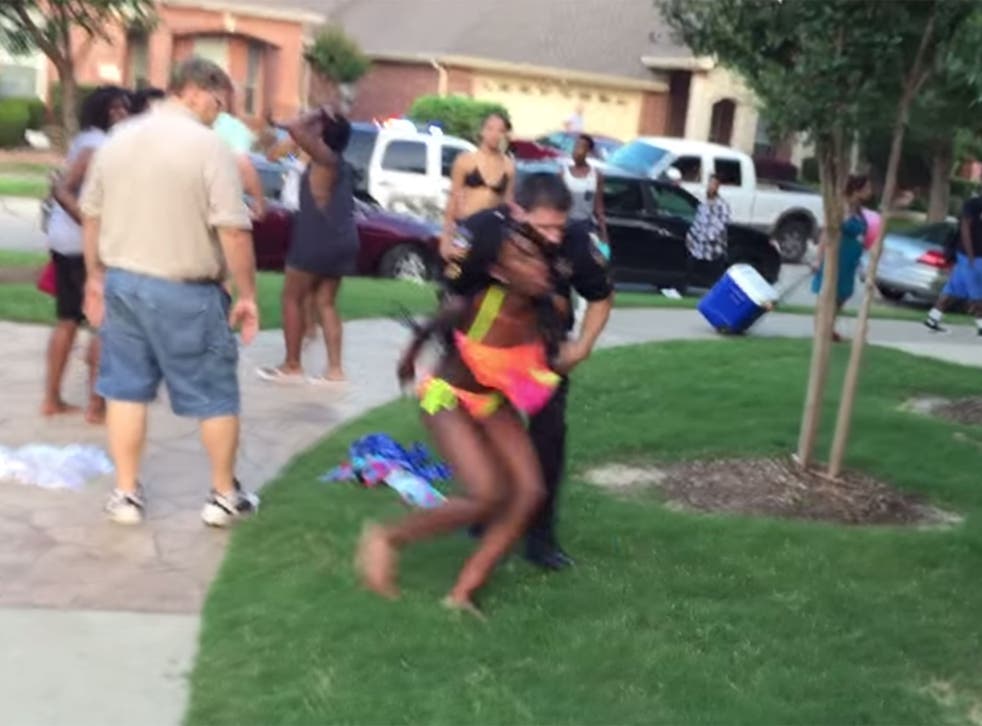 A Texas police officer has been placed on leave after video emerged of him throwing a 14-year-old African American girl to the ground, kneeling on her back and pointing his gun at teenagers who protested at her treatment.
Police were called to a community swimming pool in McKinney after complaints about teenagers who were refusing to leave and reports of a fight.
The video shows the officer, who has been identified as Eric Casebolt, confronting a group of teenagers and then roughly throwing the 14-year-old girl to the pavement.
She cries out in pain and he is quickly surrounded by several other teenagers. At that point, he draws his gun and briefly pursues two of them as more officers arrive.
He then returns to the 14-year-old, who is sitting down complaining vociferously at her treatment.
"He hit me, he hit me for no [reason]," she says. "Call my mom."
Another voice is heard saying: "He hit me too. He hit me in the face."
The officer forces the girl to lie down and kneels on her back as she cries out in pain and sobs. "On your face," he says.
The officer warns several other teenagers that they are also risking arrest. "Get out of here or you're going too," he says.
The incident happened on Friday night and the mobile phone video footage was uploaded onto YouTube Saturay.
"A fight between a mom and a girl broke out and when the cops showed up everyone ran, including the people who didn't do anything," Brandon Brooks wrote on the YouTube page.
"So the cops just started putting everyone on the ground and in handcuffs for no reason. This kind of force is uncalled for especially on children and innocent bystanders."
Greg Conley, McKinney's police chief, told the NBC Dallas-Fort Worth TV station: "Anytime you confront a large group of people, it's a very dynamic situation and tensions can rise very quickly.
"Our initial reaction was to place the officer on administrative leave so that we could conduct a complete and thorough investigation of the incident."
Register for free to continue reading
Registration is a free and easy way to support our truly independent journalism
By registering, you will also enjoy limited access to Premium articles, exclusive newsletters, commenting, and virtual events with our leading journalists
Already have an account? sign in
Register for free to continue reading
Registration is a free and easy way to support our truly independent journalism
By registering, you will also enjoy limited access to Premium articles, exclusive newsletters, commenting, and virtual events with our leading journalists
Already have an account? sign in