The armed civilians patrolling the Mexican border to keep Isis out of America
'You know why they call it the American Dream? Because you gotta be asleep to believe it'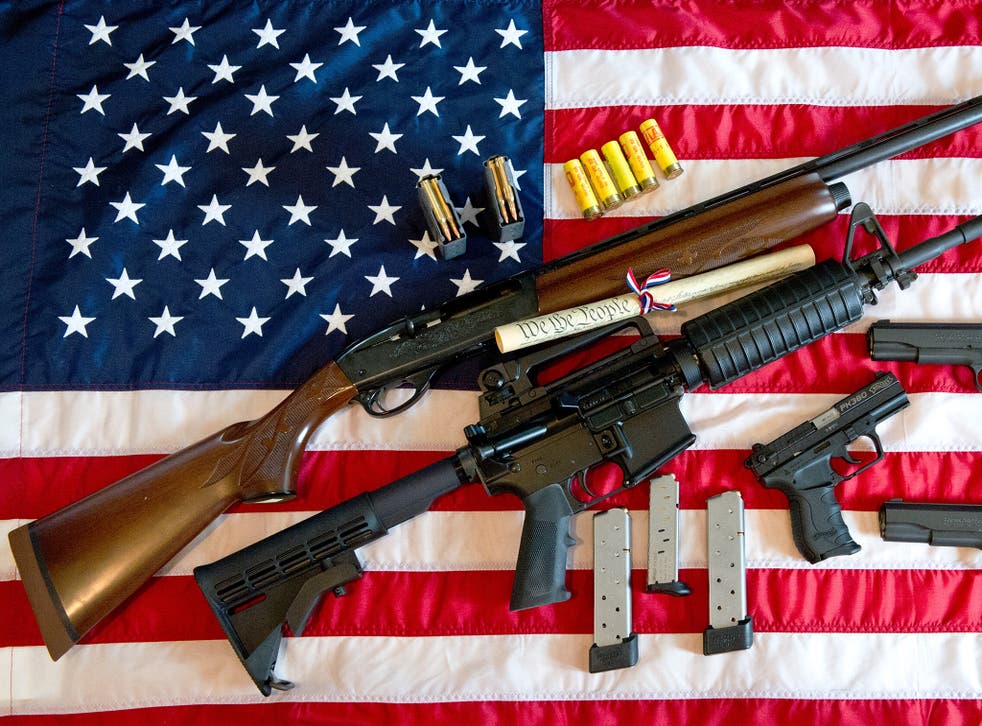 Tim "Nailer" Foley was more than 5,000 miles away from Paris when Isis terrorists launched a series of coordinated attacks throughout the French capital, killing 130 people and injuring hundreds more. But Foley — a former construction foreman who now spends his days with a band of heavily armed civilians, voluntarily patrolling the some of the most remote and dangerous stretches of the U.S.-Mexico border — wasn't surprised.
For years now, Foley said, he's been warning the FBI that sprinkled among the groups of immigrants he intercepts illegally crossing the border are foreign nationals who aren't from Mexico.
"We have pictures from trail cameras that show Somalis and Middle Eastern guys with beards and everything else, but nobody is listening," Foley told The Washington Post this week. "We're going to have something like Paris had. It's not a matter of if, but when."
The 56-year-old founder of Arizona Border Recon added: "People need to wake up and realize this border is not secure."
The link between immigration and terrorism is still up for debate. Although the Paris terror attacks appear to have been coordinated by Isis operatives in the Middle East, all of the identified assailants are so far citizens of European Union countries.
And yet, officials say, the threat of an Isis operative slipping into the United States from Mexico is a real one: Last week, the FBI confirmed that five men from Pakistan and one from Afghanistan were captured near Arizona's border with Mexico, according to ABC affiliate KNXV.
Art Del Cueto, a spokesman for the Tucson Border Patrol, told the station that nearly 80 percent of those picked up around the U.S.-Mexico border last year were from countries other than Mexico. "We catch different people from different parts of the world all the time," he said.
Authorities processed the men from Pakistan and Afghanistan, checking their identities against "numerous law enforcement agencies and national security databases," according to a U.S. Border Patrol statement. But, the agency said, authorities found no "derogatory information" on their records.
Regardless, Arizona Governer Doug Ducey (Republican) said in a statement: "This latest incident only reinforces the need to take our national security seriously on all fronts. News like this is very troubling, especially in light of new threats on the United States from Isis."
He added: "It's clear, our nation needs to up its game and improve border resources if we are going to protect our homeland."
Ducey singled out "the law enforcement officials and agents on the ground who made these apprehensions."
But Foley — whose group was not involved in the recent capture — is a rare civilian taking America's national security into his own hands.
He lives in a modest home about 400 yards from the U.S.-Mexico border, providing him with a front-row seat along some of the last untamed territory left in the United States.
For the past five years, Foley has led volunteer vigilante outfits deep into the borderlands. Their goal: to intercept illegal border crossers and disrupt the ceaseless flow of drugs coming through a heavily trafficked corridor in the rugged desert 30 miles west of Nogales, Arizona.
To join Arizona Border Recon, volunteers must fill out an application, pass a background check and abide by strict rules of engagement, Foley told The Washinton Post. "We want to make sure you're not a sexual predator or prohibited possessor, and by doing this it shows the Border Patrol agents that we have a sense of professionalism and they don't have to sit there and wonder, 'Who are these guys?'" he said.
On the group's Web site, it notes:
We are not affiliated with any form of government, nor are we a militia. Our objective is not to overthrow any government, or take the law into our own hands. We are not here to replace the Border Patrol. We operate within the scope of the law as citizens, by observing and reporting what we see.
We take the law very seriously, and to that end we ensure our members are knowledgeable in the applicable areas of law that govern civil rights, use of force, citizens arrest and many more. This ensures our members are acting appropriately, are safe, and provides for the individuals we come into contact with by affording them the same humane and civil treatment.
Foley was vetted by FBI agents in 2011 after the bureau received an anonymous tip that accused him of leaving pipe bombs on heavily trafficked trails, according to Al Jazeera America. Foley was never charged or arrested, but some local law enforcement officers remain wary of him.
"Law enforcement has a very intensive system of selecting people," Tony Estrada, the sheriff of Santa Cruz County, told Al Jazeera America. "… When people come into a group, they don't have that. You are going to get a lot of crackpots. You're going to get a lot of people that shouldn't be there. I think that has happened before — some of the organizations find out that, you know, 'This guy is not what we want. He's a troublemaker. He's gung-ho. He's going to get us into trouble.'"
Arizona Border Recon's activities have put some in the nearby town of Arivaca on edge, according to Al Jazeera.
"They may be very well trained in all kinds of ways, especially in terms of shooting people," said Leesa Jacobson, who runs a humanitarian aid office that provides water to migrants crossing the border near Arivaca (population: 700). "But that doesn't really make for trained law enforcement. They are two very different things."
Each Arizona Border Recon mission can last a week or more and usually includes at least a dozen civilian men, many of whom have experience in the military or with law enforcement agencies or private security firms. The group was featured in the recently released "Cartel Land" and has been documented by New York photographer Johnny Milano, who spent five days with Foley's men last year.
"I've been called racist, a Nazi and an assassin," Foley told The Post. "That's because people have preconceived notions about people who are down here trying to help. They don't know how many people we've saved when it's 115 degrees out and we find someone alone in the desert who has been left behind."
Before the economy crashed in 2008, Foley worked in heavy construction as a layout general foreman in Phoenix. It had taken him more than 30 years to rise from digging ditches in high school to overseeing a 150-man crew building high-rises. He built a comfortable life for himself that included a suburban abode, multiple cars and a swimming pool, he said.
But after the economy collapsed, construction work in Phoenix dried up, Foley said. He went from $40-an-hour work to struggling to find odd jobs that paid a third as much. His home was foreclosed, a divorce followed, and Foley said he found himself untethered and alone for the first time in decades.
"You know why they call it the American Dream?" he said. "Because you gotta be asleep to believe it."
Foley said he spent two years looking for work, then gave up. He'd grown tried, he said, of losing jobs to less-skilled, Spanish-speaking, undocumented workers, who, he said, were willing to be paid off the books and without insurance.
He wanted to fight back against the banks, the corruption and the government that, he said, was allowing all of it to happen. Eventually, he settled on an idea: driving to the border and patrolling it himself.
"I'd rather fight an international drug syndicate than an international bank syndicate, even though they're often part of the same thing," he said. "If I try to fight this on Wall Street, I'll lose."
Foley formed Arizona Border Recon in 2011 and has been running five or six missions each year since. The group, he said, has detained hundreds of people, including illegal immigrants, drug mules and narco-scouts. AZBR has saved more than 100 people, as well, he said.
But the group's primary activity, Foley said, is staking out trails used by drug mules. The interference forces mules into less favorable terrain, where the drug-runners are more likely to be seen and intercepted by Border Patrol agents. Over a few days, he said, an AZBR operation can redirect more than 20 mules and dozens of illegal immigrants into custody.
It's an unprofitable existence, but one that Foley said keeps him mentally engaged and physically active. He lives off his modest savings and donations that arrive via the AZBR Web site from supportive individuals mostly, he said. His goal, he noted, is to eventually buy a dude ranch where military veterans with PTSD can heal their minds by patrolling the border, getting outside and enjoying the company of people they can relate to.
Asked whether he'd ever return to Phoenix, trading his new life for his old one, Foley said there's no going back.
"There's that scene in 'The Matrix,' where Morpheus offers the blue and red pill," he said. "I've taken the red pill, and I've woken up, and I can't go back to sleep. I've seen the truth. How can I turn my back on it and go get another 9-to-5 job, pay my taxes and pretend it isn't happening?"
Washington Post
Join our new commenting forum
Join thought-provoking conversations, follow other Independent readers and see their replies