The Big Question: Why has no clear favourite emerged in the 2008 presidential election?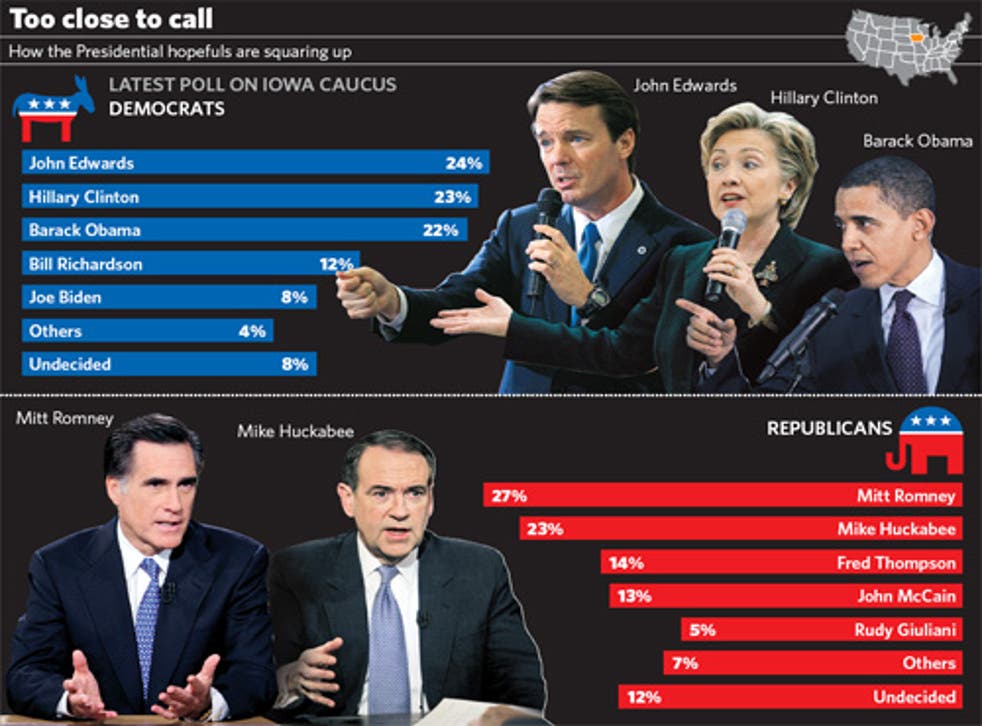 Why are we asking this now?
On Thursday, voters across Iowa become the first in the nation to have their say about the Republican and Democratic candidates for the White House in 2008. By now, two likely winners should have emerged from the pack, but the Iowa race is still wide open.
The result is important because a strong finish here can catapult an overlooked candidate to the head of a crowded field. In 1975 Jimmy Carter became the first candidate to exploit the caucus selection process. In a low-key guerrilla campaign he rang doorbells saying: "Hi, I'm not a lawyer and I'm not from Washington." Thanks to Carter, the candidates have been criss-crossing the state in sub-zero temperatures doing much the same thing. Thinly populated, evenly balanced between liberals and conservatives, rural and overwhelmingly white, the state has a unique king-maker status in the election.
What's happening on the Democrat side?
The polls show the three top Democrats, Hillary Clinton, Barack Obama and John Edwards, are tied in a virtual dead heat. But the polls only tell part of the story. Under the Democrats' rules, a candidate needs at least 15 per cent of the vote at a local caucus to be considered "viable". The second-tier votes then get parcelled out among the other candidates, with highly unpredictable results. John Edwards, who moved his children and terminally ill wife to Iowa, is putting up a ferocious fight and banking on a last-minute surge of support. There are signs that he could win the caucus, leaving Clinton and Obama in a scrap for second place.
And on the Republican side?
The Republicans have yet to coalesce around a single candidate and there are no fewer than five viable scenarios that could be played out. For a while it looked as if the Christian fundamentalist Mike Huckabee would win the caucus. Running a bare-bones, archly conservative campaign, he swept into a five-point lead over Mitt Romney, a former governor of Massachusetts and Mormon who spent tens of millions of dollars trying to win here. But over the past few days the focus of the race has changed from Romney's flip-flopping on abortion, gays and gun control to foreign policy. The assassination of Benazir Bhutto has had voters focusing on America's foreign policy and breathed new life into the campaign of John McCain.
Where's Giuliani?
"America's Mayor" should be cleaning up now that attention has turned to terrorism and al-Qai'da. After all, as late-night TV comedians like to say, there are only three things in a Giuliani sentence: "a noun and a verb and 9/11". His carefully laid strategy was largely to ignore Iowa and New Hampshire (which votes on 8 January) and rely instead on a bedrock of support in large states like Florida, California and New York. As Iowa voters wonder how America will handle an unstable, nuclear-armed Pakistan, they have come to see a steady hand in John McCain who has been steadily gaining in the polls. A strong showing in Iowa followed by a win in New Hampshire could be a major boost for this likeable Republican candidate who opposes torture and wants to shut down Guantanamo.
How come Hillary has lost her way?
For a while, it seemed as if Hillary Clinton's lead in the polls was so overwhelming that she would crush her opponents in the early stages. But it has not turned out that way. Impressed as Americans are by her "historic" race to become the first woman president, her undoubted intelligence and her sure-footed career in the US Senate, they are also deeply worried about the direction the country is taking. They trusted George Bush, twice, and look at the mess he has created. Why, they seem to be asking, should they vote for Hillary and her backers in the Democratic establishment who behave like a government-in-exile waiting to take over?
For all her brilliance in debate and on the campaign trail, she fails the authenticity test for many and has "high negatives" in the polls. Many voters seem to want a fresh leader they can trust, rather than business as usual in what could become a 34-year Clinton-Bush dynastic cycle should she win in 2008 and be re-elected four years later.
So is it really all over for her?
Far from it. She is one of America's most ferocious and seasoned political battlers and, like John McCain, has made a big play in recent days of her foreign policy experience. She was quick to go on television telling voters how close she and Bill were to Benazir and how she has intimate knowledge of the politics of the sub-continent. She easily swatted away the Obama campaign's efforts to link her once-enthusiastic support for George Bush's war in Iraq to the continued threat from al-Qai'da in Pakistan.
What are the pollsters saying?
John Zogby, a dean among US pollsters, says: "It's about as close as you can get at the top in both races, but it's still very uncertain." Part of the problem in predicting the outcome is that about six per cent of likely caucus-goers in each party remain undecided. The latest Zogby/Reuters/C-SPAN poll of 899 likely Democratic caucus-goers and 902 likely Republican caucus-goers taken between Thursday and Saturday had Clinton with the slimmest lead over Obama and Edwards on the move. But with a margin of error of 3.3 percentage points and the unpredictability of the caucus process, turnout will be key.
What kind of tactics are coming in to play?
True to type, the top two Republicans have gone negative on each other. Romney has broadcast ads that question Huckabee's honesty. Huckabee has compared Romney to the Seinfeld character George Costanza, who supposedly said, "Just remember, it's not a lie if you believe it" implying that Romney lied as fluently as Bill Clinton.
On the Democratic side, Clinton has had hubby Bill and mom Dorothy out on the trail and has flown in volunteers to drive elderly Iowans to the caucuses. She will broadcast direct to voters across the state on caucus night. Meanwhile Obama is using an army of young volunteers as well as the internet to galvanise young voters, sending out Facebook reminders, text messages and emails. Edwards meanwhile has the backing of the trades union movement.
Could this situation let in an independent candidate?
With the field so unsettled, the likelihood of a wild-card "third party" candidate entering the fray grows increasingly likely. New York's billionaire mayor Michael Bloomberg is reported to be increasingly enchanted with the idea of throwing his hat, (along with a hundred million dollars or so of his fortune) into the ring. Greybeards in both parties gathered in Oklahoma this week to encourage him to make a bi-partisan bid for the presidency.
Will Iowa prove decisive?
Yes
* Iowa is all about winnowing the wheat from the chaff and projecting a candidate into national prominence
* The momentum for the rest of the election is set by the long slog of Iowa's face-to-face style of retail politics. After the caucus, voters rarely get to see the candidates up close
* Bombarded by politics and polls over the holiday season, Americans are focused on Iowa and want a potential winner to emerge
No
* Iowa is followed so closely by New Hampshire and other primaries that the winners will not have time to generate momentum
* The electorate is hopelessly torn between making a clean break with the past and having an experienced hand on the tiller
* With 10 months before the presidential election, the parties are so focused on selecting their own nominee that it will not be until 5 February 'Super Tuesday' that the two main candidates emerge
Join our new commenting forum
Join thought-provoking conversations, follow other Independent readers and see their replies