'El Chapo' Guzman: Drug lord Joaquin Guzman Loera arrested - but where will he stand trial?
Captured in a joint US-Mexican operation, the feared head of the Sinaloa drugs cartel is now the subject of a row between the two neighbours over where he should stand trial. David Usborne reports
David Usborne
Sunday 23 February 2014 10:44 Comments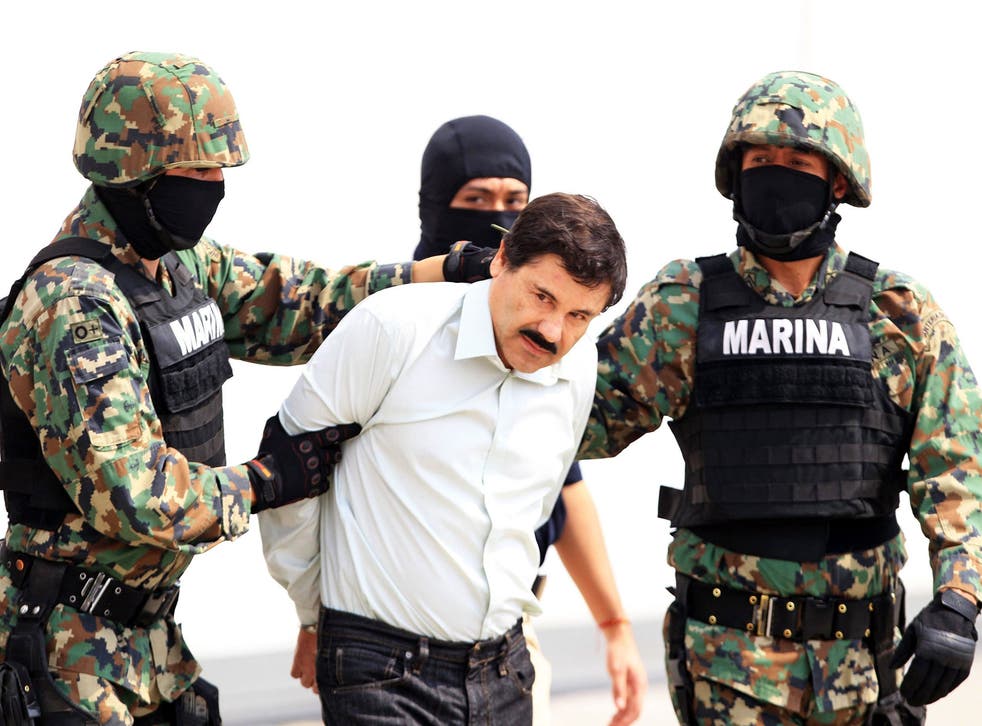 Twenty-four hours after the stunning arrest of Joaquin "El Chapo" Guzman Loera, the leader of the world's largest drugs cartel, a row has broken out between Mexico and the US over his immediate fate, specifically whether he should remain in Mexico, where prison security has been questioned, or extradited to the US.
Officials in Chicago, which last year named Guzman "Public Enemy Number One", a distinction not made since Al Capone, insisted he should be brought to face trial in the city which he had turned into a major hub for the distribution of cocaine, marijuana and methamphetamine for the US market. And Michael McCaul, a Republican Congressman from Texas, also publicly urged Mexico on Sunday night to hand him over. For now, Mexico is pushing back.
"I think it's important that first he faces the charges against him in Mexico," the country's Ambassador to the United States, Eduardo Medina Mora, said Sunday.
Yet Mexican officials are keenly aware that El Chapo, or Shorty, humiliated the country in 2001 when, following an earlier arrest in 1993, he escaped from the high-security Puente Grande prison in the state of Jalisco, allegedly in a laundry van, after distributing bribes in excess of $2.5 million (£1.5 million).
On Sunday night, federal prosecutors in New York said they would begin extradition proceedings against Guzman. "There is corruption in [Mexico]," Mr McCaul, the chairman of the House Committee on Homeland Security, said. "I would ask that the Mexicans consider extraditing him to the United States, where he would be put into a super-max prison under tight security, where he cannot escape."
Guzman, 56, who since his prison break has achieved near mythical status as head of the feared Sinaloa cartel and even appeared on Forbes magazine's rich lists, faces numerous federal drugs smuggling and organised crime indictments in the US. He was captured shortly after dawn on Saturday in a beachside apartment building the Pacific coast city of Mazatlan.
Conducted jointly by Mexican Marines and police as well as agents from the US Drugs Enforcement Administration (DEA) and Marshal's Service, the grabbing of Guzman, without a single shot being fired, is a significant feather in the cap of President Enrique Pena Nieto. Officials said the raid also netted 97 large guns, 36 handguns, two grenade launchers, a rocket launcher and 43 vehicles, many of them armoured.
It also makes clear that talk of a cooling in US-Mexico anti-cartel co-operation since the election of Mr Pena Nieto in 2012 has been overstated. Raul Benitez, a security expert at Mexico's National Autonomous University told the Associated Press: "This shows that co-operation is working, and that it's discreet and based on intelligence-gathering."

But with Guzman – who was seen on Saturday being frog-marched across the apron at Mexico City Airport – now in jail, a decision must be reached quickly on which of the two countries takes responsibility for his secure incarceration and subsequent prosecution. "It would be a massive black eye on the government if he is able to escape again," said Michael Vigil, a former top DEA official. "That's the only reason they would turn him over."
As top lieutenants of competing cartels were picked off in recent years, the Sinaloa Cartel, the biggest of all with tentacles reaching across North America but also to Europe and Australia, was left almost unscathed. That began to change with the take-down of several top Sinaloa capos in the past few months, and 10 mid-level figures last week. But the real prize was always Guzman, whom many in Mexico had come to consider as untouchable.
The son of peasant farmers, Guzman got his first taste of the business working for Miguel Angel Felix Gallardo, an early cartel baron and his mentor. He founded the Sinaloa cartel in 1980 and inherited some of Gallardo's territory following his arrest in 1989.
In time, he became the single most important supplier of cocaine and other drugs to the US market. He achieved dominance in part by seizing control of the main corridors from Mexico into the US, and the key border cities of Tijuana and Ciudad Juarez.
Keeping tabs on Guzman was hampered because of his many hideouts deep in Sinaloa's remote mountains. But recently, it seems, he had begun spending more time in Mazatlan and particularly the state capital, Culiacan. "He got tired of living up in the mountains and not being able to enjoy the comforts of his wealth," Mr Vigil noted. "He became complacent and starting coming into the city of Culiacan and Mazatlan. That was a fatal error."
Last Wednesday Mexican Marines launched a massive raid on the Culiacan home of Guzman's ex-wife. Guzman reportedly escaped through a trap door under a bed that led into a maze of tunnels and eventually into the sewers. However, his pursuers received a tip-off and he was tracked down to a block of flats in Mazatlan. He was seized at 6.40am on Saturday.
Some experts cautioned against thinking the Sinaloa cartel would crumble without Guzman. Still at large is his long-time right-hand man, Ismael "El Mayo" Zambada. The capture of Guzman "is a thorn in the side of the Sinaloa cartel, but not a dagger in its heart," said George Grayson, a scholar on the cartels at the College of William and Mary in Virginia. "Zambada … will step into El Chapo's boots."
Register for free to continue reading
Registration is a free and easy way to support our truly independent journalism
By registering, you will also enjoy limited access to Premium articles, exclusive newsletters, commenting, and virtual events with our leading journalists
Already have an account? sign in
Join our new commenting forum
Join thought-provoking conversations, follow other Independent readers and see their replies