The Gobbledygook Memo: Rhodri Marsden's Interesting Objects No.106
Maury Maverick had had enough of the bureaucratic jargon he encountered daily in his job as chairman of the Smaller War Plants Corporation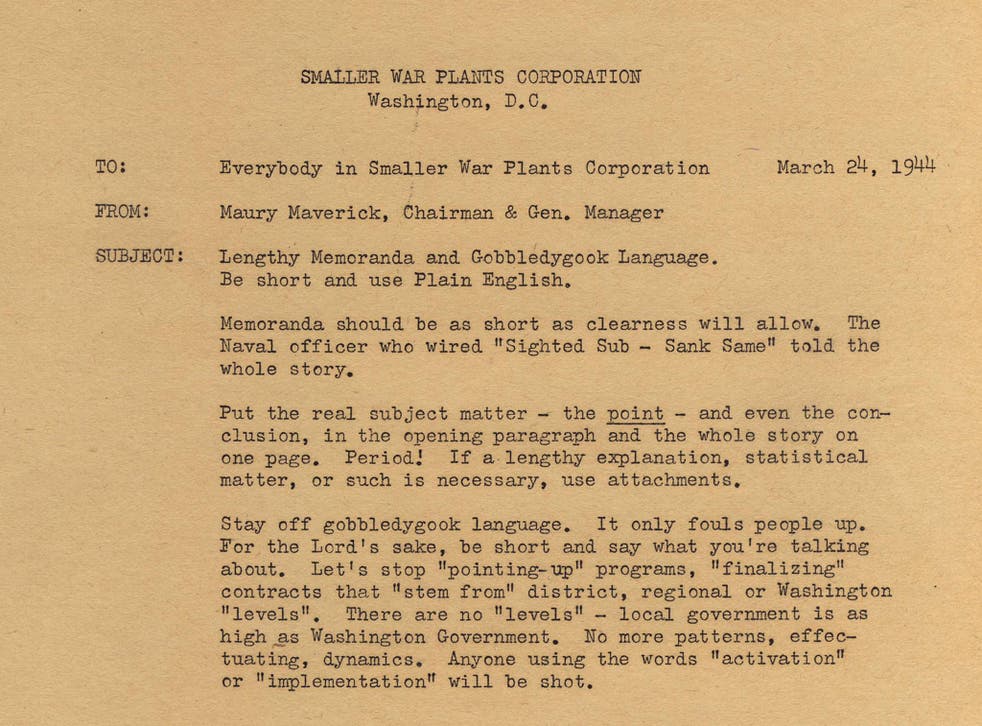 This weekend in 1944, Maury Maverick began to dictate a memo with the subject line: "Lengthy memos and gobbledygook language". Maverick (the grandson of Samuel Maverick, the maverick politician from whom we get the word "maverick") had had enough of the bureaucratic jargon he encountered daily in his job as chairman of the Smaller War Plants Corporation. "For the Lord's sake," he beseeched his employees, "be short and say what you're talking about". Maverick had particular loathing for the phrases "pointing up" and "finalising", and announced that anyone using the words "activation" or "implementation" would be shot.
Many figures in human history have made pleas for the use of plain language, but Maverick's struck a chord. A few weeks later he was asked by The New York Times to pen a piece about his new word, gobbledygook. "Perhaps I was thinking of the old bearded turkey gobbler back in Texas who was always… strutting about with ludicrous pomposity," he wrote. And wrote, and wrote. His incredibly long article, spread over three pages, slammed users of excessive verbiage who were "erecting a tyranny the like of which America had never suffered before".
A riposte, written by James Bender from the National Institute For Human Relations and also published by The NYT, listed the ways in which vague, rambling language could sometimes "come to the rescue in a human cause". But as lexicographer Eric Partridge stated years later, "when a term is so devastatingly apposite as gobbledygook, it walks unquestioned into the vocabulary."
To conclude his case against gobbledygook, Maverick used a passage from the Bible. "If with your tongue you utter speech that is not intelligible, how will anyone know what is said? For you will be speaking into the air." I'm not a religious man, but I'd certainly go along with that.
Register for free to continue reading
Registration is a free and easy way to support our truly independent journalism
By registering, you will also enjoy limited access to Premium articles, exclusive newsletters, commenting, and virtual events with our leading journalists
Already have an account? sign in
Register for free to continue reading
Registration is a free and easy way to support our truly independent journalism
By registering, you will also enjoy limited access to Premium articles, exclusive newsletters, commenting, and virtual events with our leading journalists
Already have an account? sign in
Join our new commenting forum
Join thought-provoking conversations, follow other Independent readers and see their replies