'The problem is I'm black': video shows Christopher Lollie arrested and Tasered 'while waiting to pick up his children'
Mr Lollie says he was sitting in a public place before his arrest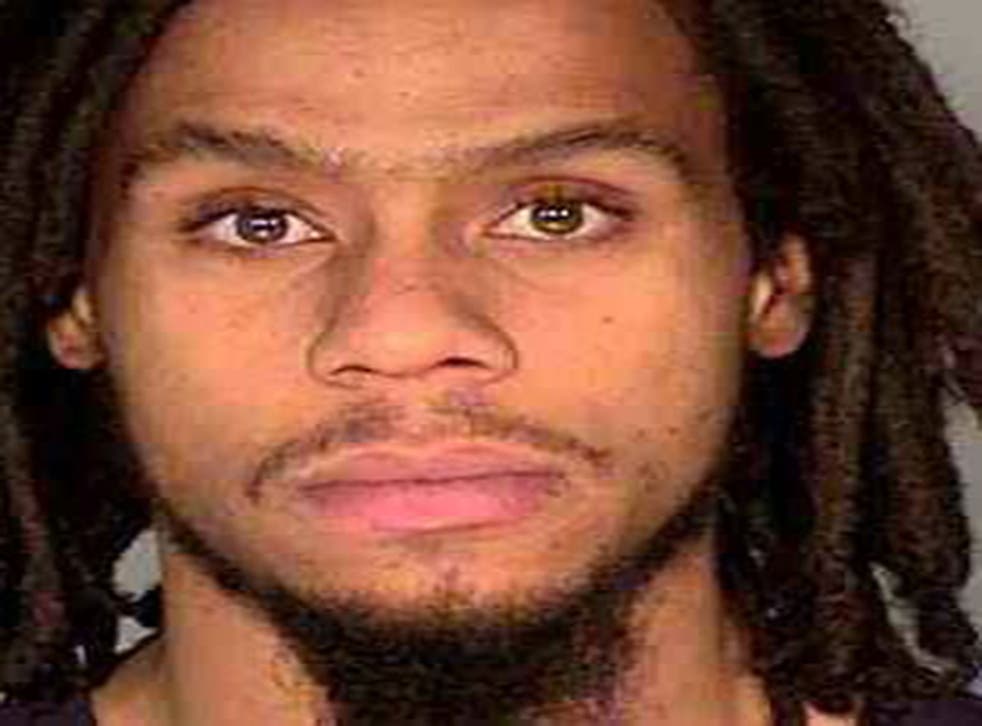 A video of a man being arrested and allegedly Tasered by police in front of his children for refusing to leave an area of a building has sparked outrage after it was posted on YouTube.
The footage, which shows an incident in January but has only recently been released, shows an altercation between Christopher Lollie and two police officers who were called by a security guard at the First National Bank Building in Minnesota.
Throughout the video, Mr Lollie, a local artist, says he is being approached by police because he a black man. Footage of the incident was posted online on Tuesday and has already been viewed over 132,000 times.
St Paul's Police Department initially charged him with trespassing, disorderly conduct and obstruction of the legal process, but these were dropped in July.
The video, taken by Mr Lollie during his arrest, begins with a female police officer repeatedly asking his name as she escorts him away. When he declines to answer and asks why he has to tell her his identity, she responds: "Because that's what police do when they get called, they identify people."
"Well, I know my rights, first off," Mr Lollie replies. "Secondly, I don't have to let you know who I am if I haven't broken any laws."
The father-of-two can be heard explaining that he is on his way to New Horizon's to collect his children at 10am. "That's a public area," he said. "If there's no sign that doesn't [say], 'This is a private area, you can't sit here,' no one can tell me I can't sit there."
When the police officer begins to explain "what the problem was", Mr Lollie interjects: "The problem is I'm black. That's the problem – it really is, because I didn't do anything wrong."
Shortly after this, a male officer comes into the screen and approaches Mr Lollie, reaching towards him. Mr Lollie tells the officer "please don't touch me", to which he responds: "Well, you're going to go to jail then".
Mr Lollie repeatedly insists he is not doing anything wrong and at one point calls the officer "brother", to which he replies "I'm not your brother".
"Put your hands behind your back, otherwise this is going to get ugly," the male police officer can be heard telling him.
Shortly after this, the video screen becomes obscured and the officer can be heard saying: "You're gonna get Tased". A distressed Mr Lollie can be heard repeatedly saying that he has not done anything wrong, before children can be heard shouting in the back ground.
Mr Lollie shouts: "Can somebody help me, that's my kids right there" before the sound of a Taser can be heard.
Mr Lollie was only recently given his phone back from police, Fox News 9 reports, which is why he did not upload the video sooner.
In a statement released on Thursday after noon, St. Paul Police Chief Tom Smith defended the actions of the officers and said the video "does not show the totality of the circumstances".
He said officers were called to the scene by private security guards following reports of a man who had repeatedly refused requests to leave to leave a private "employees only" area in the First National Bank Building.
"With no information on who the man was, what he might be doing or why he refused to leave the area, responding Saint Paul police officers tried to talk to him, asking him who he was. He refused to tell them or cooperate.
"Our officers are called upon and required to respond to calls for assistance and to investigate the calls. At one point, the officers believed he might either run or fight with them. It was then that officers took steps to take him into custody. He pulled away and resisted officers' lawful orders. They then used the force necessary to safely take him into custody."
Join our new commenting forum
Join thought-provoking conversations, follow other Independent readers and see their replies