The schizophrenic genius whose worst fears came true
Walter Sartory made a fortune in the markets, but it never made him happy and was the motive for his murder, writes Guy Adams
Saturday 09 January 2010 01:00 GMT
Comments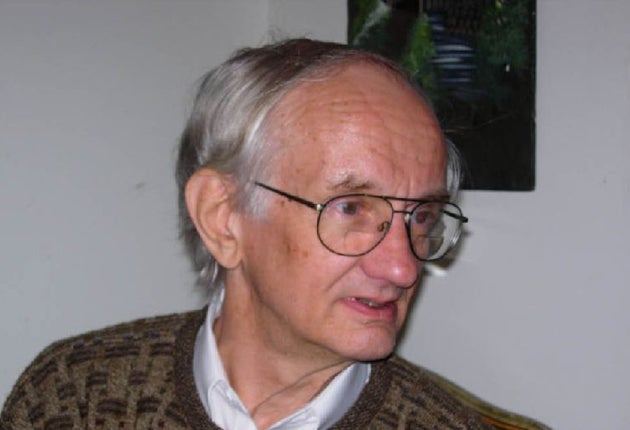 As with many paranoid schizophrenics, Walter Sartory's life was governed by fear. Convinced that the CIA was spying on him, the brilliant mathematician and scientist moved to a secluded home in Kentucky, where he filled the garage with powerful computers and withdrew from the world, devoting his time to stock market speculation.
Helped by a natural genius for statistics, Sartory swiftly managed to amass a $14m (£8.75m) personal fortune. But the money didn't make him happy. Instead, voices in his head began to overshadow his life, telling him that the outside world was full of mysterious and hostile people who were secretly plotting to murder him.
In the event, his worst fears were justified. At some point last February, the researcher, who had spent 30 years working at Oak Ridge in Tennessee, one of the secretly built US government laboratories where the atomic bomb was developed, was abducted and gruesomely murdered. Police say hundreds of thousands of dollars were then emptied from his bank accounts. His body was chopped into pieces, driven across state lines, and burned. The ashes were spread in woodland. A charred pair of steel-rimmed spectacles was all that was recovered.
The forthcoming trial of Sartory's accused killers is already the subject of morbid public interest. But comparisons to the troubled genius at the centre of the Hollywood film A Beautiful Mind have made Sartory's murder an object of national fascination.
Aged 73, the scientist fitted the tragic victim role perfectly, down to his aptitude for chess, and his eccentric wardrobe and mannerisms. Meanwhile the mother-and-son pair accused of his murder – Willa Blanc and Louis Wilkinson – make textbook pantomime baddies. Blanc is the alleged author of the macabre murder plot and is being held in the local jail on $10m bail. She faces the death penalty if found guilty.
On the basis of a partial confession by her son, detectives believe Sartory was held captive in a basement for a week, strapped to a chair with duct tape, drugged, and ordered to reveal passwords and sign documents that gave them access to his fortune. The accused have both pleaded not guilty to multiple counts of murder and kidnapping. On 20 January, Wilkinson will face a hearing to decide if he is fit to stand trial.
The story has appalled the American public. "We all struggle to have faith in mankind," Linda Tally Smith, the prosecuting attorney told the Los Angeles Times this week. "To think that a man who was already paranoid, who lived his whole life in fear of others, could fall prey to something so horrific is heartbreaking." An affidavit filed by police in the case detailed Mr Sartory's sad life story, painting a portrait of a widely respected scientist whose classified work involved designing nuclear reactors and creating centrifuges which are commonly used in medical research.
A gifted inventor, he also held at least three patents. He retired in 1992 and devoted his life to searching for extra-terrestrial life, and investing on Wall Street, creating complex algorithms, mostly in his head, that helped to transform his modest retirement savings into an impressive investment portfolio.that grew to be valued at $14 million [£8.75m]. Last January, according to the Los Angeles Times, Sartory had a shy date with a woman he met through an internet site for people with personality disorders. They held hands.
His private life, however, was overshadowed by mental illness. He believed the CIA had him under surveillance, using specially trained ants. A tiny circle of loyal friends who tolerated his occasional eccentricities would phone him almost every day.
Apparently it was these friends who first revealed that the scientist was missing. Last February, concerned that he had stopped returning calls, Ann Cartee is said to have contacted police, forwarding them a recent email he had allegedly sent her detailing his worries about a local woman who had begun "barging into" his home. By the time detectives had begun to piece together what had happened, it was too late.
That woman, it is claimed, was Willa Blanc. According to the police affidavit, she befriended the frail man, tempted him into her home, forced him into the cellar, and tied him up. It is the prosecution's case that Sartory, bound, gagged, and unable to gain access to the medication he took each day to prevent panic attacks, Sartory survived a few days. But eventually, he became disturbed, and suffocated. The motive for the crime, it seems, was straightforward greed.
Blanc apparently had a gambling habit and a taste for expensive jewellery. After allegedly gaining power of attorney over the elderly mathematician, she and her son, it is alleged, embezzled $200,000 (£125,000), spending vast portions of it in casino boats on the Mississippi.
Though both suspects have pleaded not guilty to murder, kidnapping, and embezzlement, detectives in the case claim that a paper trail connecting Sartory's bank account, Blanc and beneficiaries including her attorney and her mortgage company leaves serious questions for them to answer.,
According to the reports of officers who searched the buildings where he spent his last days, his living room had been converted into a monitoring station full of computers that analysed radio signals from outer space in search of alien life. The rest of the house was littered with "to do lists" detailing his daily tasks, from brushing teeth to taking medication.
Blanc's living room concealed darker secrets. The police affidavit said that in a collection of books about the law, the title of the most well-thumbed title "was along the lines of How to Choose Your Prey".
Join our commenting forum
Join thought-provoking conversations, follow other Independent readers and see their replies