Theresa May's US election message 'shows she thinks Hillary Clinton will win' the presidency
Her statement on the Republican gives voters a glimpse of who she thinks will win the election and her hope that a US-UK relationship will still be a priority after 8 November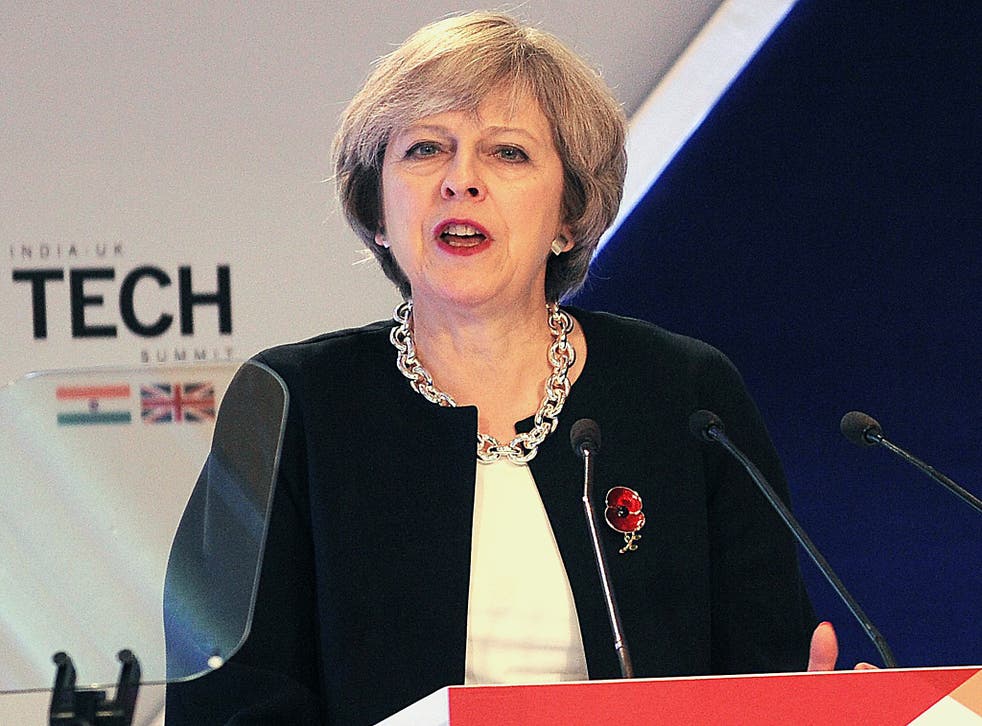 As UK prime minister Theresa May has finally given a hint of her disapproval of Donald Trump, her words have given voters a clear sign that she believes Hillary Clinton will win the presidency.
Speaking during a trade mission to India at the weekend, Ms May said she took "a simple view about the way [she] likes to see campaigns being conducted."
"I like them to be conducted in a calm and measured way with proper consideration of the issues," she said.
She added that the election was "up to the American people".
Leslie Vinjamuri, associate fellow, US and the Americas Programme at the Royal Institute of International Affairs at Chatham House, told The Independent that Ms May was "hedging her bets a little bit" with her veiled language.
"Nonetheless, polls have come in today stronger than over the past several days so she's getting ready to embrace what she hopes will be a Hillary Clinton presidency, as is hoped for by so many European leaders," she said.
Ms May's refusal to speak more bluntly about the real estate mogul-turned-Republican nominee is two-fold: he might still win the election, and both Mr Trump and Ms May share an anti-immigration stance, Ms Vinjamuri said.
"It's difficult in the context of very pernicious politics on immigration to launch a full-fronted attack on Trump," she said.
Donald Trump's most controversial quotes

Show all 14
Mr Trump has spoken against Nato, and said he expects allies to be more self-sufficient instead of relying on "US aid".
He has also not suggested that a relationship with the UK would be a priority.
"Both Clinton and Trump have opposed free trade deals, but there is still a sense that Clinton will be a much more obvious partner in terms of trade," she said.
"May is focused on Brexit but one of her concerns is Russia, and Clinton is a surer bet when it comes to countering an aggressive set of polices undertaken by Putin, whereas Trump is casting himself as a friend of Putin."
Mr Trump has praised Mr Putin as a "strong leader" but has recently said he never met the Russian president and that he has no business connections with the country.
Trump v Clinton: US Election forecast - November 7
National polls have given Ms Clinton a four-point lead over Mr Trump, as the Republican candidate is lagging with women and ethnic minorities.
Register for free to continue reading
Registration is a free and easy way to support our truly independent journalism
By registering, you will also enjoy limited access to Premium articles, exclusive newsletters, commenting, and virtual events with our leading journalists
Already have an account? sign in
Register for free to continue reading
Registration is a free and easy way to support our truly independent journalism
By registering, you will also enjoy limited access to Premium articles, exclusive newsletters, commenting, and virtual events with our leading journalists
Already have an account? sign in
Join our new commenting forum
Join thought-provoking conversations, follow other Independent readers and see their replies