This attorney wore a Black Lives Matter pin to court — and went to jail for it
'He asked me if I would take it off and I told him I would not'
Cleve Wootson
Tuesday 26 July 2016 08:42 Comments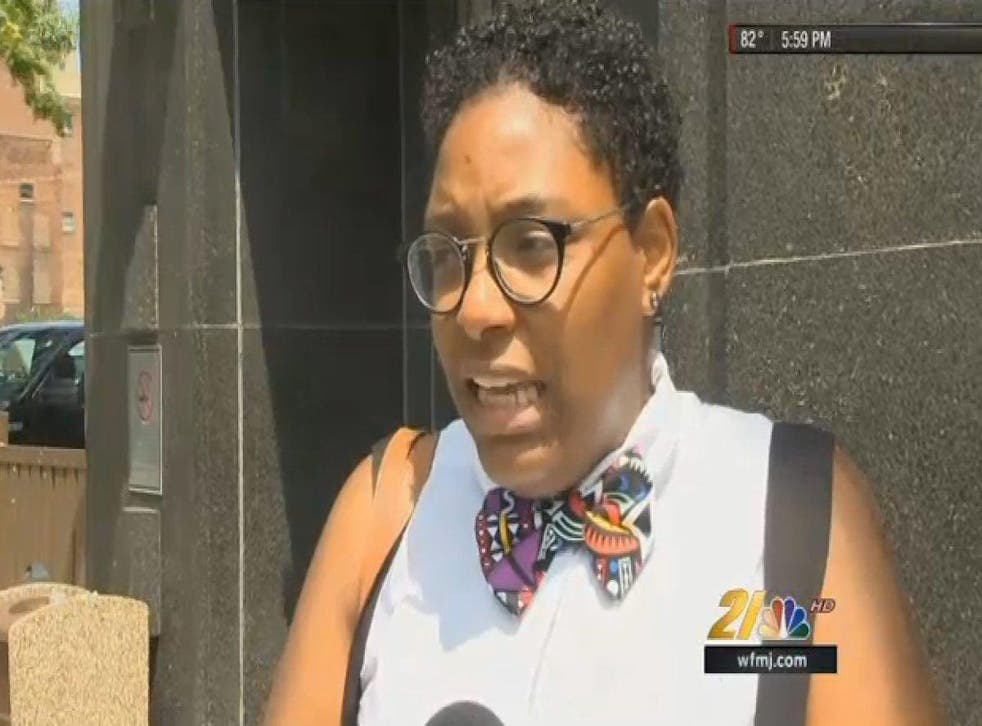 The Ohio judge stared at Andrea Burton across the table and told the 30-year-old attorney that there had been complaints about the Black Lives Matter pin she was wearing.
He didn't allow court officials to wear political pins in his courtroom, she recalled him saying, and he asked her to remove it.
"He asked me if I would take it off and I told him I would not," Burton told The Washington Post. "And he said we would have to deal with that, and I asked how. And he said, 'We'll see.' "
A few minutes later, after again refusing to take off the pin, Burton was convicted of contempt of court, placed in handcuffs and taken to jail and sentenced to five days.
Now, Burton's community -- and as the story spread, the rest of the nation -- is trying to decide whether Burton was exercising her constitutional right to freedom of expression about the killings of black people by police officers or whether her pin was a political message unfitting of a court official.
Judge Robert Milich told the CBS affiliate in Youngstown, Ohio, that his opinions about Black Lives Matter had nothing to do with his decision.
"A judge doesn't support either side," he told the station. "A judge is objective and tries to make sure everyone has an opportunity to have a fair hearing, and it was a situation where it was just in violation of the law," he said. Milich issued a stay while Burton appeals to a higher court, according to the TV station.
Burton is an attorney in Youngstown who works with police every day, and said she understands they're not as bad as some portray them. Like many people, she said, they have jobs filled with nuance.
"I'm not anti-police," she told The Post. "I hold them in the highest regard, and I do believe all lives matter."
Burton said she wasn't trying to cause a stir, but wanted to voice her opinion about the killings of blacks by police officers. Burton was raised in Youngstown. She went away for school -- ultimately getting her master's degree and a law degree -- but came back to her hometown and works mostly as a criminal defense attorney.
Before Friday, she had only been in Youngstown's jail to see clients.
For years, her state has been at the center of the debate about whether officers are too quick to use deadly force against minorities. In nearby Cleveland, 12-year-old Tamir Rice was shot and killed by police while playing with a toy gun at a park. His death was one of several high-profile cases in the national conversation about police, minorities and the use of deadly force.
Recently, anger toward the Black Lives Matter movement, which says it organizes peaceful protests, has grown after recent police shootings in Dallas and Baton Rouge. In consecutive days police fatally shot a black man outside a convenience store in Baton Rouge and killed another black man during a traffic stop in Falcon Heights, Minn. Both shootings were captured in graphic videos showing the encounters or the aftermath, and led to protests across the nation. The following day, five officers were killed in a Dallas shooting. And a week later, three officers were killed in Baton Rouge, what police there called a targeted shooting. Police believe the killings of officers were retaliatory.
Around the time of those shootings, an online petition was started asking the White House to formally recognize Black Lives Matter as a terrorist organization. Nearly 150,000 people have signed it.
The White House's response to the petition includes remarks by President Obama on the Black Lives Matter movement:
I know that there are some who have criticized even the phrase "black lives matter" as if the notion is, is that other lives don't matter. And so you get "all lives matter" or "blue lives matter." I understand the point they're trying to make. I think it's important for us to also understand that the phrase "black lives matter" simply refers to the notion that there's a specific vulnerability for African Americans that needs to be addressed. It's not meant to suggest that other lives don't matter. It's to suggest that other folks aren't experiencing this particular vulnerability.
And so we shouldn't get too caught up in this notion that somehow people who are asking for fair treatment are somehow, automatically, anti-police, are trying to only look out for black lives as opposed to others. I think we have to be careful about playing that game, just because that's not obviously what is intended.
DeRay McKesson, one of the most well-known leaders of Black Lives Matter, said the organisation denounces violence. "The movement began as a call to end violence," he told the New York Times. "That call remains."
Matt Mangino, a criminal defense attorney who used to be a prosecutor in Lawrence County, which borders the county where Burton was arrested, told The Post that a judge has the authority to determine whether certain signs are "political."
The judge can also determine whether wearing a certain button would be a distraction in the courtroom, or give the impression of bias. Mangino said:
Judges obviously have wide latitude in their courtroom with regard to decorum and things like that as long as their rules are reasonable. It's not uncommon to have dress codes and other sorts of things. What you normally might find is a sign outside that says lawyers need to wear ties or no cutoffs or tank tops.
With regards to protests or political statements, things that can be controversial if they're displayed in a courtroom, it may be akin to wearing a Hillary Clinton button in the court -- anything that could disturb the court or disturb the decorum within a courtroom or lead to either the impression of bias.
But you have to balance that with First Amendment. I think that distinction is in the eye of the beholder. A judge obviously has great authority and latitude within his or her courtroom. He is the beholder. Black Lives Matter is so new, what does it mean to a judge? And how does a judge determine what that means.
Amid the recent carnage, Burton says she logged onto the peer-to-peer e-commerce website Etsy and ordered a small Black Lives Matter pin.
"I think that you can't remain silent or you remain a party to oppression," she told The Post. "I am usually a pretty agreeable person. I'm always smiling. I'm polite. I have manners. But at some point it eats away at you how any time people see you talk about Black Lives Matter, then you're being sensitive, you're the person who's racist."
The pin arrived in the mail later and a little smaller than Burton expected. But she clipped it to her outfit and wore it to work.
That was last Wednesday, a day Burton said went off without a problem. But on Friday, when she wore the pin again, she was called back into Judge Milich's chambers.
"It was virtually hidden on Friday," Burton said. In one video, she can be seen wearing an oversized jacket. "I guess people knew to look for it though."
Copyright Washington Post
Register for free to continue reading
Registration is a free and easy way to support our truly independent journalism
By registering, you will also enjoy limited access to Premium articles, exclusive newsletters, commenting, and virtual events with our leading journalists
Already have an account? sign in
Join our new commenting forum
Join thought-provoking conversations, follow other Independent readers and see their replies