Thousands of dollars raised after photograph of rescued 'hugging' dogs in US pound goes viral
Keira and Kala have been taken to a vet and will now be rehomed after overwhelming online support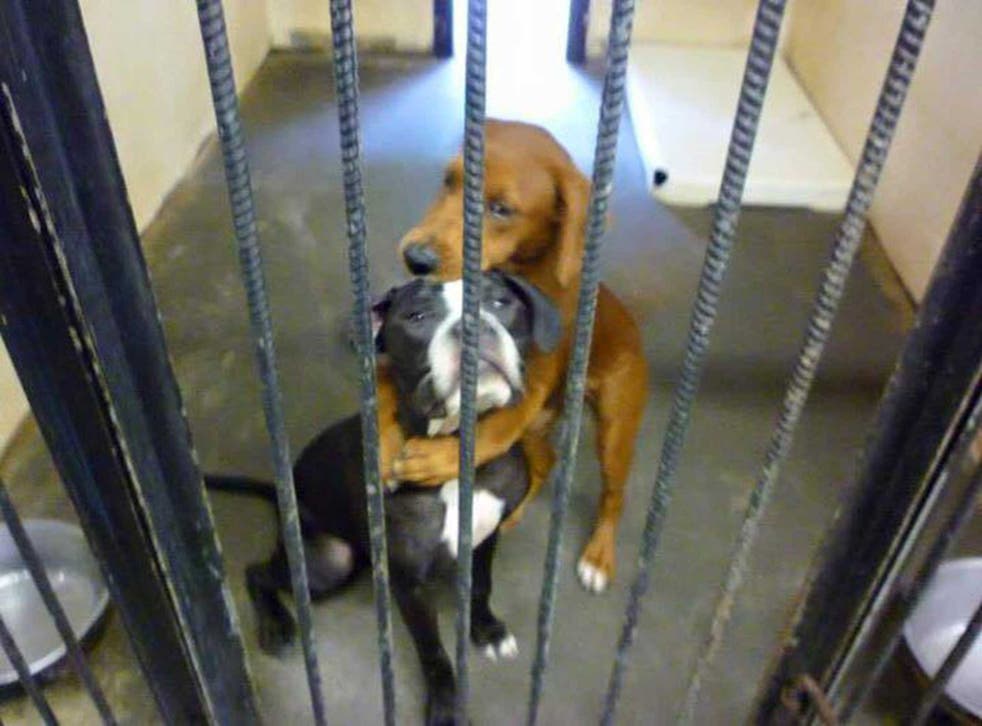 The picture of two dogs being saved from near-certain death after a photo of them "hugging" went viral is a heartwarming tale.
Unfortunately, it's not quite true.
Kala and Keira, a black boxer mix and a mixed hound puppy, were reportedly snapped - "pensive and fearful" as one Fox affiliate reported it - waiting to be euthanised.
The picture then apparently went viral after it was posted online by a not-for-profit organisation called Angels Among Us Pet Rescue.
Angels then posted an update a mere two hours later saying that the dogs had been rescued and had left the shelter, where they were on their way to a vet and then a new foster home.
In fact, the actual chain of events is as follows:
Kala and Keira were indeed being prepared to be put down.
Two charities, Angels Among Us Pet Rescue and the Etowah Valley Humane Society, were contacted by Bartow Animal Control, Cartersville, in Georgia, who said the animals were due to be euthanised.
Malena Evans, who works with the Angels organisation, went into the pound yesterday and collected the dogs. While she was collecting them she took a picture of the pair 'hugging' and sent it to the Angels, who posted it on their Facebook appealing for a foster.
The photograph of the pair swiftly went viral and attracted almost 100,000 shares and 'likes,' as well as the attention of numerous news outlets reporting that the photograph had saved the dogs' lives.
In fact, the animals were not in any danger as a charity always intended to get them out, an Angels spokesperson confirmed, but their heartwarming photograph of the moment of their rescue has raised almost £2,100 ($3,400) - which will go towards other animals in urgent need.
Ann Clarke, a spokesperson for the group, told The Independent that although both dogs were safe and had been placed with a temporary foster carer, the group were still appealing for a permanent home for both animals.
Register for free to continue reading
Registration is a free and easy way to support our truly independent journalism
By registering, you will also enjoy limited access to Premium articles, exclusive newsletters, commenting, and virtual events with our leading journalists
Already have an account? sign in
Register for free to continue reading
Registration is a free and easy way to support our truly independent journalism
By registering, you will also enjoy limited access to Premium articles, exclusive newsletters, commenting, and virtual events with our leading journalists
Already have an account? sign in
Join our new commenting forum
Join thought-provoking conversations, follow other Independent readers and see their replies