Tiffany Trump goes on holiday to Germany and racks up at least $22,000 in Secret Service costs
This sum did not include the amount spent on paying the agents for their time or flights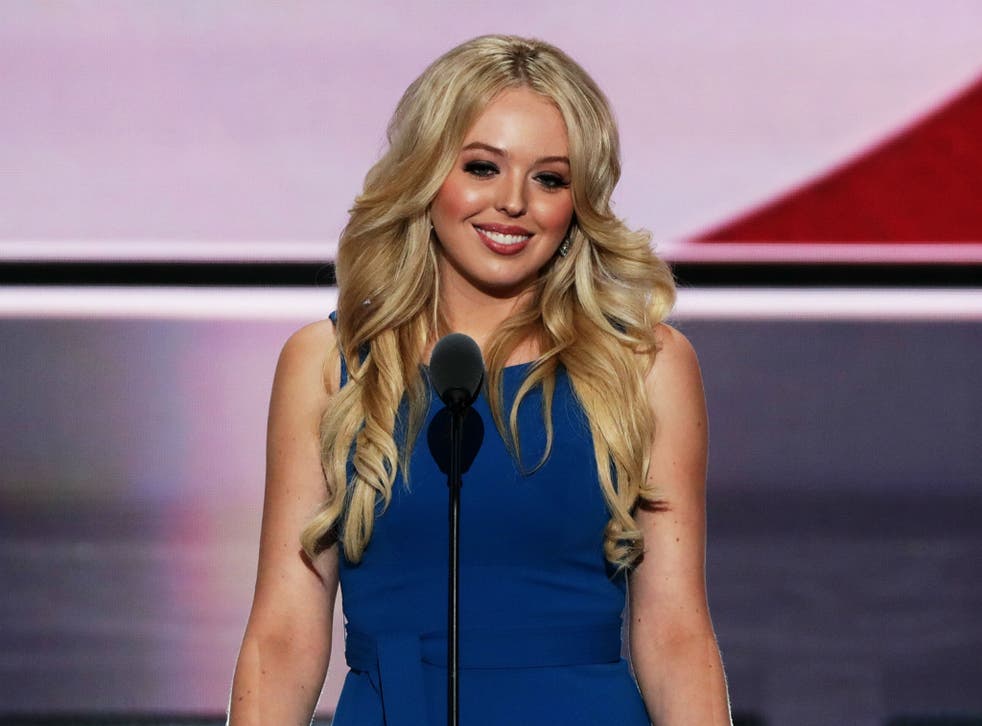 Tiffany Trump's approach to her father's presidency is wholly different to that taken by her siblings. While Ms Trump's older brother remains bitterly ensnared in the Russia scandal and her sister serves as an unpaid White House advisor, she has managed to keep her father's politics at arms-length.
Apart from a handful of occasions where she joined the family during Mr Trump's presidential campaign, President Donald Trump's youngest daughter, who is his only daughter from his second marriage to Marla Maples, has kept a relatively low profile.
But this does not mean the 23-year-old, who was raised separately from her siblings and has been dubbed the "forgotten" Trump, is not subject to stringent and exorbitant security measures.
Ms Trump's recent holiday to Berlin in Germany is said to have cost the US taxpayer $22,440. Federal purchase orders viewed by CBS News showed this sum covered hotel costs for the team of US Secret Service agents which accompanied her on a trip to the German capital with her boyfriend last month.
Nevertheless, this figure did not include the amount spent on paying the agents for their time or flights.
One purchase order for the agent's hotel includes this line "URGENT! Rooms Regent USSS (Tiffany Trump visit) June 14-24" suggesting there might have been little notice the holiday was taking place. According to the United States Secret Service, the general practice is for agents to vet a site ahead of arriving.
Ms Trump, who is due to attend Georgetown Law School in autumn, shared photos of herself and her boyfriend in Hungary but no details of the hotel bills in Hungary have yet to be released.
Donald Trump's international Presidential trips

Show all 22
The Trump family are avid travellers and have come under fierce criticism for their jet-setting since the billionaire property developer's arrival in the Oval Office. In January, Ms Trump's half-brother Eric was reported to have cost the US taxpayer almost $100,000 to cover his security costs. According to local press, he visited the Trump Tower in Punta del Este for as little as two nights.
In March, Ivanka, her husband Jared Kushner, their children and Eric sparked outrage for the cost of the family's spring break ski holiday in Colorado. They reportedly required 100 Secret Service agents to travel with the group for the trip – who were said to have spent $12,208 on rental ski equipment and clothing. In May, another skiing holiday enjoyed by Ivanka and Mr Kushner was reported to have cost taxpayers at least $65,000 in Secret Service protection.
The President's immediate family members are assured state-funded security details - particularly on trips abroad.
Nevertheless, in the past Mr Trump has questioned whether the US taxpayer should be footing the bill for extensive security on visits for non-official purposes. While Barack Obama was President, he vented his frustrations about "taxpayer funded vacations" which cost the American people "millions of dollars" on Twitter.
The Trump Organisation did not immediately respond to request for comment.
Join our new commenting forum
Join thought-provoking conversations, follow other Independent readers and see their replies