'My stomach dropped': Diver spots tiger shark caught in rope 'noose' that had cut into its body
Shark's predicament 'a reminder of how our carelessness and disregard for proper trash disposal can lead to suffering or death to our marine life', diver says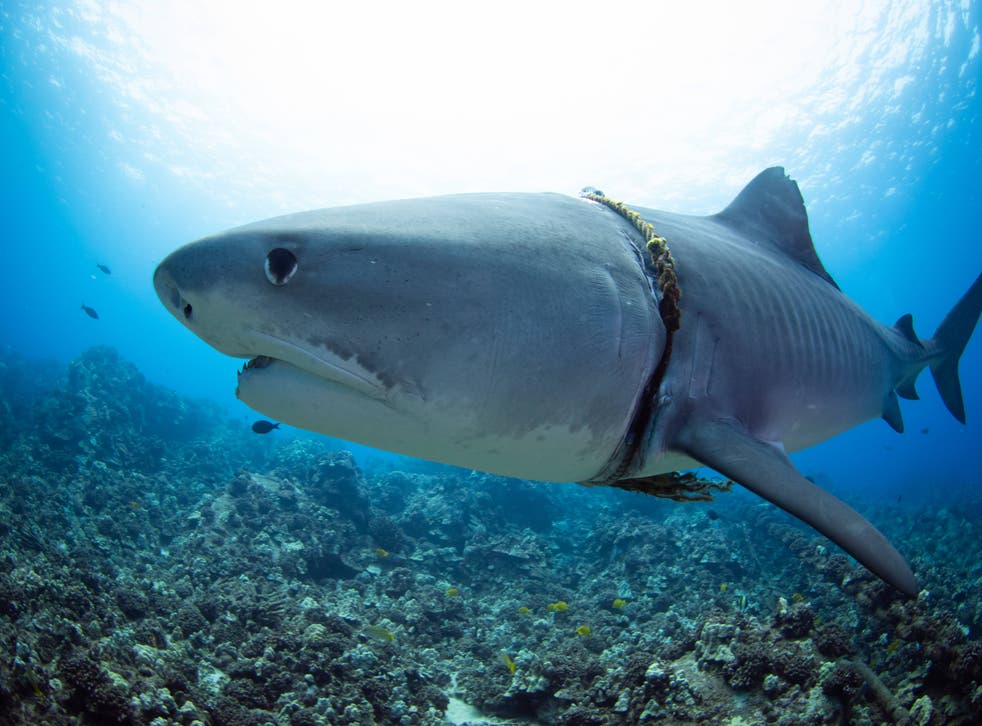 Leer en Español
A shark has been caught on camera tangled in a rope 'noose' that had wrapped around its body, cutting into the flesh around its gills in an image showcasing the impact ocean pollution can have on marine life.
Photos of the approximately 14,000-pound tiger shark were taken by a concerned photographer in Kailua Kona, Hawaii.
One image shows how the circle of rope has cut deep lacerations into the animal's back.
In another, the thick rope appears to have burrowed under the shark's skin, pushing the joint of its right fin away from its body.
Marine photographer Jason Lafferty, 36, was diving in Kailua Kona when he spotted the tiger shark tangled in the rope just metres away.
Mr Lafferty swam alongside the shark for several minutes while attempting to remove the rope, but was unable to do so without the proper tools.
When he returned the following day - with the right equipment for the task of freeing the animal - the shark was nowhere to be seen.
"I saw a large shadow emerge and thought, 'It's a tiger shark - fantastic,' but as it got closer, I saw how skinny it was and it looked like there was something trailing on its side," Mr Lafferty said.
"It turned within a couple feet of me and my stomach dropped. I saw a heavy-duty rope around the entire shark.
"It was so tight it was cutting into the shark and causing a loss of appetite which is why the shark was so seriously underweight.
"I had no cutting devices, so I documented the interaction to spread awareness around the shark community.
"Later that week, the shark was seen again, and a lot of locals made attempts to cut the rope off but they weren't successful."
He added: "The story has a happy ending. A few weeks later, the shark was spotted with the rope off.
"The image is a reminder of how our carelessness and disregard for proper trash disposal can lead to suffering or death to our marine life."
Ocean pollution is becoming an increasingly pressing issue, with around 17-billion pounds of plastic being dumped in the seas each year.
Additional reporting by Mediadrumimages
Join our new commenting forum
Join thought-provoking conversations, follow other Independent readers and see their replies