Tiger in Texas: Pet found wandering streets prompts appeal for owner
Big cat discovered with collar and lead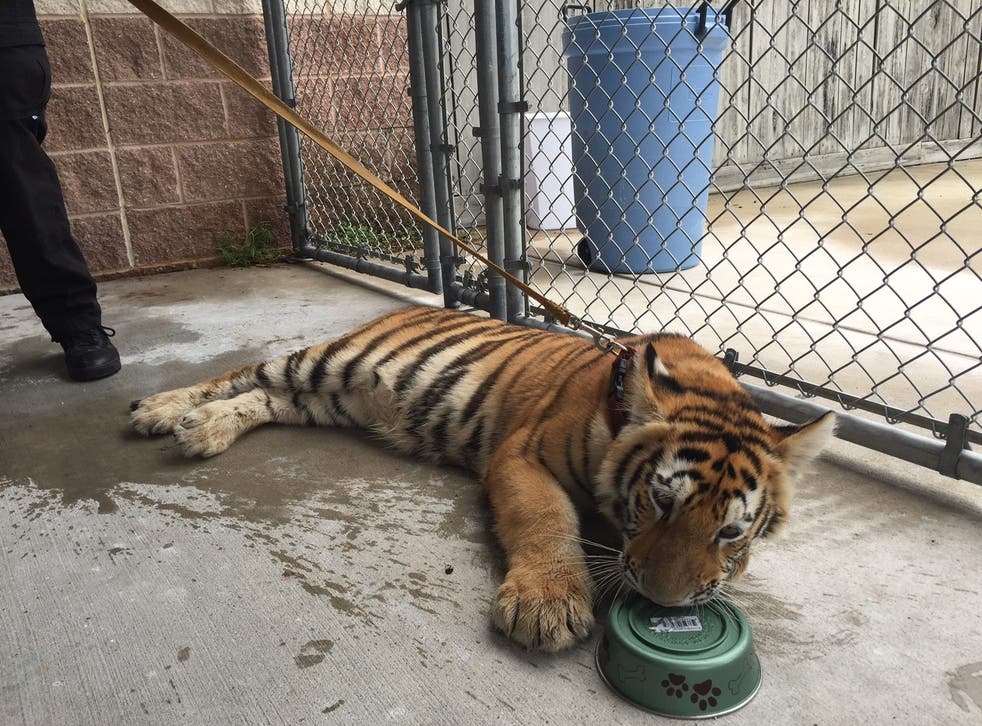 Police in a small city in Texas have appealed for help with finding the owner of a pet tiger that was found roaming the streets.
The young female cub was found in Conroe, near Houston, and taken into captivity by the authorities without incident.
Photos of the animal were later posted to the Conroe Police Department Facebook page.
The department said: "We received a report of a tiger wandering the area of Coral Cove Pass near Longmire and League Line.
"Animal control officers were able to locate and capture the animal. We are asking for assistance in locating the owner. The female tiger has a collar and a leash."
The post has since been shared over 4,000 times.
The tiger – who reportedly knew the commands of 'sit' and 'stay', was found by local residents Jonathan Gessner and Erin Poole, who saw it in some undergrowth. Their call to police was initially considered a hoax.
"I saw something run into the bushes—it was really big," Ms Poole told The Venture.
"Out of nowhere she took off running towards me," Mr Gessner said. "She put her paws on my shoulders and started licking me in the face. I was really scared at first."
"She's very friendly," Ms Poole said. "She was playing just like a cat would."
"She would brush up against your leg and let you pet her," Ms Poole said. "I thought she would have made a great pet. But she's still a wild animal, and this is a harsh environment for her. I don't think she's in her rightful home."
A man, identified only as Cody, told local news outlet ABC13 that he has some association with the tiger but his status remains unclear.
"Her name is Nala," Cody told the broadcaster. "She's very nice. She's a 4-5 month old tiger. We dropped her off at a friend's and I don't really know how she got out."
Despite it being legal to own exotic animals in some parts of Texas, Conroe has legislation against the practice.
The wild side: Britain's 20 weirdest pets

Show all 21
"It seems to be a tame animal, seems very playful and friendly," said Sgt. Dorcy McGinnis of the Conroe Police Department.
However, she added: "It is a very strong animal. It definitely would not be appropriate here in the City of Conroe."
Despite the friendly temperament of the Conroe cub, tigers remain potentially dangerous creatures. Earlier in April, 38-year-old tiger keeper Stacey Konwiser was killed by a Malayan tiger she was looking after at Palm Beach Zoo in Florida.
Join our new commenting forum
Join thought-provoking conversations, follow other Independent readers and see their replies