Tilikum: SeaWorld killer whale featured in Blackfish after involvement in three deaths could be dying
The orca has drowned a trainer, a homeless man and was linked to the death of a third woman in 1991
Lizzie Dearden
Wednesday 09 March 2016 11:53 Comments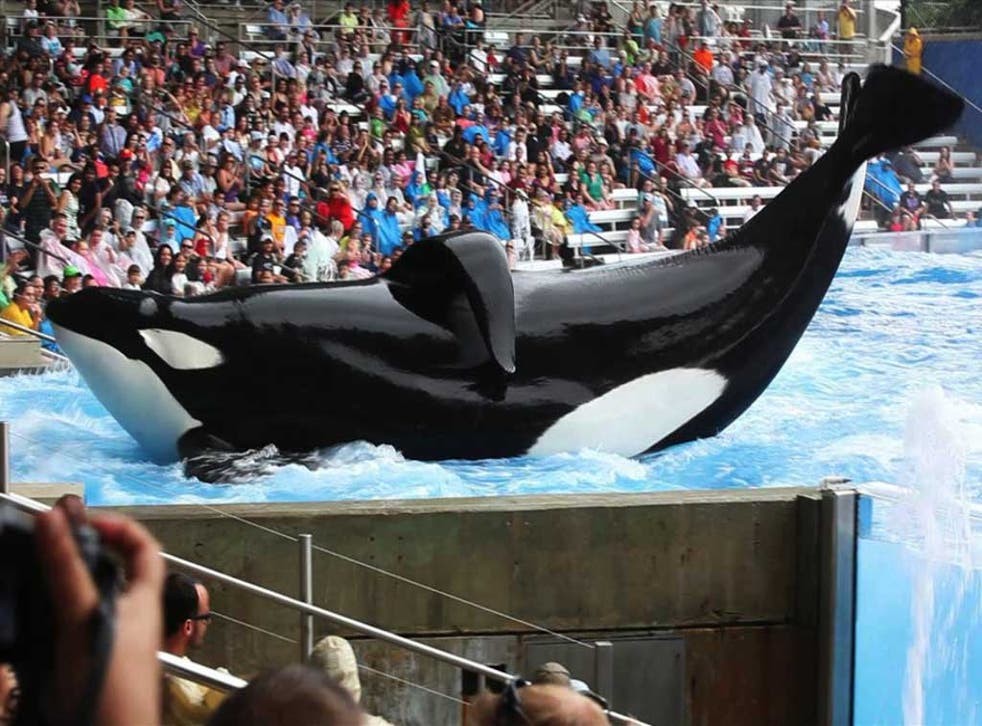 A killer whale linked to three people's deaths could be dying in captivity at SeaWorld Orlando.
Tilikum, who has been at the tourist attraction in Florida for 23 years, has become "increasingly lethargic" as vets struggle to treat a bacterial infection in his lungs.
"It has been our duty and passion to make sure we give him the utmost care we possibly can," said Daniel Richardville, an animal training supervisor.
He said vets were concerned that Tilikum's health was beginning to deteriorate and that they were trying to make him "comfortable".
The orca was featured in the influential Blackfish documentary, which heavily criticised keeping whales in captivity and argued it made them hostile after exploring Tilikum's relationship with humans.
The film was released three years after Tilikum dragged Dawn Brancheau to her death in front of horrified onlookers following a performance.
The 40-year-old, who was an experienced trainer, had been rubbing the whale when he dragged her underwater and drowned her.
A post-mortem found Tilikum had scalped Ms Brancheau, fractured her spine, broken several bones and torn off part of her left arm.
The death on 24 February 2010 was the third the whale had been linked to, after a 27-year-old man was found dead in his pool after jumping into the enclosure.
Daniel P Duke's death in July 1999 was attributed to drowning but medical examiners also almost 60 injuries, including many suffered after death, inferring that Tilikum may have toyed with the body.
The 12,000lb orca was one of three whales involved in a previous death in 1991, when 21-year-old Keltie Byrne was drowned in front of visitors at his previous home at the Sealand of the Pacific park in British Columbia, Canada.
The aquarium subsequently closed and sold its orcas to SeaWorld.
World news in pictures

Show all 50
Tilikum, said to have been captured near Iceland in November 1983, is estimated to be 35 years old.
"Since Tilikum became a part of SeaWorld's family 23 years ago, he has received the best in marine mammal health care and life enrichment available for killer whales – including a focus on his physical health, mental engagement and social activity with other whales," a spokesperson for SeaWorld said.
"Our teams are treating him with care and medication for what we believe is a bacterial infection in his lungs. However, the suspected bacteria is very resistant to treatment and a cure for his illness has not been found."
Visitor numbers to the Orlando park have declined since the release of Blackfish and in November, the chain announced that it would phase out the controversial orca shows in San Diego in 2017.
Register for free to continue reading
Registration is a free and easy way to support our truly independent journalism
By registering, you will also enjoy limited access to Premium articles, exclusive newsletters, commenting, and virtual events with our leading journalists
Already have an account? sign in
Join our new commenting forum
Join thought-provoking conversations, follow other Independent readers and see their replies