Timothy Robenhorst: Dad who forces son to make humbling apology after discovering he is a bully says 'swastika is symbol of his beliefs'
Son thanks his dad for the punishment
Andrew Buncombe
Sunday 22 March 2015 20:09 Comments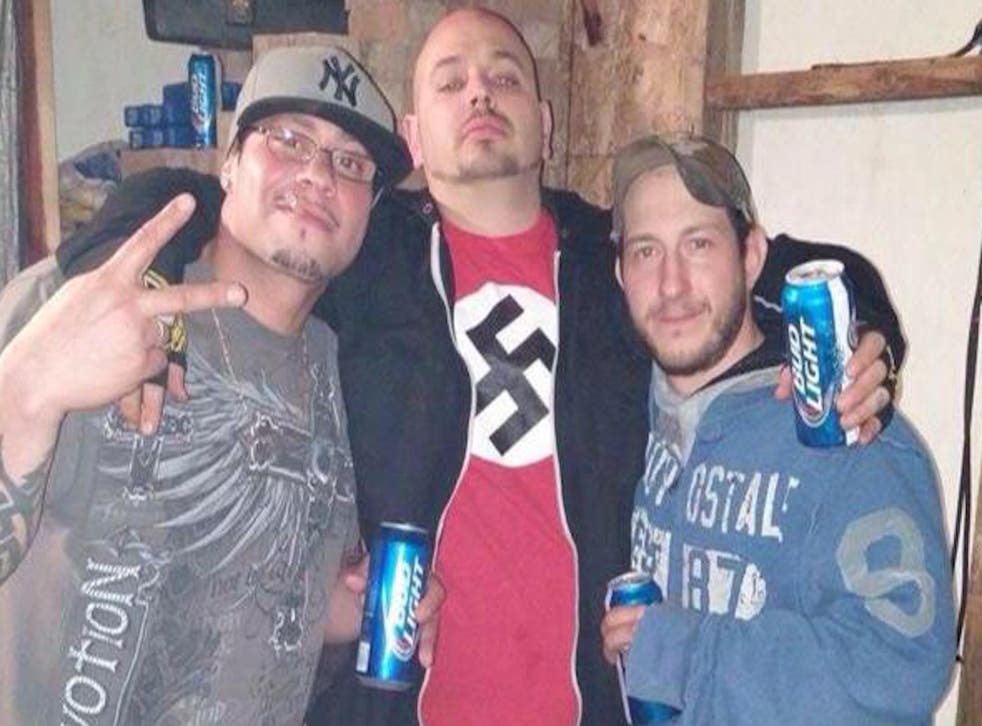 It's a punishment that has drawn praise and criticism in equal measure – but the father who forced his son to issue a humiliating apology for bullying children at school is known as 'SS Cowboy" who has posted pictures of himself on Facebook wearing a T-shirt with a swastika on it.
Timothy Robenhorst from Wisconsin forced his son, Kayden to hold a sign declaring himself a bully and take part in demeaning physical tasks after being told he had been bullying a classmate. He then posted the image on Facebook.
Kayden's punishment involved being woken up at 4.30am and made to do 50 push-ups on his fists. He also had to carry out 10 harder, incline push-ups before running. Wisconsin temperatures are currently around freezing.
Reports of the bizarre punishment drew praise and criticism alike. But what they did not mention was Mr Robenhorst apparent penchant for Nazi symbolism and what he claimed was his support for Nazi believes.
Amid the images of his son posing with the apology sign and doing press-ups, is a photograph of Mr Robenhorst wearing a red T-shirt with a Swastika.
Asked by one commenter why he is wearing such a T-shirt, Mr Robenhorst responded: "Because it's a symbol of my beliefs!"
Mr Robenhorst's punishment for his son drew widespread praise from online commenters who said he was teaching him a lesson that would endure all his life. Others said that it required more to tackle bullying than to simply say sorry.
Reports said that Mr Robenhorst's son had approved of the punishment and thanked his father.
Kayden, told the Daily Mail, that he had said something "stupid" to a boy at school. He said his father had later found about what had happened.
"When he found up, he woke me up at 3.30a, in the morning, and he sat me down on the couch. And when I didn't come up with a good enough excuse to save my butt, I told the truth," he said.
"He made me do 50 knuckle push-ups, run a mile, then come back and do incline push-ups. And I'm still not done."
He added: "I think it's a really good punishment - I learned my lesson and he's a good dad for doing it."
Register for free to continue reading
Registration is a free and easy way to support our truly independent journalism
By registering, you will also enjoy limited access to Premium articles, exclusive newsletters, commenting, and virtual events with our leading journalists
Already have an account? sign in
Join our new commenting forum
Join thought-provoking conversations, follow other Independent readers and see their replies