Tombstone: Two people shot at OK Corral as reenactment uses live bullets
One actor had to undergo surgery to remove a bullet from his thigh
Andrew Buncombe
New York
Monday 19 October 2015 13:30 Comments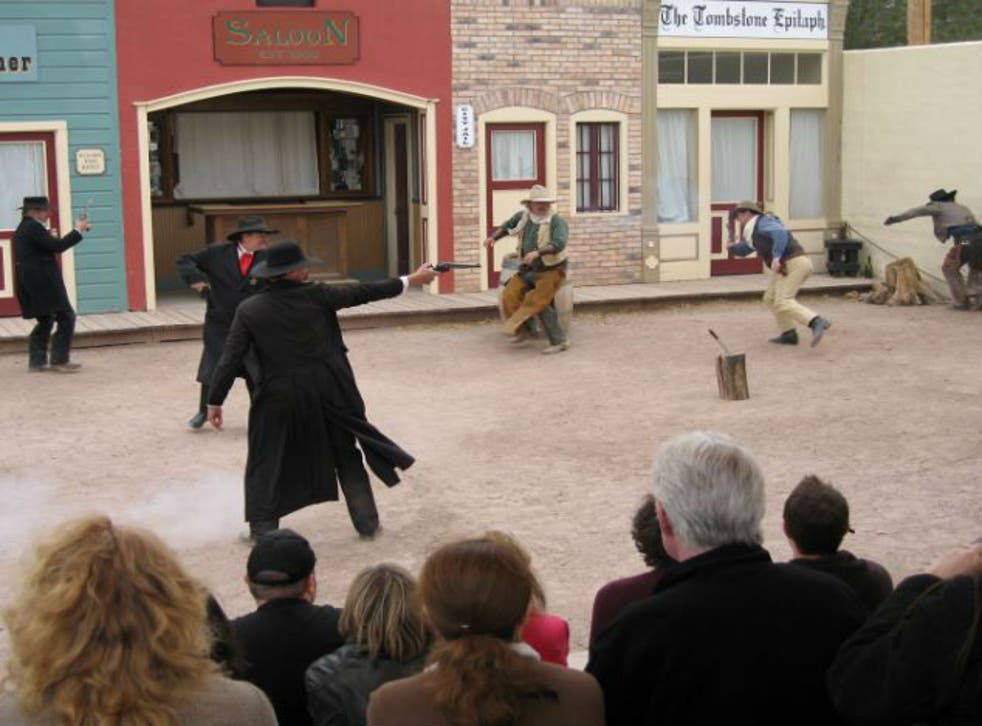 One of the things that draws countless tourists to the Arizona town of Tombstone is the sense of authenticity.
The buildings look real, the streets look real, and those reenactments of the gunfight that made the town famous, also look disturbingly genuine.
But this weekend, things became a shade too authentic, as two people were shot and wounded as actors from the Tombstone Vigilantes reenactment group used live ammunition to recreate the Gunfight at the OK Corral.
Actor Ken Curtis was airlifted to hospital in Tucson after live bullets rather than blanks were fired during the standoff, the Tombstone Marshal's Office said. Mr Curtis has undergone surgery to remove a bullet from his thigh, the Associated Press said.
A spectator, Debbie Mitchell, was also hit.
Police said they believed the accident happened after one of the participants, Tom Carter, was late to the show and his weapon was not checked.
"The Tombstone Vigilantes were engaged in a street skit involving animated gunfights in the 400 block of Allen Street," Cochise County Sheriff Mark Dannels said in a statement.
"During the skit, actors Tom Carter and Ken Curtis were faced off against each other and when Tom Carter fired his firearm, Ken Curtis fell to the ground after being struck by a live round."
The incident happened outside the OK Corral at around 2pm on Sunday. The shooting was a part of the stunt show during the so-called Helldorado Days.
Tombstone is famous around the world as the site of the Gunfight at the OK Corral, when, on 26 October 1881, members of the outlaw Clanton Gang of cowboys were involved in a standoff with lawmen Virgil Earp, Morgan Earp, Wyatt Earp and Doc Holliday.
Three members of the gang, Tom McLaury, Frank McLaury and Billy Clanton, were killed. Their graves are today in a cemetery on the edge of town.
Since then, the city has used its history and heritage to lure tourists from around the the globe.
A decade ago, the town found itself fighting accusations that it had become too commercialised and that recently-built structures were being passed off as dating from the days of the Old West.
The Marshal's Office said Mayor Dusty Escapule has asked that further reenactments be suspended while an investigation into the shooting is completed.
"This incident is an isolated event which has no precedence in this area," the statement read.
"Tombstone takes pride in the safety and security of its townspeople and tourists alike and the citizens of Tombstone can be assured that stringent safety protocol will be enforced prior to allowing any further gunfight skits on Allen Street."
Register for free to continue reading
Registration is a free and easy way to support our truly independent journalism
By registering, you will also enjoy limited access to Premium articles, exclusive newsletters, commenting, and virtual events with our leading journalists
Already have an account? sign in
Join our new commenting forum
Join thought-provoking conversations, follow other Independent readers and see their replies