EDL founder Tommy Robinson to address one of America's most prestigious universities
Students at Columbia will also hear from far-right commentator Mike Cernovich, who helped promote the 'Pizzagate' conspiracy theory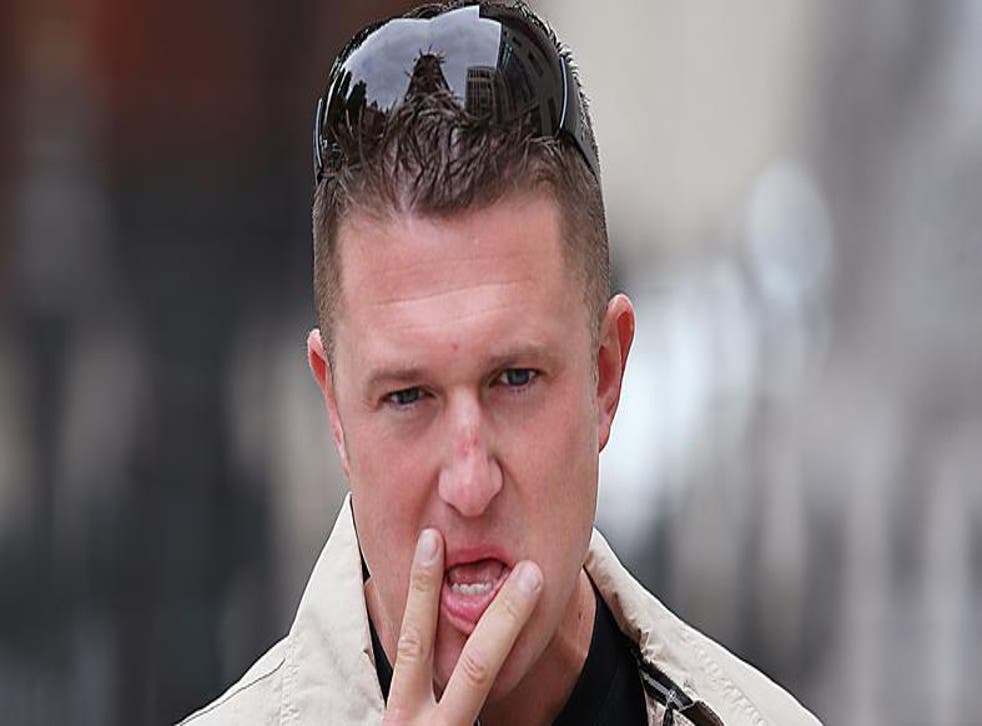 Tommy Robinson, founder of the far-right English Defence League, is to give a talk to one of America's most prestigious universities.
Mr Robinson, 34, who has repeatedly been accused of stoking Islamophobia, will address students of traditionally liberal, Ivy League Columbia University on Tuesday in a talk provocatively entitled: "The fall of Europe – mass immigration".
His talk will be the start of a succession of controversial hard-right figures addressing students at the university whose alumni include Bill Clinton's former secretary of state Madeleine Albright.
On 30 October students will hear from Mike Cernovich, who helped fuel the "pizzagate" conspiracy theory in which Democrats linked to Hillary Clinton were falsely accused of child sex trafficking – and who has also been lavishly praised by the US president's son Donald Trump Jr.
The Columbia University College Republicans club, which is organising both talks, described Mr Robinson as "an important political figure in England and Europe", who has "championed the notion that radical Islam is incompatible with Western values and the freedoms we currently enjoy".
It also claimed Mr Robinson "has been jailed unfairly due to his politics, which should frighten any American who values freedom of speech."
The promotional material gave no explanation as to when or where Mr Robinson might have been "unfairly jailed".
Nor did it mention that the EDL founder was jailed for 12 months for a drunken assault in 2005, jailed again in January 2013 for using someone else's passport to enter the US illegally, and again in January 2014 for his part in a £160,000 mortgage fraud.
Mr Robinson, who founded the EDL in 2009 but left the street-protest group in October 2013, has repeatedly been accused of making inflammatory and divisive statements about Muslims.
The day after the Manchester Arena attack, he made an online video in which he stood outside a mosque in the city, alleging that 16 people within a two-mile radius had fought for Isis, and claiming: "In these houses are enemy combatants."
In another video, he claimed Government "inaction" against extremism would lead to a "disgruntled and angry population cleaning out this Islamic problem".
On Saturday Mr Robinson took a camera crew to London's Natural History Museum, where a car had mounted the pavement.
He was filmed talking about "what looks like a suspected jihad attack... black male, possibly a convert, probably will turn out to have been on our watchlist."
Police later ruled out any link to terrorism and confirmed the incident was being treated as a road-traffic matter.
Tommy Robinson declares traffic accident a jihadi attack
Mr Robinson, however, has insisted he has never incited hatred or violence, claiming he was just warning about the kind of "sectarianism" that might lead to "idiots" attacking the Muslim community because they felt the Government was doing nothing about Islamist extremism.
He now plans to launch his new book – Mohammed's Koran: Why Muslims Kill For Islam – in Manchester – despite criticism from Mancunians and Dan Hett, whose brother died in the arena attack.
In addition to the offences for which he was jailed, Mr Robinson has a conviction for leading Luton Town football supporters in a 100-person mass brawl with rival fans, during which a court heard he had chanted the words "EDL til I die".
After being given community service and a three-year ban from attending football matches in July 2011, he claimed outside court to be the victim of the British "police state" because he thought he was being prosecuted for "what I am saying rather than what I am doing".
The claim he has been "jailed due to his politics" may be a reference to the time in September 2011 that he was remanded in custody and went on hunger strike after breaching bail conditions by attending an EDL rally while awaiting court proceedings for assaulting a fellow EDL member.
Mr Robinson was subsequently convicted and given a suspended jail sentence for headbutting the EDL man. A Bedford Prison source told Luton Today: "His hunger strike only lasted 24 hours and then he gave up."
UK news in pictures

Show all 50
Mr Robinson has also said he spent three days in a "grimy prison" in Switzerland before being fined for a rooftop protest at Fifa's Zurich headquarters in which he and a fellow EDL member demanded England footballers be allowed to wear poppies on their shirts.
In October 2014, after being released from jail part-way through his mortgage fraud sentence, he was jailed yet again for breaching the terms of his licence.
Mr Robinson claimed his licence conditions included that he refrain from contact with the EDL. He said he had been recalled to prison because "I responded to a death threat targeting my family".
Without offering detailed evidence, he told his 12,000 twitter followers that his rearrest was also related to him being due to speak at the Oxford Union "exposing police persecution".
Given Mr Robinson's criminal record, it is thought he will travel be unable to travel to the US in person and will instead address students via Skype.
Campaigners including the Southern Poverty Law Center Chapter at Columbia and Black Lives Matter of Greater New York are planning to protest at what they called "hateful and divisive rhetoric which does not align with the values of the university".
CUCR, however, has said: "We're proud of our efforts to provide a conservative voice on an overwhelmingly liberal campus and to defend free speech."
CUCR president Ari Boosalis, a finance student, told DNAinfo New York: "I don't agree with all my speakers on every point, but it's important for that conversation to happen.
"A lot of people that represent middle America and those types of voters, they're not represented at this school at all, and this is an opportunity for students to confront those views."
Mr Robinson rushed to the Natural History Museum on Saturday after being enthusiastically received by some supporters at a march in London organised by the recently-formed Football Lads Alliance.
The march was said to be against all forms of extremism, but after The Independent reported on it, Mr Robinson tweeted that "Every lad I spoke to was there to oppose Islam".
Join our new commenting forum
Join thought-provoking conversations, follow other Independent readers and see their replies