Tony Hsieh: Zappos boss dies after accidental house fire
Death ruled an accident but cause of Connecticut blaze still under investigation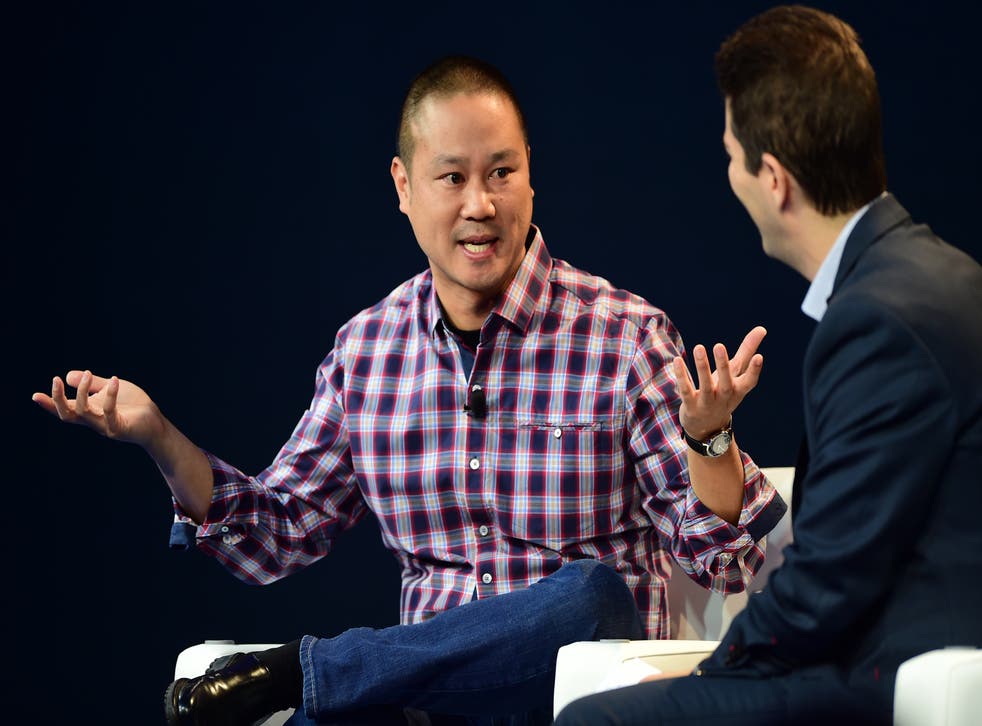 Zappos boss Tony Hsieh died from complications of smoke inhalation suffered during a house fire, according to a medical examiner.
Mr Hsieh suffered the injuries in a fire at a waterfront property in New London, Connecticut, earlier last month, according to reports.
A fire department dispatch recording says that Mr Hsieh was "barricaded" inside a storage shed attached to the side of the $1.3m home when the fire broke out.
'One victim being pulled from the fire now — unresponsive,' a firefighter can be heard saying on the tape, after they broke down the shed door and pulled Mr Hsieh out, according to reports.
His death was ruled an accident by authorities three days after his death at Bridgeport Hospital last week.
New London fire chief Thomas Curcio confirmed to the Hartford Courant that Mr Hsieh was rescued from the house fire on 18 November and taken to Bridgeport Hospital, which has a burns centre.
The fire took place in the basement of the home and 46-year-old Mr Hsieh was trapped in a storage area and unable to escape, according to police.
"Upon arrival on the scene, emergency services personnel observed dark smoke emanating from the back of the residential structure," said Captain Brian Wright of New London Police.
"Individuals at the scene informed emergency personnel that a man, who was later identified as Anthony Hsieh, DOB 12/12/1973, was locked inside a storage area where smoke was coming out at the rear of the residence, and they were unable to get him out.
"Emergency personnel breached the storage area door, retrieved the victim."
The cause of the fire remains under investigation by the New London fire marshal.
Fire fighters were called to the house at 3.30am after reports of somebody trapped inside, and after performing CPR transported the victim to hospital.
Mr Hsieh's cause of death was confirmed by Connecticut's chief medical examiner.
He had reportedly been staying at the home, which is listed as being owned by former Zappos employee Rachael Brown, with his brother.
One of Mr Hsieh's assistants, Anthony Hebert, told reporters that Mr Hsieh was visiting family and his "soulmate" in New London, according to FOX61.
The retire CEO ran the giant online shoe retailer, which was sold to Amazon in 2009 for $1.2bn, for almost 20 years after joining it in 1999.
He was credited by Nevada official for helping transform Downtown Las Vegas.
"Your curiosity, vision, and relentless focus on customers leave an indelible mark. You will be missed by so many, Tony. Rest In Peace," wrote Amazon CEO Jeff Bezos on Instagram.
Join our new commenting forum
Join thought-provoking conversations, follow other Independent readers and see their replies