TPP and TIPP trade deals likely 'dead' after Donald Trump's election — but for how long?
Is it the end for massive international free trade?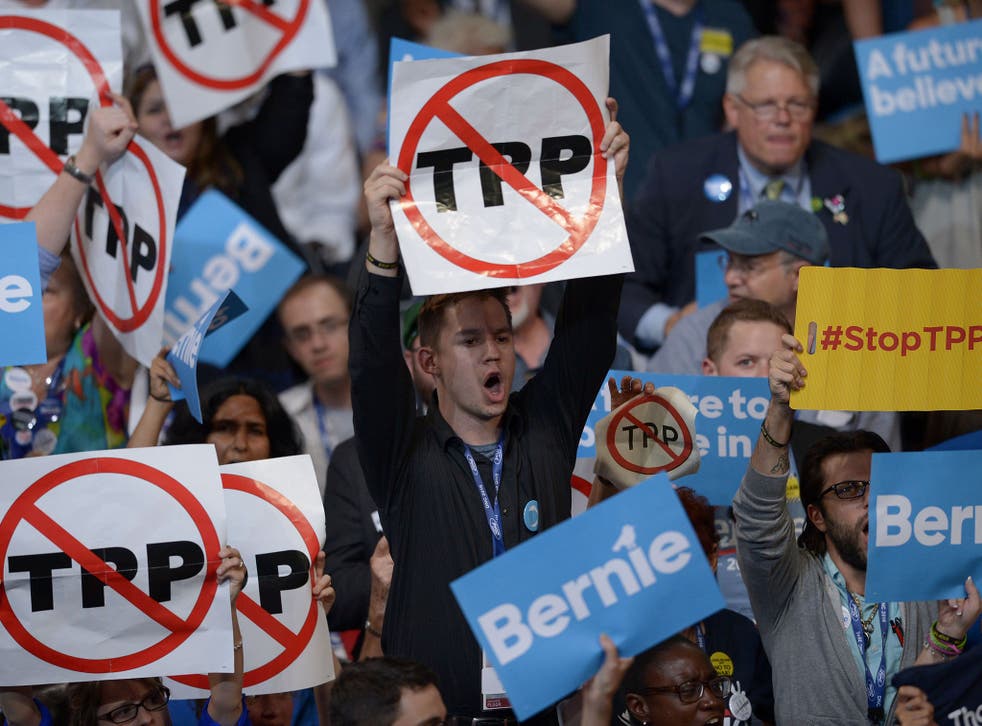 A silver lining of Donald Trump's incoming presidency, at least for progressive Democrats in the US and left-wingers in Europe, is the likely end of the Trans-Pacific Partnership (TPP) and the Transatlantic Trade and Investment Partnership (TIPP).
Opponents have long protested the massive trade deals between the US, Europe and Asia, arguing they would allow big business to benefit from laxer rules concerning public health, food safety, banking and environmental regulations as well as the ability to sue the government to make up for lost profits.
Trump supporters also saw the deals as a continued threat for jobs and American manufacturing.
Although president Obama had hoped to push through TPP, the largest regional trade deal in history, during his "lame duck" two months in the White House, the bill is now effectively dead in the water.
Arthur Dong, professor at Georgetown's McDonough School of Business, told The Independent that all multi-lateral trade deals that fall across economic and geopolitical fault lines will be called into question under president Trump.
"As to whether it's a permanent nail in the coffin, that's going to be interesting to see how that plays out," he said.
Mr Trump promised in June he would scrap TPP, which was negotiated behind closed doors under president Barack Obama, within the first 100 days of his presidency.
Mr Trump called it the "death blow for American manufacturing" in an appeal to working class voters.
Donald Trump describes United States election result as "Brexit times five"
TPP and TIPP were wide-ranging, with knock-on effects for digital commerce, intellectual property rights, human rights and environmental protections. TPP also aimed to scrap tariffs on products and services, reducing costs for foreign buyers.
The news of the two major trade deal casualties were likely to be championed by progressive democrats, but Mr Trump was less likely to be given the credit.
Democratic representative Rosa DeLauro from Connecticut said during a press conference this week: "[…] let me be clear, TPP was on the ropes long before last Tuesday."
Mr Dong from Georgetown University said that TPP was about much more than mutual trade relations - it was also about the US cementing an economic position in East Asia in the face of China becoming a dominant power.
"That's now at stake," he said. "Perhaps president Trump was not as well informed on the longer-term implications of the abandonment of TPP."
Hillary Clinton and her campaign did not press the issue in fear of losing those blue collar voters, he added.
Ms Clinton called TPP the "gold standard" of trade agreements when she was secretary of state, but she subtly changed her position on the deal during her presidential campaign.
Obama Tries to Sell TPP Trade Agreement at ASEAN
Not all Republican trade hawks are as keen as their next president to signal the death knell for TPP, however.
Republican Texas representative Kevin Brady, chair of the house committee on ways and means, said his party would continue to support free trade and would rather renegotiate TPP.
"There is plenty that levels the playing field. Renegotiate. Fix the problems that exist today. Let's find a way to move forward," he said.
Republican minority leader Mitch McConnell said he hoped Mr Trump could negotiate "better deals".
One idea is the North American energy block, a deal between the US, Mexico and Canada. Mr Trump's trade adviser, Peter Navarro, insisted such a deal would propel the US into becoming the dominant world power.
Whatever deal Mr Trump cuts, Mr Dong said he will face a challenge to bring back manufacturing jobs to the US and fulfill his promise to blue collar workers.
"Find any two economists and they can provide opposing evidence as to whether TPP would cause a loss of jobs and manufacturing," he said.
"But what is not refutable is that if you're a trade deficit nation like the US, in the face of a trade surplus nation such as China, you're going to have a heck of a time maintaining full employment."
Join our new commenting forum
Join thought-provoking conversations, follow other Independent readers and see their replies