The Trans-Pacific Partnership is dead, says senior Democrat Charles Schumer
President-elect Donald Trump has previously said 'There is no way to fix the TPP'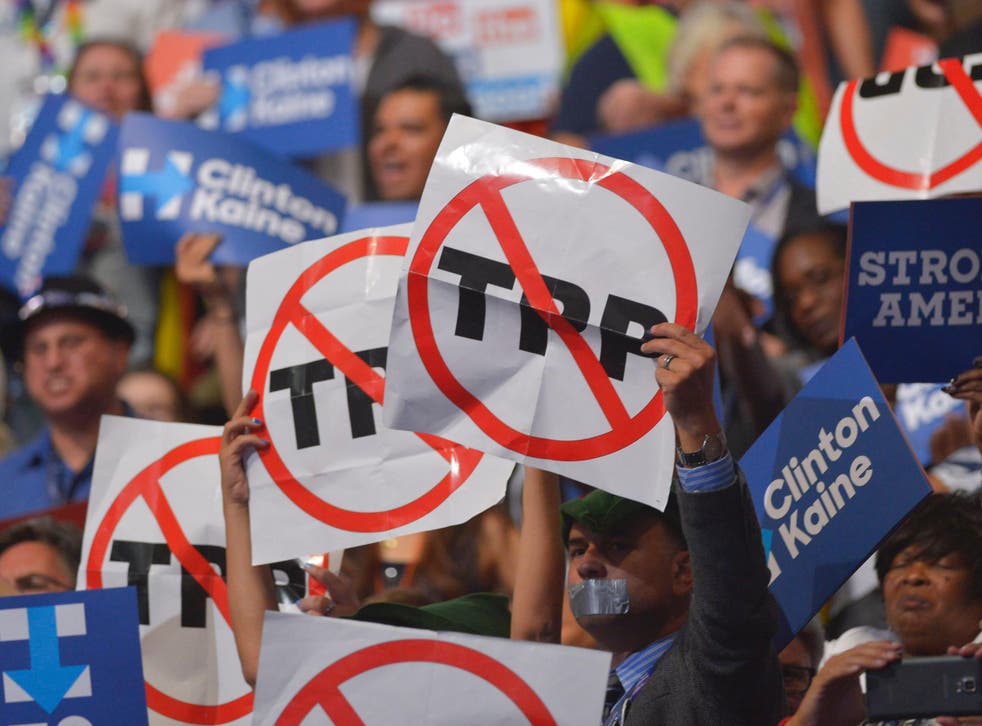 The Senate's soon-to-be top Democrat told labour leaders on Thursday that the Trans-Pacific Partnership (TPP), the trade deal at the centre of President Obama's "pivot" to strengthen ties with key Asian allies, will not be ratified by Congress.
That remark from Charles E Schumer, the United States senator for New York, who is expected to be the incoming Senate minority leader, came as good news to the federation of labour unions, the AFL-CIO executive council, which met on Thursday in Washington. Mr Schumer relayed statements that Republican congressional leaders had made to him, according to an aide who confirmed the remarks.
Mr Obama's signature global trade deal had been on life support for months, as both Democrats and Republicans campaigned against unfair trade policies ahead of the 8 November election. And Donald Trump's triumph in the presidential race cemented its fate.
"There is no way to fix the TPP," Mr Trump said in a June economic address. "We need bilateral trade deals. We do not need to enter into another massive international agreement that ties us up and binds us down."
The deal never had much of a following among congressional Democrats to begin with. Only 28 of 188 House Democrats and 13 of 44 Senate Democrats supported granting Mr Obama the authority to negotiate and finalise a deal last year. And Mr Trump's rise has decimated support for free trade among Republicans. A former US trade representative, Senator Rob Portman of Ohio, said he would oppose the TPP as he campaigned for re-election this year.
Senate majority leader Mitch McConnell, the US Senator for Kentucky, said on Wednesday there was no chance that the deal would pass during Mr Obama's final months in office. And he said it's up to Mr Trump whether any trade deal would move forward after that.
Obama Tries to Sell TPP Trade Agreement at ASEAN
"I think the President-elect made it pretty clear he was not in favour of the current agreement," Mr McConnell said. "But he has the latitude because [congressional negotiating authority] is in place through the next administration to negotiate better deals, as I think he would put it, if he chooses to."
House Speaker Paul Ryan who has supported past trade deals, has said that "the votes aren't there" in the House to pass the TPP in its current version and that he has no plans to bring it to a vote in the House.
The news of the trade pact's likely demise prompted disappointed reactions from some industry coalitions, which had hoped to access freer markets and a more level playing field with competitors overseas.
Among them were groups representing America's farmers and ranchers. The TPP had promised to slash tariffs on US agricultural goods in large markets such as Japan and Vietnam, as well as eliminate agricultural subsidies that gave competitors in the trade bloc an edge.
"We would have liked to get it done before the end of the year. The longer we delay, the more likely we lose market share in the Asia-Pacific since other countries are negotiating their own trade deals with nations in the region," David Warner, the director of communications at the National Pork Producers Council, said in emailed comments. Mr Warner said the TPP would exponentially increase pork exports, translating into more American jobs. "We certainly hope the TPP is not dead."
Retailers had also largely thrown their support behind TPP, as it would have reduced tariffs on many goods that brands source from overseas. President Obama had even used Nike's Oregon headquarters as a backdrop for a speech defending his trade policy.
"On balance, [TPP] was viewed by our industry as a win for retailers and our consumers," said David French, the National Retail Federation's senior vice-president of government relations, in an interview conducted on Thursday before Mr Schumer's statements were made known.
Mr French said he believes that the reduction in tariffs would have been passed on to consumers in the form of lower prices. Tariffs on footwear can be as high as 67.5 per cent, according to the NRF, while clothing tariffs can be up to 32 per cent.
In September, a coalition of retailers – including Walmart, JCPenney, Gap, Michael Kors and Dick's Sporting Goods – sent letters to each member of Congress to urge them to support TPP. The letter said the agreement would remove $2.8m (£2.2m) in duties on US imports of clothes, shoes and travel items such as backpacks. They called it a "once-in-a-generation opportunity to reduce costs and open new markets for US brands and retailers".
© The Washington Post
Join our new commenting forum
Join thought-provoking conversations, follow other Independent readers and see their replies