FBI investigating alleged neo-Nazi white supremacist attack on black DJ
Assault took place on day white supremacists gather to mourn neo-Nazi leader killed in 1980s shoot-out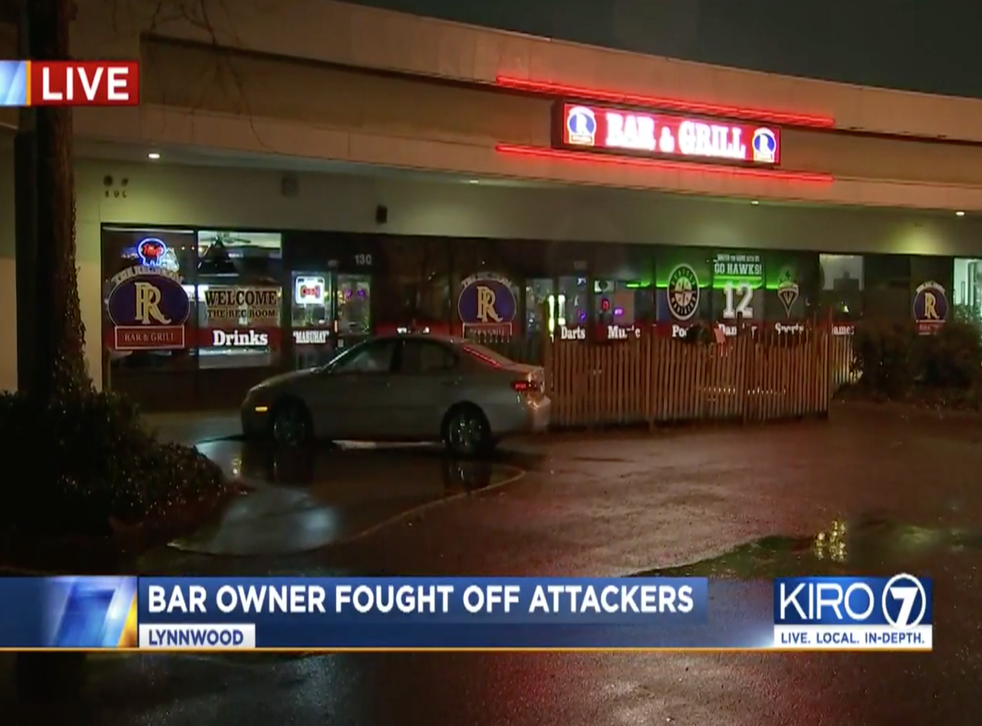 The FBI is joining a hate crimes investigation into an attack on a black DJ, allegedly carried out by self-confessed members of a neo-Nazi skinhead group.
The 34-year-old man was attacked in the early hours after a group of seven men and one woman, entered a bar north of Seattle and tried to seize his music equipment. They also used racial slurs, hit him and stamped on him, as the bar's manager sought to intervene, police said.
Eight individuals have been arrested as part of the investigation launched by the Snohomish County Sheriff's office in Washington state, and the FBI. Among those arrested was Travis Condor, a former soldier from Pittsburgh who in 2010 was sentenced to 90 days in jail for beating a homeless man with a baseball bat in Cincinnati. More recently, he was said to be present at a far right rally in Charlottesville, Virginia, where a young woman was killed.
Police said the eight individuals were "linked to a white supremacist group and were believed to be in the area for a rally that marks the anniversary of the death of a white supremacist leader on Whidbey Island in the 1980's".
The Southern Poverty Law Centre (SPLC), which tracks extremist groups across the US, said that dead leader, Robert Jay Mathews, was killed in a 1984 shoot-out with the FBI on the island, located about 35 miles north of Seattle.
Ever since, white supremacists gather on what they call Martyr's Day, to mark the death of Mathews, who led the domestic terrorist group The Order. Among other crimes, the group was believed responsible for the 1984 murder of Jewish lawyer and talk radio host Alan Berg.
"We do not and will not ever tolerate acts of hate in Snohomish County. The violent behaviour directed at members of our community over the weekend simply because of their race is disgusting. The sheriff's office is partnering with the FBI in hopes of getting the strongest sentencing possible for these hate crimes," said sheriff Ty Trenary.
Eight people, ranging in age from 23 to 38 and said to come from Washington, Pennsylvania, North Carolina, Illinois and Oregon, were charged with several crimes, including harassment, malicious harassment and assault. Police said under state law, malicious harassment was defined as a threat or violence perpetrated because of "the victim's race, colour, religion, ancestry, national origin, gender, sexual orientation, or mental, physical, or sensory handicap".
World news in pictures

Show all 50
On Monday, five of the eight people arrested - Mr Condor; Guy Miller, 37, from Tacoma, Washington; Vincent Nutter, 28, from Bothell, Washington; Nathaniel Woodell, 32, from Woodstock, Illinois, and 23-year-old Daniel Dorson from Corvallis, Oregon - appeared at the Snohomish County Superior Court in Everett, where they were later released on bail.
Police said two other suspects, a 25 year-old woman from North Carolina and 38-year-old man from Oregon, had their appearances deferred. An eighth suspect, a 34-year-old man from Oregon, was released over the weekend after he posted bail
The SPLC said Mr Condor, who lives in Pittsburgh, took part in the white supremacist-led protest in Charlottesville last summer, which ended in the violence, and the death of an anti-fascist demonstrator.
Spike Lee denounces Donald Trump's response to Charlottesville rally at Cannes presser
The attack at the Rec Room Bar and Grill in Lynwood, close to Whidbey Island, was carried out shortly after midnight on Friday, just hours after a jury in Virginia convicted 21-year-old James Fields of murder, for driving his car into a group of protesters at the so-called Unite the Right rally on August 12 2017. Heather Heyer, 32, was killed in the incident. On Tuesday, a jury said Fields should spend the rest of his life in prison.
Nobody from the Rec Room Bar responded to enquiries from The Independent on Tuesday. Jason Baum, bar's general manager, told KIRO-TV that his Filipino-American mother purchased the bar four years ago. He said they wanted it to be a place of tolerance.
"We're a minority-owned bar that is just trying to pay our bills and support our community, and do things to give back," he said.
Mr Baum said he went to the help of the DJ, who was a friend. "For something like [that] to have happened was incredibly terrifying."
It was not clear if the eight suspects have been assigned lawyers. The Associated Press said that a message left on Mr Condor's phone was not immediately returned.
Last month, it was reported that the FBI had warned law enforcement agencies that the proud boys, a far right group recently linked to several violent incidents, was actively recruiting in the Pacific Northwest.
Register for free to continue reading
Registration is a free and easy way to support our truly independent journalism
By registering, you will also enjoy limited access to Premium articles, exclusive newsletters, commenting, and virtual events with our leading journalists
Already have an account? sign in
Register for free to continue reading
Registration is a free and easy way to support our truly independent journalism
By registering, you will also enjoy limited access to Premium articles, exclusive newsletters, commenting, and virtual events with our leading journalists
Already have an account? sign in
Join our new commenting forum
Join thought-provoking conversations, follow other Independent readers and see their replies