Triplet babies make medical history after all braving procedure for rare skull condition
The surgeries were performed when they were just 11 weeks old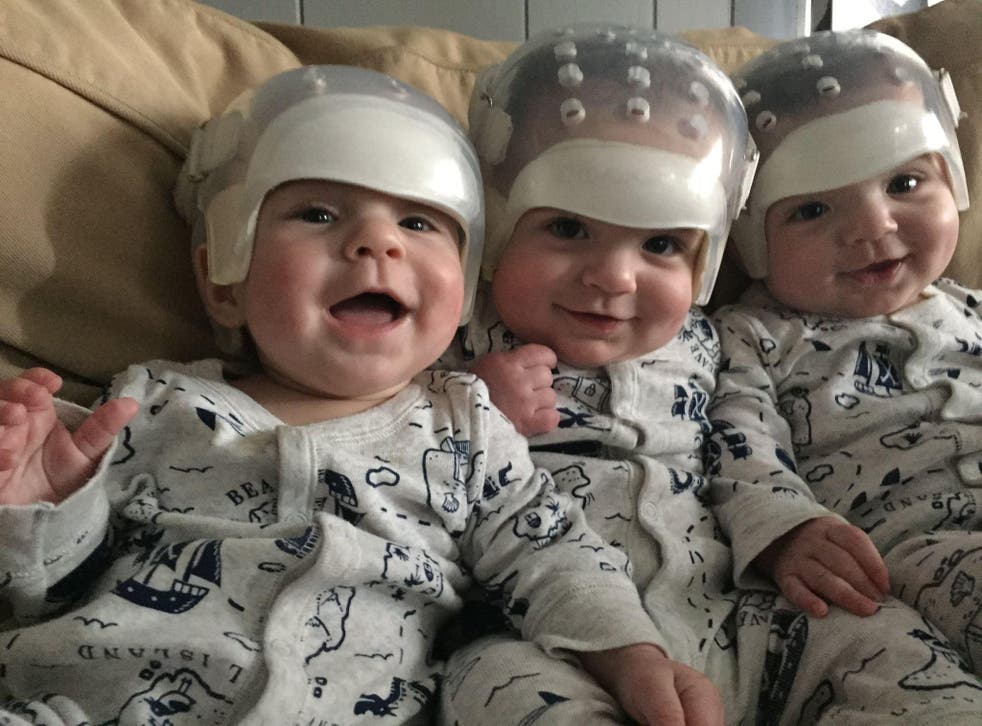 Surgeons in New York have performed skull surgery on triplet infants for the first time ever.
Amy Howard gave birth to Jackson, Hunter, and Kaden in October 2016. She and husband Michael are first-time parents and Ms Howard she "was terrified [of having triplets]. It took me a little bit of time to get used to the idea, to be honest."
The babies were born on time but were soon diagnosed with craniosynostosis, a rare disorder when the bones in a baby's skull fuse together too early.
Only one in 2,500 children are born with the disorder so for all three infants to have it is even rarer.
Dr. David Chesler, a pediatric neurosurgeon at the hospital, said in a statement that children's brains were "put under pressure...That can be detrimental to the brain, the vision, the life of the child. It's not imminently life-threatening, but it can cause real consequences down the road."
The surgeries were performed in January 2017 when the babies were just 11 weeks old. According to the hospital, the required surgery had never been performed on triplets ever before.
Mr Chesler said that it was an endoscopic surgery, meaning it was done with smaller incisions rather than a more invasive open-skull surgery and it allowed them to return home within a few days.
The children are required to wear special helmets for up to 23 hours a day over six to nine months in order to shape their skulls as they grow.
Now five months old reported that the babies' skulls are growing into a normal shape and they are hitting their developmental targets.
Mr Howard told Today that life is "a little chaotic. It's awesome, I wouldn't change it for the world."
Register for free to continue reading
Registration is a free and easy way to support our truly independent journalism
By registering, you will also enjoy limited access to Premium articles, exclusive newsletters, commenting, and virtual events with our leading journalists
Already have an account? sign in
Register for free to continue reading
Registration is a free and easy way to support our truly independent journalism
By registering, you will also enjoy limited access to Premium articles, exclusive newsletters, commenting, and virtual events with our leading journalists
Already have an account? sign in
Join our new commenting forum
Join thought-provoking conversations, follow other Independent readers and see their replies