'He has brought shame on Canada': Can Justin Trudeau survive blackface scandal when country heads to polls next month?
Analysis: Can a political career built on his progressive reputation survive unearthing of incidents decried as 'racist'?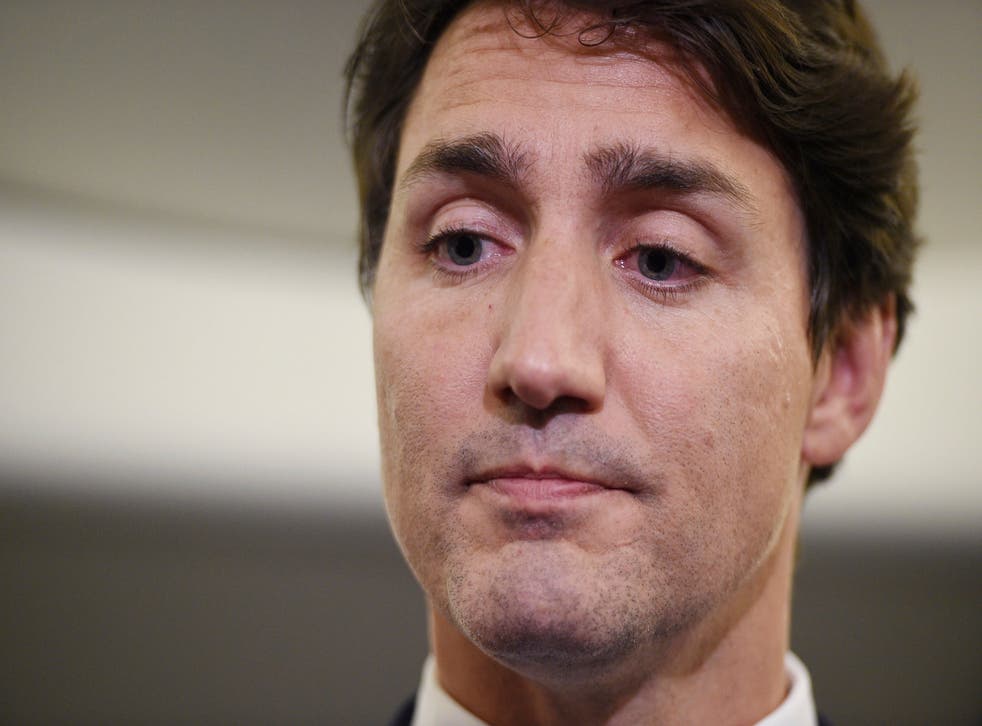 And so, the progressive prince might actually be a frog.
Canadian prime minister Justin Trudeau rode into office in 2015 on a platform of politically correct platitudes that made him the darling of the left at home and the world over.
Plus, he had those dreamy looks.
Any hint – real or imagined – of racism, sexism or homophobia was quickly called out by the PM. Even if the heresy occurred a century before.
There were a multitude of apologies to Jews, Italians, Sikhs, Chinese and others who had been wrongly treated or gotten a raw deal since the nation's founding in 1867.
Indigenous peoples were apologised to on a multitude of occasions for a multitude of sins.
Blackface controversy in popular culture

Show all 6
But now, Trudeau is finding that if you live by political correctness, you can die by it as well.
On Wednesday, TIME magazine published a photo from 2001 that shows the prime minister in brownface.
He was a drama teacher at a private Vancouver school at the time. The theme? Arabian Nights.
And on Thursday, another bombshell dropped on the prime minister, who is leader of the Liberal Party.
Global News obtained video that shows Trudeau covered in what appears to be "dark makeup and raising his hands in the air while laughing, sticking his tongue out and making faces".
Trudeau was quick to apologise. This time it wasn't for some 19th century wrongdoing, it was for himself.
"In 2001, when I was a teacher in Vancouver, I attended a gala. The theme was Arabian Nights. I dressed up in an Aladdin costume and put make-up on. I shouldn't have done that. I should have known better, but I didn't and I'm really sorry," he told reporters.
"I take responsibility for my decision to do that. I shouldn't have done it. I should have known better. It was something that I didn't think was racist at the time, but now I recognise it was something racist to do and I am deeply sorry."
The timing couldn't be worse for the prime minister, whose right-on reputation has begun unravelling over the past year in a minefield of scandal and political missteps.
His Liberal Party is fighting for its life in a general election on 21 October as many Canadians have tired of long-winded bromides with a cup of sanctimony thrown in.
Polls have shown that the Liberals are running neck and neck with the Conservative Party of Canada.
However, while his Conservative rival Andrew Scheer is outpolling Trudeau in the rest of the country, the PM still rules the roost in vote-rich Ontario, Canada's most populous province.
Historically, the party that wins Ontario – which includes heavily multicultural Toronto – wins the election.
Scheer, naturally, said he was "shocked and disappointed" by the PM's brownface antics.
But will the prime minister's blasts from the past derail his re-election bid?
So far, the election has been lacklustre with very little meat – or differences – between the two main parties and the smaller, left-leaning New Democrats and the Green Party.
Paul Wells, senior writer for Maclean's magazine, said Trudeau will brush things off. As will most of his fangirls and boys.
"Most of the things you ever did that sound appalling now were appalling then, and you deserve to have a terrible time living with them," Wells wrote.
"But also that people change. People grow. Justin Trudeau's career has been based on claiming that simple fact for himself and denying it to his opponents. Will that stop now? Of course not. It's how he's wired."
During the 2015 election, the Conservatives claimed Trudeau "just wasn't ready". He was "callow" and wasn't a serious person. That is becoming increasingly obvious.
Toronto Sun columnist Warren Kinsella – a one-time Liberal strategist and longtime anti-racism activist – asked aloud whether Trudeau is a racist.
"When asked about Donald Trump's suggestion that four Democratic politicians 'go back to the 'crime infested places' they came from, Justin Trudeau refused to say Trump's racist statements were, in fact, racist," Kinsella wrote.
"Said Trudeau: 'Canadians and indeed people around the world know exactly what I think about those particular comments'.
"After Canadians have looked at that shocking photo of the Liberal prime minister mocking and denigrating black people – after the embarrassment and shame he has now brought on Canada internationally – it's hard to know exactly what Justin Trudeau was thinking. Or if he thinks at all."
Kinsella added: "At the end of this shocking revelation, we are left with one thought: this is not the face of a prime minister."
But in the end, the shocking revelations may not make a difference.
Canadians have been reminded that once again, politicians are hypocrites.
The blackface/brownface was shocking. The hypocrisy of a very woke Justin Trudeau is not.
Register for free to continue reading
Registration is a free and easy way to support our truly independent journalism
By registering, you will also enjoy limited access to Premium articles, exclusive newsletters, commenting, and virtual events with our leading journalists
Already have an account? sign in
Register for free to continue reading
Registration is a free and easy way to support our truly independent journalism
By registering, you will also enjoy limited access to Premium articles, exclusive newsletters, commenting, and virtual events with our leading journalists
Already have an account? sign in
Join our new commenting forum
Join thought-provoking conversations, follow other Independent readers and see their replies