Trump to resurrect Reagan-era policy banning federally funded clinics from discussing abortion with women
Organisations such as Planned Parenthood would be barred from advising patients on how to seek terminations under new rules
Tom Barnes Comments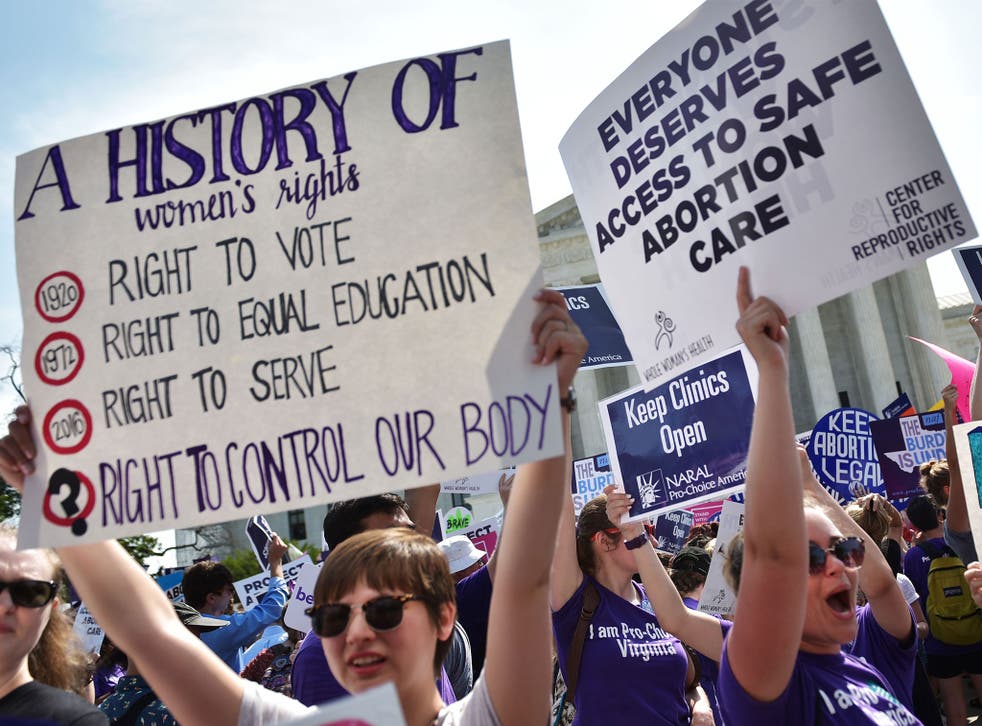 Donald Trump's administration has acted to bar taxpayer-funded family planning clinics from referring women for abortions.
The Health and Human Services Department sent its proposal to rewrite the rules to the White House, setting in motion a regulatory process that could take months.
Scant on details, an administration overview of the plan said it would echo a Reagan-era policy by banning abortion referrals by federally funded clinics and forbidding them from locating in facilities that also provide abortions.
Planned Parenthood, a principal provider of family planning, abortion services, and basic preventive care for women, said the plan appears designed to target the organisation.
"The end result would make it impossible for women to come to Planned Parenthood, who are counting on us every day," said the organisation's executive vice president, Dawn Laguens.
But presidential counselor Kellyanne Conway told Fox News the administration is simply recognizing "that abortion is not family planning. This is family planning money."
The law has been described as a "gag rule" by pro-choice campaigners and medical groups and is likely to trigger lawsuits attempting to block its implementation.
First introduced by Ronald Reagan in the 1980s, the rule never went into effect as written, although the Supreme Court deemed it was an appropriate use of executive power.
The policy was later scrapped under Bill Clinton and new laws were introduced, requiring clinics to provide "nondirective" counselling to include a range of options for women.
Organisations like Planned Parenthood, which receives huge amounts of federal funding through schemes such as the Title X family planning programme, are already blocked from using public money to pay for abortion procedures.
They may however use the cash to offer contraceptive services, screenings for sexually transmitted infections (STIs) and counselling.
"This proposal does not necessarily defund Planned Parenthood, as long as they're willing to disentangle taxpayer funds from abortion as a method of family planning, which is required by the Title X law," a Trump administration official told CNN.
"Any grantees that perform, support, or refer for abortion have a choice – disentangle themselves from abortion or fund their activities with privately raised funds."
Doctors' groups and abortion rights supporters have claimed a ban on counselling women trespasses on the doctor-patient relationship, pointing out abortion services are not currently taxpayer funded.
"The notion that you would withhold information from a patient does not uphold or preserve their dignity," said Jessica Marcella of the National Family Planning and Reproductive Health Association, which represents family planning clinics.
"I cannot imagine a scenario in which public health groups would allow this effort to go unchallenged."
Donald Trump's first year: in pictures

Show all 29
However, opponents of abortion claim federal family planning programmes effectively subsidise the abortion services provided by organisations like Planned Parenthood.
"Abortion is not healthcare or birth control and many women want natural healthcare choices, rather than hormone-induced changes," said Kristan Hawkins of Students for Life of America.
Title X serves around 4 million American women each year through clinics, at a cost to taxpayers of about $260m (£190m).
The Republican-led Congress has unsuccessfully tried to deny federal funds to Planned Parenthood, and the Trump administration has previously promised religious and social conservatives that it would keep up the effort.
Additional reporting by AP
Register for free to continue reading
Registration is a free and easy way to support our truly independent journalism
By registering, you will also enjoy limited access to Premium articles, exclusive newsletters, commenting, and virtual events with our leading journalists
Already have an account? sign in
Join our new commenting forum
Join thought-provoking conversations, follow other Independent readers and see their replies