Trump administration gives $5.1m family planning grant to centres that oppose abortion and don't offer contraceptives
'We're very concerned that by Obria entering into the program, they are denying women information about all their health care options,' says Julie Rabinovitz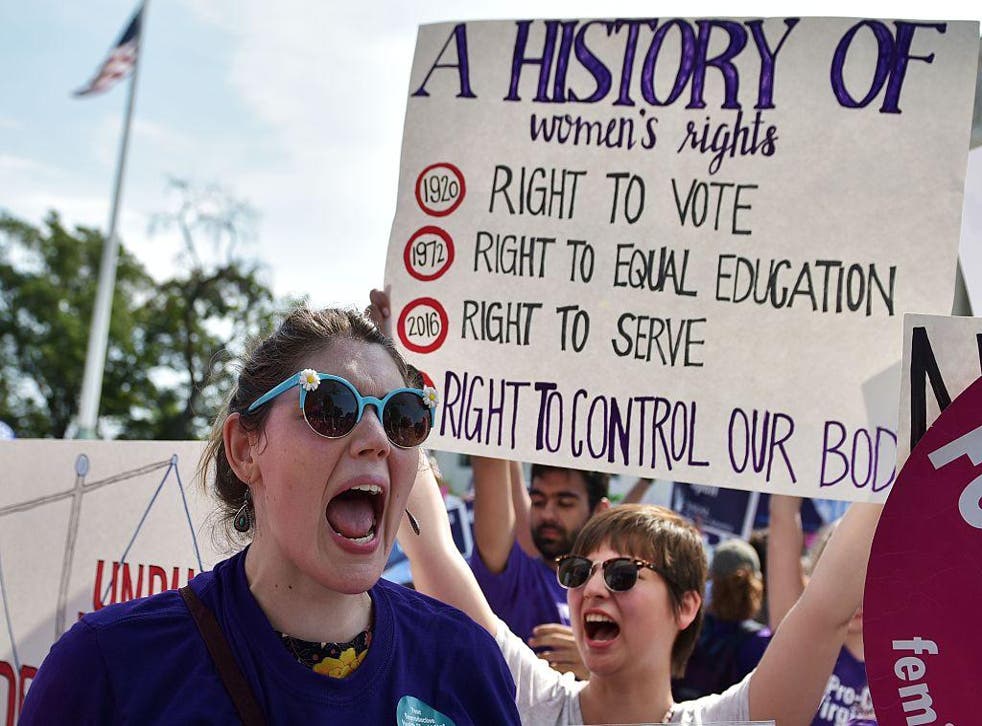 The Trump administration has announced it will give $5.1m (£3.9m) in family planning funds to a chain of crisis pregnancy centres that oppose abortion and do not offer contraceptives.
The Obria Group, a Southern California based non-profit that describes itself as being "led by God", seeks to take both patients and money away from Planned Parenthood.
The Department of Health and Human Services, which announced the grant on Friday, simultaneously announced it was cutting funds to some Planned Parenthood affiliates.
Julie Rabinovitz, president and CEO of Essential Access Health, which will receive $21m in 2019 to provide family planning services in California, raised concerns about Obria entering the program because it does not offer a comprehensive range of contraception options.
"We're very concerned that by Obria entering into the program, they are denying women information about all their health care options," she said. "It could really reduce the progress we have made in reducing unintended pregnancies."
The grant to Obria includes $1.7m (£1.3m) the first year – with the group saying it expects to receive a total of $5.1m over the next three years.
'WITCH HUNT!' Trump cashes in on Mueller report with merchandise range

Show all 6
The Trump administration's decision to fund Obria is being seen as an indication of its wish to move family planning funds towards faith-based groups that oppose abortion and away from groups like Planned Parenthood.
The funding comes from Title X, the federal grant program that subsidizes birth control, cancer screenings and other medical care for four million low-income patients.
Although Title X funds do not pay for abortion services as a method of family planning, affiliates of Planned Parenthood, which receive a substantial share of the program's funds, carry out abortions using other funds.
But with President Donald Trump in the White House, the Department of Health and Human Services has introduced changes to the grant program to make it harder for clinics that offer abortions to qualify for the funds, whilst making it easier to deliver money to faith-based organisations, such as Obria, that are against abortion rights and certain forms of contraception.
On Friday, Planned Parenthood said four of its affiliates, which serve 40,000 people in Hawaii, North Carolina, Ohio, Wisconsin and Virginia, were "stripped of funding."
"Today, they are removing funding from these trusted health centres and providing funding to entities that do not provide evidence-based treatment," Planned Parenthood President Leana Wen said in a statement.
"This continued attack on Title X will result in dismantling our nation's program for affordable birth control and reproductive health care, risking access to comprehensive health care for millions of low-income women and families."
The funding announcement comes after a decision by Department of Health and Human Services earlier this month to revise its Title X program that will now, among other things, block the availability of federal funds to family planning providers that also offer abortion services.
The changes, which are being challenged in federal court, would also bar sites that participate in the Title X program from referring pregnant clients to abortion providers.
Rights organisations have accused the Trump administration of attacking women's reproductive rights by reinstating the global gag rule, and appointing anti-abortion rights activists to key posts in federal departments which handle women's health.
Alarm bells have been raised that Roe v Wade – the landmark Supreme Court decision that legalised abortion nationwide in 1973 – could be overturned or radically undermined with new conservative justices Neil Gorsuch and Brett Kavanaugh sitting on the Supreme Court.
Join our new commenting forum
Join thought-provoking conversations, follow other Independent readers and see their replies