'Be prepared for another cycle': Tense Dr Fauci warns coronavirus will come back as Trump says 'it's time' to restart economy
Winter in southern hemisphere and easing travel restrictions could introduce second wave before first threat finished
Alex Woodward
New York
Wednesday 25 March 2020 20:10 Comments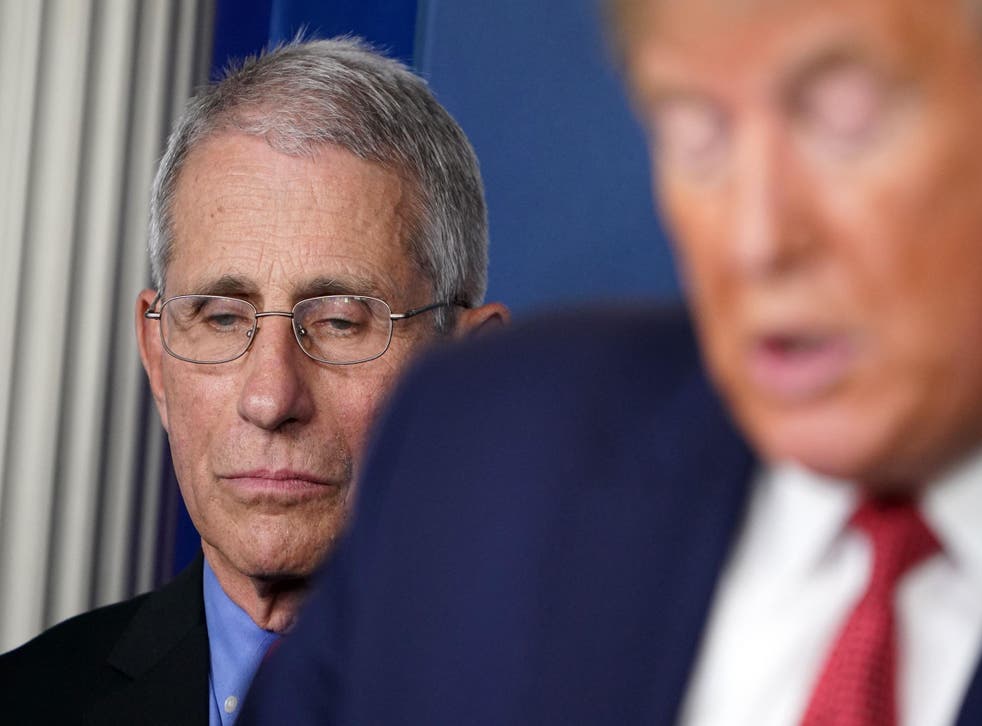 The top health official in Donald Trump's administration warns that the coronavirus spread in the US is likely to return once it subsides, following trends in countries that have gone through different phases of the outbreak.
As the southern hemisphere prepares for its winter season, Dr Anthony Fauci says "it will be inevitable" for the US to prepare for a second outbreak: "Be prepared for another cycle."
He says that the potentially cyclical nature of the virus stresses the need for a vaccine to be developed and tested quickly, as well as other drugs, so that there is a "menu of drugs" available to combat the virus.
His warnings came moments after the president doubled down on resuming business as usual — saying "it's time" — despite a growing crisis with nearly 1,000 deaths and overwhelmed hospitals across the US, underlining the lack of clarity and consistency from the federal response as state and local officials ration diminishing medical supplies.
Mr Trump has suggested re-opening the country by Easter, though on Thursday he said it would begin in "sections" of the country first that are "little affected" by the virus. (There are confirmed infections in every state.)
He said: "Then there are other sections that are very heavily affected, so there's a big difference ... I would say by Easter we'll have a recommendation and maybe before Easter."
The president has routinely contradicted members of his own administration, as well as warnings from health officials across the US, as he looks to resume "normal" operations as the virus takes its toll on unemployment figures and a plummeting stock market — two markers of he attributes to his own success in office.
The president and Dr Fauci have denied there is a rift in their relationship, though Dr Fauci has expressed frustration with correcting his false claims.
At a briefing on Tuesday, Dr Fauci said the president's Easter timeline must be "flexible."
He said: "You can look at a date but you've got to be very flexible and on a literally day-by-day and week-by-week basis. You need to evaluate the feasibility of what you're trying to do."
The timeline has been criticised as a dangerous precedent, with both Democrat and Republican lawmakers urging officials to reconsider.
Recent polling also shows that a majority of Americans want more stringent quarantine efforts rather than return to work and potentially sicken millions of people.
Results of a Morning Consult and Politico survey show that 74 per cent of Americans support a national quarantine, and 40 per cent would support a "lock down" to prevent the spread of the virus.
Register for free to continue reading
Registration is a free and easy way to support our truly independent journalism
By registering, you will also enjoy limited access to Premium articles, exclusive newsletters, commenting, and virtual events with our leading journalists
Already have an account? sign in
Join our new commenting forum
Join thought-provoking conversations, follow other Independent readers and see their replies