Trump budget 2018: Thousands of wild horses could be sold for slaughter under president's proposal
The budget proposal reverses nearly half a century of protections for one of America's most iconic animals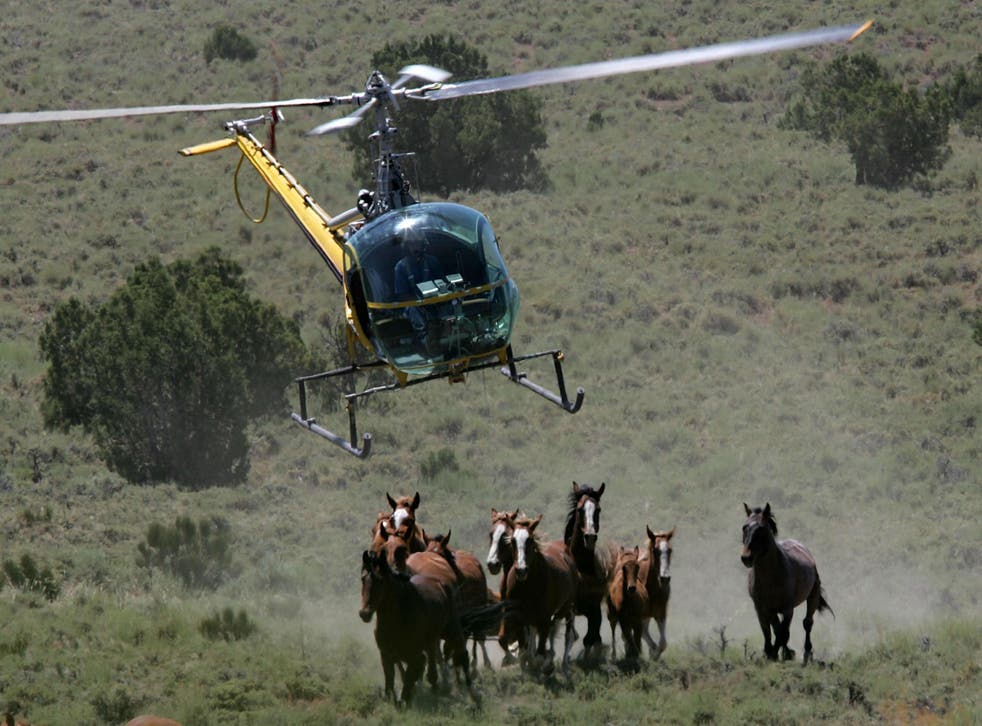 Donald Trump's latest budget proposal could allow thousands of wild horses to be sold for slaughter by reversing nearly fifty years of protections for an American icon.
Slaughtering horses is illegal in the US, but popular in countries like Canada, Mexico, and parts of Europe where horse meat is considered a delicacy. Congress has long included language in budget bills specifically outlawing the sale of horses for slaughter.
Mr Trump's budget, however, forecasts $10m in saving by allowing horses not slated for adoption to be sold "without restriction".
"The current program is wholly unsustainable and a new approach is needed, particularly when considering the sharp and consistent growth in resource requirements," the budget proposal reads.
The proposal highlights a longstanding debate between those who want to protect the horses and those who would like to use the funding and land for other purposes.
America's estimated 59,000 mustangs live across about 40,000 square miles (103,600 square kilometres) of land controlled by the Bureau of Land Management (BLM). The wild horse program takes up approximately 12 percent of BLM lands, and $80.4m of the BLM's budget – more than double what it cost in 2008.
The majority of these costs come from rounding up "excess" wild horses and shipping them to private ranches. The wild horse population has experienced a boom in recent years, far exceeding the 23,622-horse limit set by the BLM.
Travel By Numbers: US national parks

Show all 4
Former BLM Director Neil Kornze estimated it costs the bureau $50 million to capture and house every 10,000 horses. The bureau has significantly reduced the number of horses they round up in recent years because of budget constraints.
Cattlemen and other business groups argue the current protections for wild horses are costly, and keep government corrals from being used to capture other animals.
"The original intent of the [protections] was to make sure those animals had a healthy presence on the range, but also that they be kept at a number that is sustainable. [Now] you have horses starving to death … and irreversible damage to Western rangelands." Ethan Lane of the National Cattlemen's Beef Association told The Associated Press.
Wild horse advocates, however, say there are other methods of controlling the wild horse population, such as fertility management or federal grazing program reforms.
"This budget proposal is an example of lazy government," Laura Leigh, founder of Wild Horse Education, said in a statement. "This is simply one more gift to the livestock industry."
Register for free to continue reading
Registration is a free and easy way to support our truly independent journalism
By registering, you will also enjoy limited access to Premium articles, exclusive newsletters, commenting, and virtual events with our leading journalists
Already have an account? sign in
Register for free to continue reading
Registration is a free and easy way to support our truly independent journalism
By registering, you will also enjoy limited access to Premium articles, exclusive newsletters, commenting, and virtual events with our leading journalists
Already have an account? sign in
Join our new commenting forum
Join thought-provoking conversations, follow other Independent readers and see their replies